By Doug Beacham
I must confess. I am addicted. To. Downton. Abbey. I'll admit that I didn't want this to happen. But, as Adam said to God, "The woman whom Thou gavest me," insisted that I watch at least one episode. So for the past few seasons Susan and I have faithfully watched the saga of this English aristocratic family on either Sunday night or by recording later in the week.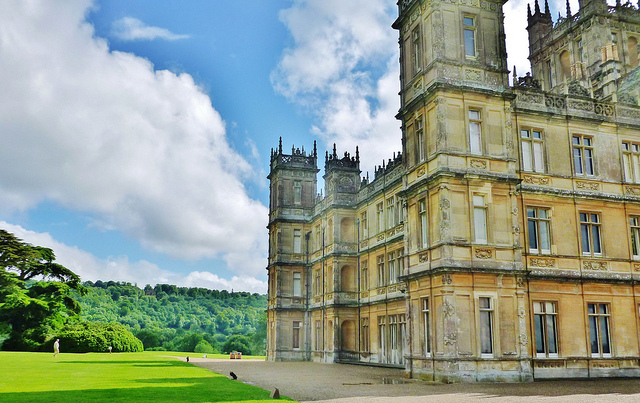 The popularity of this story line has been amazing. This past weekend I read a news account that Democrats were torn between watching Downton Abbey or the debate between Secretary Clinton and Senator Sanders. Which one to record and watch later?
I suspect that Democrats, Republicans, Independents, and all others finally found common ground of concern as we watched with dismay and sadness the trembling hand of Mr. Carson. Or we shared the same sense of honor as Edith courageously told her future mother in law the truth about Marigold.
I thought it was interesting (spoiler alert) that the series ended in the early morning of January 1st, 1926, with thoughts of hope and peace. They all knew the world was changing around them. What they didn't know was that less than four years later the world would fall into a global depression with the Wall Street crash of October 1929. They didn't know that the relative stability of the 1926 Weimar Republic was on the same collision course with Wall Street.  They thought that World War I had ended all wars. Even Germany was admitted to the League of Nations in 1926. Yet by 1933 Adolf Hitler had become the Chancellor of a re-arming Germany. I wondered if Lady Edith's publishing business was destroyed in the bombings of London between September 1940 and May 1941.
It's that sense of a changing world that lies beneath the stories of Downton Abbey. And it's the same sense that lies beneath the stories of our present time. The difference is in the rapidity and magnitude of change. The Earl of Grantham and his delightfully witty mother, the Dowager Countess of Grantham, found transition hard as change swept them along like debris in a flash flood.
Several years ago I ran across William Bridges book, "Managing Transitions." He has written several variations on this under the headings of "Making Sense of Life's Changes," and "Embracing Life's Most Difficult Moments."
Bridges observed that "Change" is something that occurs "outside" of us. Usually we cannot control it. But "Transition" is our emotional, psychological, spiritual, and sometimes physical response to change. We can control how we respond since the response originates "in" us.
He identified three clear stages: 1) Transition begins with the end of something. It is characterized by grief, losing, and letting go. 2) Neutral Zone. The neutral zone begins with anxiety, we know something has ended but we don't know the future. The neutral zone can lead us to creativity, our part in shaping a new future. 3) Transition ends with a new beginning. There are new opportunities to define ourselves and our situation.
I want to suggest to us two things. First, like our friends at the close of Downton Abbey, we don't know what the world will be like over the horizons of time. It could be peaceful; it could be a Neville Chamberlain false peace; it could be war, famine, and heartbreak. It could be all the above.
But second, Jesus has promised that He will be with us, even to the end of the age. We are not alone. The Holy Spirit knows how to help our letting go, our anxiety, His creativity, and the hope we carry for the future.
Oh, by the way, about my addiction. I never saw the first season. So I'll watch it in the coming weeks as I transition away from Downton Abbey.
Photo Credits: flickr.com