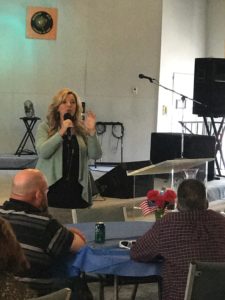 Discipleship Ministries concluded their final 2016 Family Discipleship Conference on December 12 in Bakersfield, California. The Pacific West and Golden West conferences joined together for this special event, with nearly 100 in attendance. Previous meetings had taken place in Browns Summit, NC; Greer, SC; Oklahoma City, OK; Colorado Springs, CO; and Tallahassee, FL.
Dr. Michelle Anthony, IPHC Family Ministries Consultant, led the discussion which covered important topics such as resourcing parents to be the spiritual leaders of their families, spiritual formation for lifetime faith, and managing transitions. Dr. Anthony, who authored Spiritual Parenting, explains that parenting is more than just behavior management, but empowering children to know God and desire to obey Him in the power of the Holy Spirit.
"Discipleship Ministries is so thankful for the ministry of Dr. Michelle Anthony as she has led our six national Family Ministry Conferences," said Executive Director of Discipleship Ministries Bishop Tommy McGhee. "From North Carolina to California God has been speaking to our hearts and calling us to see that our goal in discipleship is to see the generations develop a life time faith.  This kind of faith is best developed in the context of the family. Families are the people who do life together.  Our purpose is to inspire, equip, and support those who are hearing this call."
Dr. Anthony challenged church ministry leaders to engage all ages in family ministry to model a lifestyle of lifetime faith. "When we live the gospel the way that we should, the world gets it as the gift of redemption; when we don't the world gets it as a program."
Bishop Stan Reynolds from the Pacific West Conference remarked, "God spoke to my heart through Michelle Anthony. It was the kind of words that force one to take a different action or course in ministry."
Dr. Anthony serves as the vice-president and publisher of Learning Resources at David C. Cook. She has authored Spiritual Parenting, The Big God Story, Becoming a Spiritually Healthy Family and Family Ministry Essentials, which are available at LifeSprings Resources.
For more information about Family Ministry, please visit iphc.org/family.
By Janese Bennett