By Dr. A.D. Beacham, Jr., Presiding Officer
For over one hundred years International Pentecostal Holiness Church (IPHC) ministers and congregations have gathered in the upstate of South Carolina to do the business of the IPHC. At least one hundred and fifty gathered at the Tabernacle in Beech Springs for this annual session.
Presiding Bishop Doug Beacham welcomed the delegates and acknowledged the following:
Alison Boggs and her first time at the annual conference as the new first lady of the conference.
Former Upper South Carolina Conference Superintendents Rev. Ray Buchanan and Dr. Ronald Moore.
IPHC missionaries Doug, Remy and Ethan Barton, Dr. Willard Wagner, Pat Sikes. Retired missionary Rev. Lawrence Pfaff. Former missionary Ernie Ramsey.
Harold Queen representing Emmanuel College. Mr. Bruce Hagee representing Holmes Bible College. Both men shared the mission and ministries of the respective schools.
Bishop Beacham then shared the IPHC General Conference video and encouraged the ministers and congregations to attend. Following that, Bishop Beacham shared the Core Value video "We Prayerfully Value Christ's Kingdom" and spoke on the four emphases IPHC is focusing on in 2017 regarding Christ's Kingdom.
Bishop Ray Boggs presented the State of the Conference report. In his report, he spoke of how the Holy Spirit had led him, the conference executive council, and the conference in recognizing the need for a new "Doing Business As" name. The name chosen was Spirit Life Ministries. He affirmed the following reasons for the new DBA name:
Bring about a new sense of excitement and expectation.
Allow us to continue celebrating our Pentecostal heritage.
Make a unified statement to our churches that are located in Georgia and North Carolina.
Be the name that pleases the Lord and represents who we really are, not just where we are located.
Help position us for our future growth and influence in our ever-changing culture.
Bishop Boggs recognized Hispanic Ministries Director Pastor Eder Herrera. Originally from Panama, Rev. Herrera has effectively led several Hispanic ministers and congregations into the conference. There was a contingent of 25 Hispanic brothers and sisters present for the conference.
Bishop Boggs gave a thorough financial accounting report to the conference. The 2016 statistics show 91 local congregations with a total membership of 38,343. Other pertinent information included:
Congregations by Membership
500 members or more – 4 congregations
200-499 members – 12 congregations
100-199 – 24 congregations
50-99 – 31 congregations
Less than 50 members – 20 congregations
The local church tithe in 2015 was $377,928.55. In 2016 the local church tithe was $382,344.96. The increase reflected that 28 local congregations had increased their tithe from 2015 to 2016.
Ministers tithe in 2015 was $392,312.04 and in 2016 was $382,146.98 for a slight decrease.
The Global Outreach Offering for World Missions Ministries in 2016 was $46,368.67, an increase of $4,925.24 from 2015.
Accompanying this information was an 8-page financial report from Martin and Smith & Company CPAs. I commend Bishop Boggs for this thorough financial report and for the transparency of the finances of the conference.
He closed his report with gratitude to the conference council and the ministers and congregations for their unfailing support to him and his family in the season of grief and sorrow they experienced with the illness and passing of his wife Karen. He then expressed deep gratitude to God for bringing a new season of joy and love to him with his wife Alison. The congregation warmly recognized Alison with a standing ovation.
Ms. Donna Lance read the Memoirs Report. The following ministers were remembered:
Rev. James E. Shuster, Sr., who passed away on May 17, 2016
Rev. Arthur P. Campbell, who passed away on April 4, 2017.
The conference also recognized the passing of Mrs. Rowena S. Smith, widow of former conference superintendent Zeb Smith. Sister Smith passed away on March 28, 2017.
Bishop Boggs presented the Ministerial Credentials Report:
Local Church Minister's License: Jeff Davis, Jose Hernandez, Cameron McIntosh, Elaine Quiles, Auggie Taylor.
Minister's License: Carlos Aguilar, Roberto Cotoc, Marcus Ginn.
Ordination: Matthew Brown, Racheal Etters, Jimmie Heaton, Lana Tilley, Miguel Castro.
At the close of the ordination service, special prayer was held for Rev. Michael Jarrard who was undergoing medical treatment at a local hospital. Also, special prayer was held for Rev. David Arthur, IPHC missionary undergoing heart surgery on Saturday afternoon in Raleigh, NC.
Special emphasis was made for the churches to support the Run for the Wall ministry of Rev. Gary Burd and Mission: M25. The churches were encouraged to receive a special love offering for Mission: M25 on Sunday, May 28th.
The conference session ended with a special time of prayer and a reception arranged by the conference executive council for Bishop and Mrs. Boggs. A video was shown of their April 2nd wedding in the Ashland, Virginia, Church of God. Following that, Assistant Superintendent Brent Lollis called for Ray and Alison, along with their families, to come to the altar where the conference council, and Dr. and Mrs. Beacham, led in prayer for them.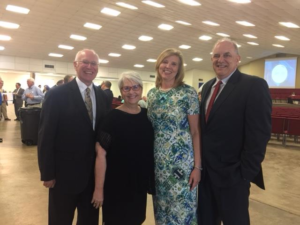 At the close of the prayer, a wonderful reception for Ray and Alison was held in the Tabernacle. Susan and I were honored to attend this special reception and it was a joy to preside over Spirit Life Ministries. This photo was taken at the reception.