By Bishop Garry Bryant, Presiding Officer
What a great day…one of the comments and observations made after the conclusion of the LifePoint Ministries Quadrennial Conference.
It was my honor to serve the family of LifePoint this past Saturday.  We gathered in the Swails Center on the beautiful campus of Emmanuel College.  A delegation of 145 and many guests joined together for the duties and privileges of the day.
The conference was filled with energy, cooperation, and an obvious spirit of unity and anticipation.
Bishop Tim Lamb, the LifePoint Conference Council, and their team were well prepared and served in an extraordinary fashion.
Tina Anderson, administrative assistant, and Erica Campbell, event coordinator, were exceptional in providing quality care and order during the day.
The conference began with a special time of worship lead by Trés Ward and the presentation of the 2018 core value – We Prayerfully Value All Generations.
Bishop Lamb provided a quality State of the Conference Report with an emphasis on:
Expanding Kingdom Life
Inspiring Leaders to Serve
Enriching Through Relationships
Empowering for Influence
Bishop expressed his deep and sincere gratitude for the many who have served and contributed to the ministry efforts of LifePoint over the past four years.
Bishop Lamb and his dear wife, Carissa, are a wonderful representation of the leadership of IPHC (on a side note … Mrs. Lamb gifted me with a Georgia Bulldogs coffee mug, along with a lot of other goodies in a hospitality basket. I cannot wait to visit Bishop Beacham's office with my new coffee container). Thank you!
The committee reports and business session of the Quadrennial Conference flowed very smoothly and were evidence of excellence in preparation and presentation.
The following individuals were selected to serve as the LifePoint Conference Council for the next four years:
Tim Lamb – Superintendent
Jeff Thomas – Assistant Superintendent
Brian Williams – Secretary and Treasurer
Council Members:  Brian James, Trey Jones, Chris Maxwell, and Rick Womack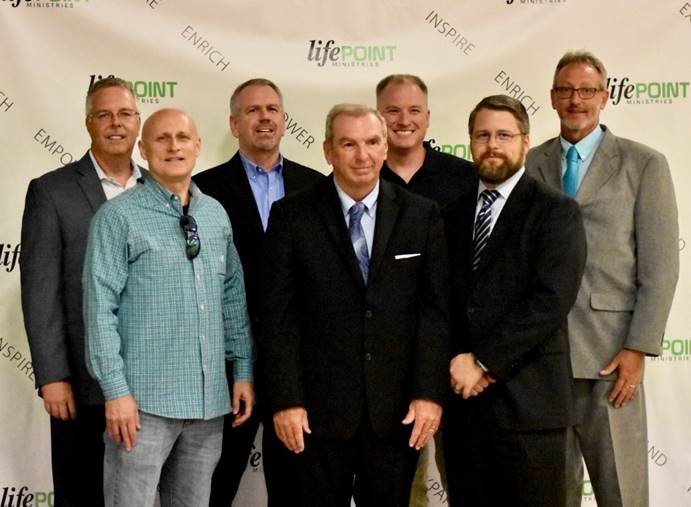 Congratulations to this tremendous group of leaders and it is obvious that LifePoint Ministries is in good hands.
There was a consistent theme throughout the day that this was a significant occasion and season–a positive inflection point for LifePoint!
Credentials were granted to the following:
Ordination:
Rev. Summer Sneed
Rev. Rachel White
Minister's License:
Rev. Amanda Futrell
Rev. Davis Keener
Transferred in Ordained:
Rev. Walter Wescott
Rev. James Wilson
Transferred in Licensed:
Rev. Callie Sorrow
Rev. Summer Sneed
There were many very special guests (I felt like I was in the company of a Who's Who of the IPHC).
Former LifePoint conference superintendents:
Rev. Keith Hearn
Rev. John Ingham
Rev. Bill Jones
Rev. D. Chris Thompson, president of Holmes Bible College and former executive director of EVUSA
Rev. Ron White. president of Emmanuel College
Mrs. Brenda Phillips, IPHC chief financial officer
Rev. Matt Bennett, Southwestern University Graduate School director
Rev. (Colonel) Hugh Morgan, former director of Chaplains Ministries, IPHC and editor of Hugh's News
There were many other notable guest and attendees.
Bishop Lamb extended congratulations and awards to several churches that had achieved measurable and set growth goals.
Rev. Jeff Thomas, conference World Missions director, presented awards and recognition to a number of pastors and churches that have excelled in giving and participation in World Missions efforts.
There was an aggressive appeal made to the LifePoint Conference to reach their 2018 GO Offering goal of $30,000…amen and so be it!
It was a great day, and I was as privileged to be a part.
Increased wisdom, understanding, and knowledge be the testimony of conference leadership; and increased kingdom advancement marked by an increased harvest be the testimony of LifePoint Ministries.