---
This message was presented on Friday, February 22, 2019, at the IPHC 6th Global Assembly in Santiago, Chile.
---
"Let us seize and hold tightly the confession of our hope without wavering, for He who promised is reliable and trustworthy and faithful [to His word];" (Hebrews 10:23 AMP).
"For all the promises of God in Him are Yes, and in Him Amen, to the glory of God through us" (2 Corinthians 1:20).
The Faithfulness of the Promise Maker
A promise is only as good as the integrity of the one who made it. A promise is of no more value than the ability of the one who makes it carry it through. This also includes the willingness to fulfill it.
"For we were saved in this hope, but hope that is seen is not hope; for why does one still hope for what he sees? But if we hope for what we do not see, we eagerly wait for it with perseverance." (Romans 8:24-25).
Writing to the Romans, the apostle Paul reminded them that hope is real because it is anchored in the one who has made the promise and is able to carry it, sustain it, and fulfill it (Romans 8:24-25; 28-30). Thus, the difference between optimism which is short term and easily overcome, and hope which is eternal and anchored, is where they are rooted. Optimism leans on human effort; hope rests in God and God's promises.
National banknotes are generally legal tender, meaning it is allowed by law or recognized by a legal system to be valid for meeting a financial obligation. A banknote (often known as a bill, paper money, or simply a note) is a type of negotiable promissory note, made by a bank, payable to the bearer on demand.
The dollar note is the promise from the governor of a central bank

It is a promise from the bank governor
It is a legal note
It is valued; at times, even more than someone's life
It cannot be altered
It carries the promise of the governor
It binds the governor

Still this note….

Can be lost and/or stolen
Can lose value
Can be forged or reproduced
If I thought that the banknotes you carried could not be cashed next week, I would decline to receive them. And if I thought that God's promises would never be fulfilled, and if I thought that God would alter words in His promises, I would not trust or accept the Bible.
People desire things that are immutable. We have immutable promises when we turn to the Bible. It is not possible for God to lie. He has signed, confirmed, and sealed every one of His promises. The gospel is not "Yea and nay." It is not promising today and denying tomorrow; but the gospel is "Yea, yea," to the glory of God.
Without confidence or persuasive expectation in the promises of the Sovereign God, we have no hope, no reason to expect things to work out for good. We live in fear of every disaster, disease, and disappointment that may come our way.
God's Promises Never Fail
God never takes back or changes His promises. "No, I will not break my covenant; I will not take back one word of what I said" (Psalm 89:34 TLB). None of God's promises in the Bible ever fail.
"You know with all your heart and soul that not one of all the good promises the Lord your God gave you has failed. Every promise has been fulfilled; not one has failed" (Joshua 23:14 NIV).
God made promises and kept them. He is faithful. He is the promise keeper! He promised, "But now He has obtained a more excellent ministry, inasmuch as He is also Mediator of a better covenant, which was established on better promises" (Hebrews 8:6).
ABRAHAM IS THE PRE-EMINENT EXAMPLE
A Promise for Deliverance of Israel
"Then He said to Abram: "Know certainly that your descendants will be strangers in a land that is not theirs and will serve them, and they will afflict them four hundred years. And also the nation whom they serve I will judge; afterward, they shall come out with great possessions." (Genesis 15:13-14).
A Promise of a Child 
"And the Lord said to Abraham, 'Why did Sarah laugh, saying, 'Shall I surely bear a child, since I am old?' Is anything too hard for the Lord? At the appointed time I will return to you, according to the time of life, and Sarah shall have a son'" (Genesis 18:13-14).
Sarah's situation was difficult. All odds were against her. She was barren from birth; she was already old; her husband Abraham was also old, but the promise kept her going. Every passing month for nine months, she waited on the Lord. She knew that He was faithful to what He had promised.
MORE OF GOD'S PROMISES
Never Leave nor Forsake Us
Let your conduct be without covetousness; be content with such things as you have. For He Himself has said, "I will never leave you nor forsake you" (Hebrews 13:5).
Provision
"I have been young, and now am old, Yet I have not seen the righteous forsaken, Nor his descendants begging bread" (Psalm 37:25).
Eternal Life
"And this is the promise that He has promised us—eternal life" (1 John 2:25).
He is Coming Back Again 
"In My Father's house are many mansions; if it were not so, I would have told you. I go to prepare a place for you. And if I go and prepare a place for you, I will come again and receive you to Myself; that where I am, there you may be also" (John 14:2-3).
The Comforter / Holy Spirit
"And I will pray the Father, and He will give you another Helper, that He may abide with you forever—" (John 14:16). 
"But this is what was spoken by the prophet Joel: 'And it shall come to pass in the last days, says God,
That I will pour out of My Spirit on all flesh; Your sons and your daughters shall prophesy, Your young men shall see visions, Your old men shall dream dreams" (Acts 2:16-17).
His Church Will Never Fail
"And I also say to you that you are Peter, and on this rock I will build My church, and the gates of Hades shall not prevail against it" (Matthew 16:18).
Healing for Our Physical Body
"…For I am the Lord who heals you" (Exodus 15:26).
"Who Himself bore our sins in His own body on the tree, that we, having died to sins, might live for righteousness—by whose stripes you were healed" (1 Peter 2:24).
OUR PROMISE KEEPER IS ABLE AND WILLING!
As I look through Scripture, it seems that God always waits until the situation is impossible—until no human can change the circumstances. God delights in showing up and showing off! He loves to take impossible situations and demonstrate His power. He wants to make sure that the world is pointed back to Him through these situations.
From where I sit today, nothing can cause this promise to become a reality. It is humanly impossible.
Therefore, the stage is set for God to show up and show off his power! I simply need to be still and wait for him (Exodus 14:14).
I don't know how long it will take, but I will remember the faithfulness of God, the Promise Keeper. I will remember that he delights in doing the impossible for his children. Until the day that God fulfills this promise, I will cling to my Savior. I will believe that he is able to do far more than I can ever ask or imagine (Ephesians 3:20). I will continue to walk by faith and not by sight. I will let God do His work in me, molding me into his image so that I can reflect his glory. I will cling to my Savior with all that is within me. I will praise Him that this promise is, "Yes and amen" in Him.
"Rejoice in our confident hope. Be patient in trouble, and keep on praying" (Romans 12:12 NLT).
Jude wrote, "Now unto Him that is able to keep you from falling, and to present you faultless before the presence of his glory with exceeding joy" (1:24).
"Now to Him who is able to do exceedingly abundantly above all that we ask or think, according to the power that works in us" (Ephesians 3:20).
---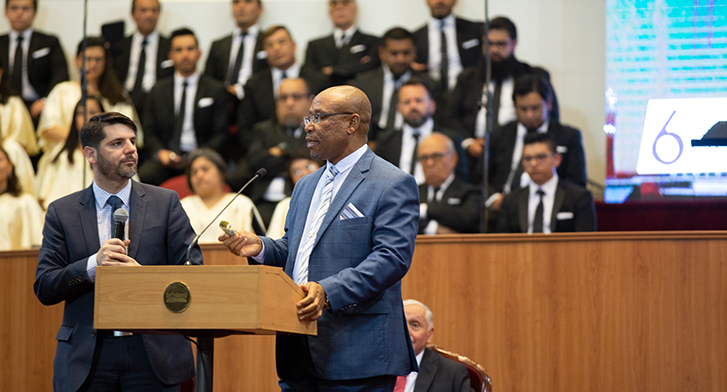 Joel Dibetsoe
Bishop Joel Dibetsoe serves on the IPHC Global Leadership Council as the African representative. Dibetsoe is a third-generation PHC member and is the general overseer of the Pentecostal Holiness Church in South Africa, where he also serves as the pastor of Phokeng Church. He previously founded the Mogwase Church.