UPDATE: The memorial service at Oral Roberts University has been rescheduled for May 30, 2020, at 1:00pm. Regent University's service has been rescheduled for June 20, 2020 at 2:00pm.
D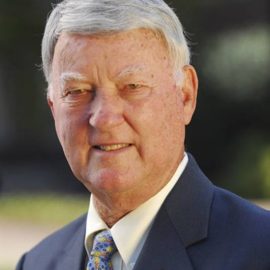 r. Vinson Synan passed away early Sunday morning, March 15, 2020, at Mercy Hospital in Oklahoma City. In declining health for several months, the outpouring of love for him and his family reveals the magnitude of his influence in the IPHC and across the global Christian community.
"The IPHC is grateful for the life of Dr. Vinson Synan," Dr. Doug Beacham, General Superintendent of the IPHC. "No one in our movement has been more influential in global Christianity than him. He was a pillar in the mid-twentieth century move of the Holy Spirit that impacted Christians from nearly every faith family within Protestantism and Catholicism. We are grateful for his scholarship, his passion for Jesus Christ, his love and service to the IPHC, and for the way he and his wife Carol and their children consistently demonstrated what it means to live in the Holy Spirit. He will be greatly missed by us."
The family's formal obituary includes detailed information about visitation and memorial services.
Though his name is recognized in Pentecostal and Charismatic circles around the world, Harold Vinson Synan was a true son of the International Pentecostal Holiness Church (IPHC). By the time he and his twin brother, Vernon, arrived on December 1, 1934, their father was well on his way to becoming an influential and revered leader in the denomination. Having completed only the fifth grade, the Reverend Joseph Alexander Synan was what some might call a "self-educated man." Yet his lack of formal education didn't deter him. He planted five PH congregations in the Tidewater area of Virginia before being elected bishop of the Pentecostal Holiness Church, a position he held for six four-year terms.
Vinson and Vernon were the fourth and fifth of seven children born to Joseph and Minnis Evelyn (Perdue) Synan in Hopewell, Virginia. Like his father, who was converted at age 16 at a Pentecostal Holiness tent meeting near Fredericksburg, Virginia, Vinson also accepted Christ as his personal Savior when he was 16 years old. He made that decision at the Tri-State Camp Meeting in Memphis, Tennessee, in 1951. The following night he experienced sanctification, "the second blessing," and was called of God to preach the gospel. Nine months later, at age 17, he was baptized in the Holy Spirit and began his preaching ministry the same year. He was ordained in the Eastern Virginia Conference in 1954.
Throughout his life, Vinson has held 2 Timothy 2:15 as his guiding principle: "Study to show yourself approved unto God, a workman that needs not to be ashamed." He followed that sage biblical advice by availing himself of every opportunity to prepare for his calling. After graduating high school, he completed a two-year liberal arts degree from Emmanuel College in Franklin Springs, Georgia. In 1955, he left a one-year pastoral apprenticeship to become an evangelist in the Eastern Virginia Conference. He graduated from the University of Richmond with a BA in American history in 1958 and in the fall of that year, he began his teaching career.
From 1956 to 1962, Synan planted three churches in Virginia, and from 1967 to 1974, he launched a new church in Georgia. From 1963 to 1975, he taught history at his alma mater, Emmanuel College.
Vinson was the speaker at a youth camp in his home conference when he met Carol Lee Fuqua from Richmond. Reflecting on the day they met, he described her as "a dark-haired beauty whose smile seemed to light up the entire room." They were married on August 13, 1960. Together they had four children: Mary C. Clark (Curtis) of Dunn, North Carolina; Virginia Lee Taylor (J. Mark), of Edmond, Oklahoma; H. Vinson, Jr. (Laura), also of Edmond, Oklahoma; and Joseph A. (Ashley), who lives in Piedmont, Oklahoma. They have eight grandchildren and five great-grandchildren.
As Vinson was preparing for his academic career, the Reverend Oral Roberts, a family friend, offered him a full scholarship to earn a Ph.D. in theology at Harvard, Yale, or Princeton, if he would return and teach at Oral Roberts University (ORU) in Tulsa. He declined the offer, since he had already received a full scholarship with a stipend from the State of Georgia to prepare for his calling as a historian. In 1965, he completed his M.A. and graduated from the University of Georgia in 1967 with a Ph.D. in American Social and Intellectual History.
The denomination recognized the leadership giftings in Dr. Vinson Synan. Delegates to the 1973 General Conference elected him as General Secretary of the PH Church. He served four years in that office while also teaching at Southwestern College in Oklahoma City. (He was acting president of the school in 1980.) In 1977, he was elected as Assistant General Superintendent of the denomination and served until 1981, when he became director of Evangelism, a position he held for the next four years.
But Synan's leadership reached beyond the denomination. In 1972, he was invited by Kilian McDonnell to speak at the third annual Catholic Charismatic Conference at Notre Dame University. This life-changing experience marked the beginning of many years of leadership in the ecumenical movement.
In 1977, he chaired the Pentecostal track for the Conference on Charismatic Renewal held in Arrow Head Stadium in Kansas City. That event drew 50,000 charismatic worshipers and attracted attention from around the world. The success of the conference also opened doors of ministry for Synan, and he became a frequent guest on such television programs as The PTL Club, Trinity Broadcasting Network, and The 700 Club. During these televised interviews, he discussed the Charismatic Renewal that was occurring among Catholics and other mainline denominations and the exploding growth of Pentecostalism around the world.
Dr. Synan has held numerous other ecumenical positions, including president and founder of the Society for Pentecostal Studies (1970-73); chairman of the North American Renewal Service Committee (1985-1991); chairman of the New Orleans Congresses on the Holy Spirit and World Evangelization (1986-87); member of the Board of Trustees of Oral Roberts University; member of the Global Council of Empowered 21; and others.
As a renowned church historian, Dr. Synan has authored at least 20 books, many of which chronicle the development and growth of the Pentecostal and Charismatic movements. Perhaps his best-known work in IPHC circles is The Old-Time Power: History of the Pentecostal Holiness Church (1973, Advocate Press, Franklin Springs, Georgia). In 2010 he published his memoirs titled, An Eyewitness Remembers the Century of the Holy Spirit (Baker Publishing Group, Ada, Michigan).
Dr. Synan's career as an educator included four years as professor of Pentecostal and Charismatic History and director of the Holy Spirit Research Center at ORU (1990-1994). For the next 12 years (1994-2006), he served as Dean of the Regent University School of Divinity in Virginia Beach, Virginia. Under his leadership, the school implemented both a Doctor of Ministry and a non-residential and online Ph.D. program in Renewal Studies, which was the first of its kind in the world. Though he is retired, he continues to bear the title Dean Emeritus of the School of Divinity.
In 2016, Synan returned to Oklahoma to re-join the faculty at Oral Roberts University as Interim Dean of the College of Theology and Ministry, where he served for two years. Synan then served as a Scholar in Residence and Ph.D. Program Director for the Graduate School of Theology and Ministry.
(Profile of Dr Synan by Shirley G. Spence)