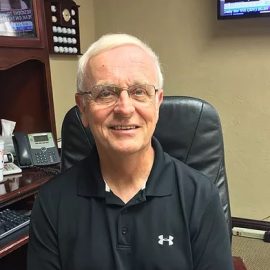 David Parker, president of the IPHC's Extension Loan Fund (ELF), has announced his planned retirement after 25 years of leadership. Though he planned to retire at the 2021 General Conference (GenCon), after its postponement to 2022, Parker decided to remain with the fund through the 2022 General Conference.
The Extension Loan Fund began in 1958 with an initial investment of $100.00 by the late Dr. Lonnie Rex. Initially under the direction of Rev. R.L. Rex, the fund was established to help fund the start and expansion of IPHC congregations in the USA. Since then, the fund has grown to over $56,000,000 as IPHC individuals, congregations, and other IPHC entities have invested in this fund for the cause of Jesus Christ. The IPHC is thankful for the vision and commitment made sixty-three years ago!
Parker has led the Extension Loan Fund as Vice-President since 1996. In 2009 he became President of the fund. During his tenure he has overseen significant growth in the fund and in loans to IPHC churches. I am thankful for his years of dedicated service. A son of IPHC missionaries, the late Reverends John and Edna Parker, Parker's vision and commitment have served to place the Extension Loan Fund in a great position to expand its availability as a reputable investment and lending institution.
We are praying that IPHC members with a strong financial background will prayerfully consider the job description and discern the Holy Spirit's direction for applying to lead this important ministry of the church.
ELF President Position Description
Submit Resume