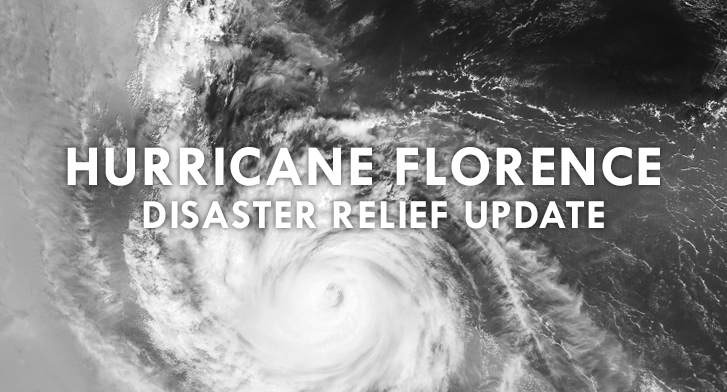 DRUSA Hurricane Florence Updates
As of September 18, 2018: Updated Status of DRUSA Deployments
Yesterday, the North Carolina (NC) Mobile Feeding Kitchen (MFK) served over 2,000 meals. The Red Cross informed Gordon Knox that the feeding in New Bern can cease once they serve the last meal on Friday.
The Cornerstone Conference Mobile Shower will remain on location with the NC MFK.
The leadership has assessed the situation in Kinston, NC and are considering deploying the NC MFK to Kinston after the feeding ceases in New Bern.
The South Carolina (SC) MFK deployment in Lake City, SC has ended after serving 500 meals. The team has deployed to Marion, SC for feeding. Warren Matthews, SC Conference DRUSA Director, and his team are transporting the kitchen this morning. They expect additional flooding in Marion and Nichols, SC later this week.
I have communicated with Bishops Danny Nelson and Greg Amos regarding status of IPHC churches. The North Carolina Conference has four to six churches impacted by flooding. We will continue to communicate with Bishop Nelson. He reports that these churches have insurance.
The Gospel Tabernacle Church has served 750 meals in Dunn, NC and is receiving shipments at the temporary Distribution Center.
The South Carolina Conference reports three churches with damage in Nichols, Marion, and Dillion. I have visited Nichols and Marion churches and they are satisfactory at this time. We will attempt to visit the Dillion church today which reports 10" of water in some of their buildings. They do not have a "flooding rider" on their insurance policy and will need assistance to clean and repair the damage.
Please continue to pray for safety and financial provision as we respond to the most urgent needs of the communities and share God's love!
As of September 17, 2018: DRUSA Distribution Center in Dunn, NC
DRUSA has designated the Gospel Tabernacle Church in Dunn, NC as the Distribution Center for commodities collected by IPHC churches. Please help communicate how people can give online or ship commodities to the church at 2105 W. Cumberland St, Dunn, NC 28334. Rev. Josh Brown, Youth Pastor, is coordinating the distribution of commodities. His phone number is 864-617-7623. The most crucial need is always clean drinking water in disasters. We can also use paper plates, toilet paper, paper towels, diapers, and plastic eating utensils. Thank you sharing this need!
As of September 15, 2018: DRUSA Teams Assisting Red Cross
Bill Terry arrived in Greenville, NC at 3 a.m. due to the horrible driving conditions. On Sunday, we will connect with Gordon Knox, Director of North Carolina Conference (NC) DRUSA, and W.A. Mills, IPHC Men's Ministries Director at the deployment site in New Bern, NC. Knox reported that the rain and winds have diminished even though the forecast expects more rain and rising flood waters. The Cornerstone Conference Shower Trailer arrived and are available to first responders.
I plan to visit the South Carolina (SC) deployment site in Lake City, SC. The Mobile Feeding Kitchen (MFK) are waiting on the food delivery from Red Cross. Warren Matthews, SC Conference MFK Director reports that they were cooking at SC Conference facility serving 300 first responders from Louisiana and Mississippi. Once the food arrives, they will begin cooking in the MFK for others.
Running a two-site deployment keeps everyone busy on the phone, texting, and emailing. Please continue to pray for the relief efforts and spread the word for much needed financial assistance.
As of September 14, 2018: DRUSA Teams Deploy to New Bern
At 7:00 AM, September 14th, Gordon Knox, North Carolina (NC) Director for DRUSA, reported that the NC team are on their way to New Bern, NC at the request of Red Cross. They requested both the North Carolina Conference Mobile Kitchen and the Cornerstone Conference Shower Trailer. Knox and his team will begin feeding later today.
Brian Frazier, Cornerstone Director for DRUSA, is arranging for the immediate departure of the Shower Trailer to New Bern, NC.
The South Carolina (SC) Mobile Feeding Kitchen is in place at Lake City High School in Lake City, SC. Warren Matthews, SC Director of DRUSA, reported that the team started feeding first responders last night in Lake City.
You can help by giving and praying! They desire your continued prayers for our teams, first responders, and everyone impacted by Florence storm.
If you would like to make a donation towards the relief efforts, please visit give.iphc.org. For additional information or to inquire about volunteer opportunities, please email men@iphc.org.
As of September 12, 2018: DRUSA Deploys to Lake City
DRUSA, in coordination with the IPHC General Superintendent, has officially deployed the South Carolina Mobile Feeding Kitchen to Lake City, South Carolina. The team will set up at the Lake City High School. First response teams are moving quickly to start serving hot meals on September 13th at noon.
Please continue in prayer for the safety of those in the path of the storm.
Photo Credits: Discipleship Ministries