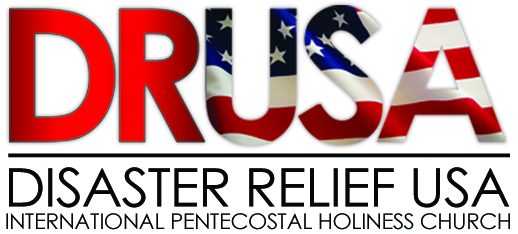 The mission of Disaster Relief USA (DRUSA) is to organize volunteer ministry teams to model the compassion of Jesus Christ by providing mass care to individuals and families devastated during times of disaster.
CLICK HERE to download the DRUSA Handbook!
During natural disasters, the loss of life and property often reaches critical proportions. Many times, entire communities surrounding a church are affected. In times of disaster, the body of Christ needs to reach out and help those less fortunate.
For several years, People to People Ministries has been involved with disaster projects overseas. In 1993, the leaders of World Missions Ministries and People to People Ministries felt it was time to be involved in disaster relief at home.
On November 4, 1993, the director of Men's Ministries was nominated to serve as a member of the People to People Relief USA Committee. The committee held its first meeting in Falcon, North Carolina, on November 23, 1993, and designated Rev. Mark Potter as chairman. As a result of that meeting, an existing disaster relief plan was revised and submitted to the executive director of World Missions. Disaster Relief USA (DRUSA) became a cooperative effort between Men's Ministries and People to People Ministries.
In August 1995, a standard operating procedure for action at the local, conference, and general levels was developed and issued as the Disaster Relief USA Manual. This document provided detailed guidelines for operations at the conference and local church levels. Each conference was urged to prepare for disasters by appointing a Disaster Relief coordinator.
Prior to 2006, People to People Ministries handled accounts payable and receivable. Beginning January 1, 2006, Men's Ministries assumed complete oversight of DRUSA, including financial supervision. Men's Ministries was responsible for the implementation of disaster relief in keeping with the Disaster Relief USA Manual. The director served as the national Disaster Relief coordinator. The Disaster Relief USA Committee, consisting of a representative from Women's Ministries, Evangelism USA, and Royal Rangers, assisted the director.
In October 2009, the IPHC Council of Bishops approved a new Policy & Procedure Document for DRUSA regarding governance and disaster declaration. Men's Ministries is responsible for the implementation of Disaster Relief in keeping with the Disaster Relief USA Handbook. According to the new guidelines, the director of IPHC Men's Ministries serves as the national Disaster Relief coordinator. In addition, the Disaster Relief USA Committee consists of three representatives from the General Men's Ministries Board, with the director serving as chairman. Men's Ministries, in partnership with the Financial Systems of the IPHC, will be responsible for raising, recording, and dispersing of all funds for Disaster Relief.
DRUSA volunteers have given the International Pentecostal Holiness Church a visible presence in disaster relief and recovery for many years. For example, DRUSA teams responded to Hurricane Andrew in 1992, the Texas floods in 1994, Hurricane Fran in 1997, tornadoes in the Midwest in 1999, the terrorist attacks in September of 2001, Hurricane Katrina in 2005 and the Tri-States ice storm in 2009.
The South Carolina Mobile Feeding Kitchen has answered the call for deployment by the American Red Cross and IPHC Ministries for many disasters and has given the denomination a good standing among many disaster relief organizations. The kitchen staffed by volunteers has served approximately 600,000 hot meals since its beginning.
DRUSA exists on the strength of its volunteer force. Local churches and conferences have organized and trained teams to work in different areas of specialty. These services include chain-saw, debris removal, construction, drywall installation and finishing, and roofing.
A number of IPHC conferences have identified their specialty areas for disaster relief and have purchased trailers, tools, and necessary equipment. These disaster relief trailers are fully stocked and enable a conference team to work in our specialty training areas for DRUSA. To assist the Mobile Feeding Kitchen, one conference provides drinking water and transports a refrigerated trailer with ice.
Disaster Relief USA conducts annual training for conference coordinators, volunteers and teams. Areas of training include Red Cross certification, staffing for the Mobile Feeding Kitchen and hands-on training in specialty areas. The training goal is to "stay ready" in the event of a disaster and the need for deployment.
Disasters have always been part of the human experience. Over the past few years, however, they have become more frequent and devastating. The loss of life, property, and families being displaced is demoralizing.
The need for organizations to respond with funding, feeding, volunteer teams, and supplies will only increase. The International Pentecostal Holiness Church and Disaster Relief USA must continue to organize well and be equipped when disasters hit within the USA.
In planning and strategizing the future of DRUSA, we must press forward with reachable and sustainable goals. We recognize that the success of disaster relief and recovery is possible only as we maintain a united effort on all levels in the International Pentecostal Holiness Church.
Goals
1. Every conference to appoint a DRUSA coordinator and committee
2. Every conference to identify its area of specialty when called upon to participate in disaster relief
3. Conduct annual DRUSA training for coordinators and teams
4. Train and equip teams to assist with the Mobile Feeding Kitchen
5. Provide Red Cross certification in mass care as needed
6. Keep a clear line of communication with conference bishops and DRUSA coordinators during times of disaster
7. Maintain a current website
8. Produce informative, innovative, and effective promotional materials
The International Pentecostal Holiness Church must never forget why we are involved in disaster relief. We have the opportunity to represent Jesus Christ in the midst of crisis with unconditional love and abounding grace.
Team Chartering
Who should charter?
Each local church and conference DRUSA work team should apply for a charter with the National DRUSA Office and renew that charter annually in January.
Why charter?
Chartering allows your team to broaden its scope of ministry by becoming an official member of a larger organization—Disaster Relief USA, DRUSA.
Chartering entitles your team members to participate in the conference and regional DRUSA training events.
Chartering provides important information to the National DRUSA Office, enabling the national coordinator to develop and maintain an effective Disaster Relief Resources Registry of work teams available for deployment in the event of a disaster.
Certification—Your team will be issued a Charter Certificate suitable for framing and displaying wherever your team assembles. Each team member listed on your Charter Application or Charter Renewal Application will be issued an official identification card, signed by the National DRUSA Coordinator.
What does it cost to charter a DRUSA team?
Chartering a DRUSA team is free and requires no charter fee.
Who do I contact?
Contact your Conference DRUSA Coordinator for details. You may download, print and return the Charter Application or a Charter Renewal Form, here (In MS Word Format) (In PDF Format). Return the completed form to the National DRUSA Office, P.O. Box 12609, Oklahoma City, OK 73157 or by email to drusa@iphc.org.