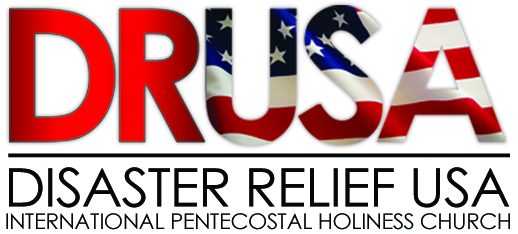 The mission of Disaster Relief USA (DRUSA) is to organize volunteer ministry teams to model the compassion of Jesus Christ by providing mass care to individuals and families devastated during times of disaster.
CLICK HERE to download the DRUSA Handbook!
Team Chartering
Who should charter?
Each local church and conference DRUSA work team should apply for a charter with the National DRUSA Office and renew that charter annually in January.
Why charter?
Chartering allows your team to broaden its scope of ministry by becoming an official member of a larger organization—Disaster Relief USA, DRUSA.
Chartering entitles your team members to participate in the conference and regional DRUSA training events.
Chartering provides important information to the National DRUSA Office, enabling the national coordinator to develop and maintain an effective Disaster Relief Resources Registry of work teams available for deployment in the event of a disaster.
Certification—Your team will be issued a Charter Certificate suitable for framing and displaying wherever your team assembles. Each team member listed on your Charter Application or Charter Renewal Application will be issued an official identification card, signed by the National DRUSA Coordinator.
What does it cost to charter a DRUSA team?
Chartering a DRUSA team is free and requires no charter fee.
Who do I contact?
Contact your Conference DRUSA Coordinator for details. You may download, print and return the Charter Application or a Charter Renewal Form, here (In MS Word Format) (In PDF Format). Return the completed form to the National DRUSA Office, P.O. Box 12609, Oklahoma City, OK 73157 or by email to drusa@iphc.org.