This coming weekend is the Empowerment Conference in Oklahoma City! Join IPHC Men's Ministries on April 10-11, 2015 at the Heartland Conference Retreat Center. I believe that your attendance is so important that I've decided to keep the $20 rate! Call 405-792-7131 if you need help registering. Onsite registration will be $35.  Click here to register online.
Friday
*Empowerment Golf Classic ($65) at 8:00 am
*Opening Service at 7:00 pm with keynote speaker Jeff Kemp, Family Life Vice-President. To watch a short video by Jeff Kemp, click here.
Saturday 7:00 am – 12:00 pm
Breakfast (provided)
*Session I Speaker: Dr. Joaquin Molina, from Spring of Life Fellowship – World Changers, is the author of What is a Man? and will share on manhood. To hear from Dr. Molina, click here.
*Session II Speaker: Rev. Jake Bunn is the Great Plains Conference Discipleship Director, a Men's Ministries Board Member and Director of Free Camp.  He will share with us during the next generation leader's track.
*Session III Speaker: Jeff Kemp will end our time together with a challenge for every man!
Lunch (provided)
You'll find all the details at www.iphc.org/men. Simultaneous Translation into Spanish will be available upon request. We also have a promotional packet for the Empowerment Conference, so help us spread the word!
I look forward to seeing you and the men from your church. This is going to be a great time together and your men will leave challenged, encouraged, and empowered to serve.
See you next weekend!
Bill C. Terry
IPHC Men's Ministries Director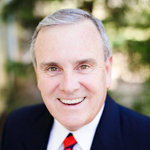 Bill Terry is the National Director for Men's Ministries and the Assistant Director for Discipleship Ministries. Bill resides in Oklahoma City with his lovely wife Rita, where they will celebrate 44 years of marriage in 2015. He is the proud head of an extended family that includes two sons Gregory and Rodney, daughters-in-law Holly and Brec, granddaughters Grace, Annie, Emily and Elena and grandson Adam Gregory.