Here's a good question to ponder. "What did Abraham, Moses, Joseph, Joshua, Ruth, and Daniel have in common?"
Ok, you are probably thinking of several answers to the question. They are all Old Testament characters, great leaders, faced difficult challenges, and faithfully served the Lord. Good answers…but not what I'm looking for. The one thing they all had in common was that they modeled decisiveness.
Let us look at a three of these Biblical characters and witness their moment of decisiveness:
Ruth's response to Naomi, "Then she said, 'Behold, your sister-in-law has gone back to her people and her gods; return after your sister-in-law.' But Ruth said, 'Do not urge me to leave you or turn back from following you; for where you go, I will go, and where you lodge, I will lodge. Your people shall be my people, and your God, my God. Where you die, I will die, and there I will be buried. Thus may the LORD do to me, and worse, if anything but death parts you and me?' When she saw that she was determined to go with her, she said no more to "
Daniel's response to the king's decree regarding prayer, "Now when Daniel knew that the document was signed, he entered his house (now in his roof chamber he had windows open toward Jerusalem); and he continued kneeling on his knees three times a day, praying and giving thanks before his God, as he had been doing "
Joshua's challenge to the tribes of Israel, "If it is disagreeable in your sight to serve the LORD, choose for yourselves today whom you will serve: whether the gods which your fathers served which were beyond the River, or the gods of the Amorites in whose land you are living; but as for me and my house, we will serve the Lord "
As you can see these passages of scripture represent "decisiveness moments." There is no wavering, waiting for tomorrow, or hoping they are doing the right thing. In each instance we see leaders who are not only decisive but bold in their position.
Consider this perspective pertaining to decisiveness. "Decisiveness is the willingness to make decisions, even in the face of complexity or uncertainty. When we are decisive, we weigh the information that is available to us and we use our judgement to choose among the possibilities."1
In the 24th chapter of Joshua the great leader is nearing the end of his earthly journey. Having been mentored by Moses, he was well schooled in being a decisive leader. He learned from one of the best. Joshua modeled consistent and decisive leadership before the tribes of Israel, but nowhere does he speak more candidly than in Joshua 24:15, "…but as for me and my family, we will serve the Lord." This fearless leader, a champion, now shows his priestly side and spiritual leadership in his home.Joshua understood that he had a God-given responsibility and his family had a need; so he stepped up as the spiritual leader of his household, "…as for me and my house, we will serve the Lord."
One website I frequent from time to time is "Fierce Dads." It focuses on helping dads become heroes in their homes. I love the stories they share about dads who get it right and those who are trying. Here is one story about a hero dad:
"Each night after Rick's daughter fell asleep, he would sneak into her room. After kneeling next to her bed, he would lay his hand on her head and pray over her. Sometimes for several minutes. Sometimes for several hours. He started the night she was born and continued until the day she moved away to college.
Several months later, she came home for Thanksgiving break. While helping her mom in the kitchen one afternoon, she said, 'Dad still prays for me every night even though I'm gone, doesn't he?' 'How did you know that?' her mom replied. 'I can still see his knee marks in the carpet next to my old bed,' she said."
I've heard several versions of this story about Rick. I've never met him; I don't even know if he exists. But I do know one thing about him:
Rick is a hero!2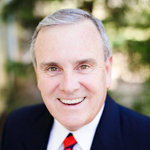 Bill Terry is the National Director for Men's Ministries and the Assistant Director for Discipleship Ministries. Bill resides in Oklahoma City with his lovely wife Rita, where they will celebrate 45 years of marriage in 2016. He is the proud head of an extended family that includes two sons Gregory and Rodney, daughters-in-law Holly and Brec, granddaughters Grace, Annie, Emily and Elena and grandson Adam Gregory.