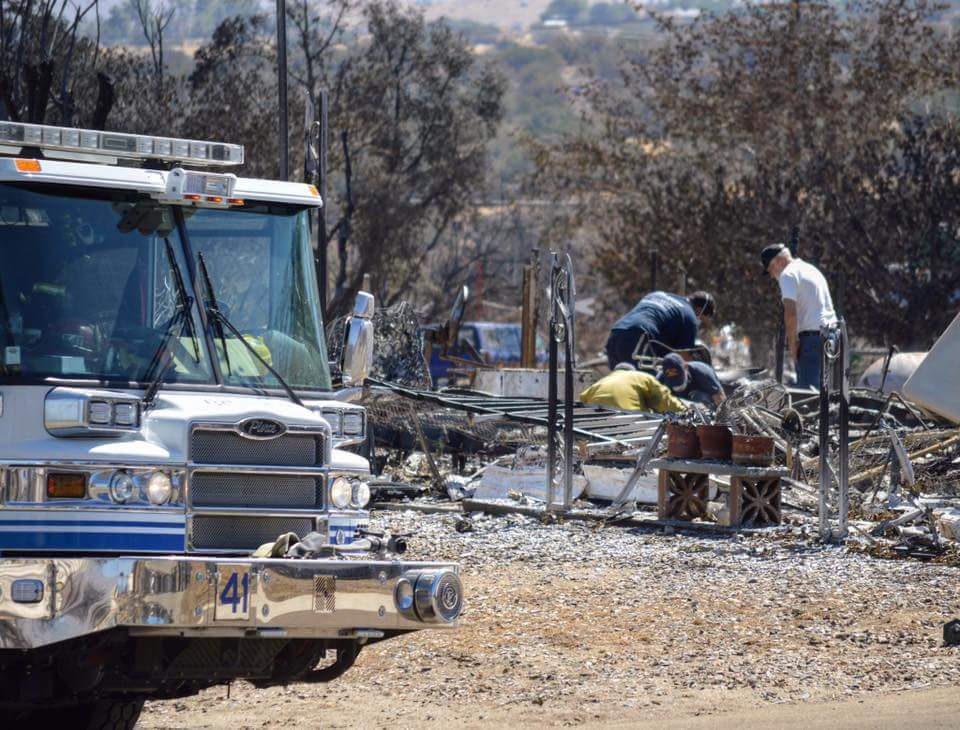 Photo Credit: Billy Woods – Kern County Firefighters
Report by Bill Terry, IPHC DRUSA National Coordinator
The words "Long Road Ahead" best describe what many Southern California residents will be facing over the coming weeks and months. The image on the right is the property of a Vietnam veteran that was completely destroyed. The image shows Kern County firefighters assisting him as he searched through the debris for his military medals as well as any other valuables.
Billy Woods stated, "This sight is just one of many of residents who have lost everything." Fire officials are working closely with Community of Faith volunteers, organizing teams to assist in the post fire search and clean-up.
Disaster Relief USA (DRUSA) is appreciative to Bill Kenedy, Golden West Conference DRUSA Coordinator and Pastor Billy Woods, Golden West Conference M25 Coordinator, for their participation and leadership in the recovery process.
And thank you to everyone for your prayers and financial support. It is greatly appreciated. It is because of your continued support that we can continue assisting Southern California.
The North Carolina Conference Mobile Kitchen team arrived home late Wednesday night after a ten-day deployment in White Sulphur Springs, West Virginia. North Carolina DRUSAcoordinator Gordon Knox expressed his thanks and appreciation to DRUSA, all of the volunteers, as well as prayer and financial supporters. Knox stated, "The success of this deployment goes to God and the many volunteers who gave their time to help feed 10,000+ meals during our ten days in West Virginia. God bless you!"
Thank you to everyone for partnering with us to assist in the recovery process. Your gifts and contributions have impacted the lives of numerous families in the midst hardship. If you would like to make a financial contribution to assist in the continued recovery process, please click the following link. . .DRUSA Response.

Thank you to everyone for your prayers and financial support…