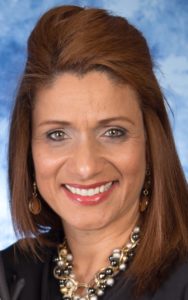 "Falcon Children's Home is pleased to announce that Mrs. Marysol Martinez has chosen to become a part of The Falcon Children's Home and Family Services team. She is the first female executive director of Royal Home Ministries. She brings a wealth of knowledge and experience. Mrs. Martinez is a licensed minister with the Assemblies of God and also has a Master's Degree in Education. She has worked many years in various positions in the church, as well as organizing and directing many overseas mission teams and projects. She has taught in both public and private schools and has served in administrative roles in both. However, it is her passion and commitment to serving God that most qualifies her for this ministry. She is a gifted and anointed speaker, and I would encourage all churches and pastors to schedule her for a service in their churches. She has hit the ground running and I know she will lead this ministry to greater heights than it has ever been before." –Joey Leggett, Falcon Children's Home CEO
Marysol Martinez serves as the Director of Royal Home Ministries (RHM) at Falcon Children's Home & Family Services, which is located in Falcon, North Carolina. RHM is a ministry that has served the needs of individuals and families for over 23 years. The mission of (RHM) is to be the voice of the unborn child and a safe haven for teen moms and their children.
Marysol's primary focuses at Royal Home Ministries are to provide pregnant teenagers, as well as teenage mothers and their babies a safe living environment while providing the necessary support, care, and encouragement needed to ensure a solid foundation for a successful family life.
Prior to joining the Royal Home Ministries, Marysol was a Spanish teacher in the Frederick County Public Schools in Frederick, MD. Previously, she also served as a teacher and middle school principal at Northwood Temple Academy in Fayetteville, NC. Both she and her husband are Licensed Ministers of the Assemblies of God who have served as Youth Pastors and in Foreign Missions.
Throughout her career, Mrs. Martinez's achievements include: Fredrick County Public Schools Teacher (FCPS) of the Year Award 2015 and was selected as the guest speaker on the FCPS All-Star program.
Marysol is a native of Philadelphia, PA, and lived in Fayetteville, NC for 13 years, then moved to Frederick, MD due to her husband's Military Career. She received her Bachelor's Degree in Foreign Language Studies from Fayetteville State University and her Master's in Education and Learning from Liberty University.
She currently resides in NC with her wonderful husband Sergeant First Class Carlos Martinez, who currently serves in the United States Army and her two amazing children Mia, a sophomore at Liberty University and Charlie, a junior in high school. She enjoys reading, caring for her elderly mother, and spending time with her family. Please help us welcome Marysol to the IPHC Family!