In just a few weeks, Washington, DC will be the site of a major event. Thousands will gather to participate in what has become a great tradition. While it is an historic event in itself, I am not referring to the inauguration of the president of the United States which is scheduled for January 20. While that event carries major significance to the future of our nation, the event the following weekend carries significance for the future of every unborn child. On the heels of the inauguration is the annual March for Life which four years ago drew a record crowd of 1.8 million people. As politicians and special interest groups prepare to participate in the inauguration of the highly controversial president-elect, pro-life advocates are preparing to converge upon DC to march for an equally charged and controversial issue that has divided our nation since the Roe vs. Wade decision in 1973. The march has grown from 30 concerned citizens who gathered in a Washington D.C. home years ago, to the present day march that draws hundreds of thousands of people from all fifty states and countless countries! Both the March for Life and Sanctity of Human Life Sunday are held in January to coincide with the anniversary of the decision that legalized abortion.
I attended my first March for Life in 2015 just days after burying my 89-year-old mother. My mother had lived a long and very fruitful life. She was the baby in a family of 11 children. As I made the drive from my mother's house in Bristol, Virginia, up to Washington, DC, my heart was grieving. But the grief was for more than my mother. It was for the thousands of babies who were never allowed to make the choices my mother made. They would never know the touch of a mother's tender hug or kiss. They would never hear the voice of a father saying, "I love you." They would never have the opportunity to make the literal hundreds of thousands of life choices that she made. Those things had been denied because of one thing–abortion. That one word has divided our nation now for more than four decades. Yet on that day, I was one person joining forces with thousands of strangers and several fellow IPHC marchers who gathered at the rally with the Washington Monument in sight.
The 2017 March for Life is gathering this year with the theme of "The Power of One!" While that phrase at first sounds rather trite, think about it. Martin Luther King, at the age of 34, galvanized the nation with his "I Have A Dream" speech at the Lincoln Memorial in Washington, DC. The very next year, he was awarded the Nobel Peace Prize. One man. One dream. Dr. King's dream lives on today even after his tragic assassination. He became the catalyst for the Civil Rights Movement that led America through some major changes.
Another dream began brewing in the heart of Nellie Gray and in 1974, she orchestrated the first rally and march around the nation's capitol building. She continued to organize and run the March for Life for the better part of a century. Nellie dedicated all of her energy to advocating for the most vulnerable in society.
As abortion clinics began to spring up across America, abortions became all too common. Since the Roe vs. Wade and Doe vs. Bolton, it is estimated that more than 58 million babies have been aborted to date. That number is staggering. So how on earth can the power of one make a difference? Just ask the people involved in the ministry at the IPHC Marvin and Joyce Whitfield Life Campus in Falcon, NC at The Royal Home. Rev. Whitfield had a dream of his own. He was disheartened every time he passed an abortion clinic and began to formulate a plan and vision that has spanned several years and phases. ATAM (Alternative to Abortion Ministries) was birthed as a pro-life ministry that offered a home where girls could stay during pregnancy. In late 2015, the Marvin and Joyce Whitfield Life Campus was dedicated. It not only provides housing during pregnancy, but for any mother needing a home after her child is born. This maternity and mothers & babies program offers mothers and their babies the necessary safety, support, care, and encouragement to ensure healthy prenatal care, birth, and aftercare. They provide opportunities for the mothers to set appropriate goals and make wise decisions for their future.
Girls' Ministries began supporting this pro-life ministry nearly 17 years ago when one person, Linda Riddle, who was serving as the national Girls' Ministries Coordinator, developed Baby Hope Club. It was introduced as a way for girls in churches to help raise fund which were then used to set up a store at The Royal Home. Expectant mothers could use points they earned to purchase items for the baby. Because of Linda's vision, thousands of dollars have been raised for this ministry. In fact, when I participated in the 2015 March for Life, it was to represent Girls' Ministries and Baby Hope. I arrived on Friday evening and had dinner with a most unlikely group of guys. They represented a group called M25, a branch of Evangelism USA. They had ridden their motorcycles to Washington from The Royal Home in Falcon, NC, to lead us in the march.
Rev. Gary Burd is another individual who represents the power of one! He had a dream to reach a group of people that many overlook. As a pastor, IPHC Conference Superintendent, and motorcyclist, he has led the way in many unique ventures with bikers. The most recent is the Diaper Run where motorcyclists went cross country to collect diapers for The Royal Home.
At this year's Harvest Train during Thanksgiving week, we were privileged to witness the dedication of the Burd's Nest Boutique, which is a store where mothers can shop for their babies. It is named in honor of Gary and Carolyn Burd who are personally leading the way in numerous ventures for supporting the life-giving efforts of the Whitfield Life Campus. Baby Hope funds will continue to help purchase supplies for this boutique. The more we give, the more we can bless the mothers who boldly choose life!
As we gathered for the Harvest Train service the next morning, it was apparent as awards were given that there were so many others whose individual stories could be told, but one stood out to me. A nine-year-old girl named Reagan Gurley uses a giant baby bottle to collect money at her church, Christian Life Worship Center in Athens, GA. Her mother, Shakeenah, is the Girls' Ministries director at the church. This year, Reagan collected $1,230.79 and brought it to Harvest Train. One girl. One congregation but many people getting behind her dream! Last year, one of our Girls' Ministries groups solicited the help of the church and raised more than $5,000 for Baby Hope. Reagan is another great example of the power of one.
Clearly, I could go on naming individuals who have stepped out in faith to fulfill a vision. As others catch hold of those visions, the growth is amazing. Exponentially speaking, the powers of one are always one. So in theory, the Power of One, might be considered an oxymoron. Yet, indicated by the stories shared, the power of one has led to some great and mighty results. Look no further than The Trinity for the greatest illustration of the Power of One: God the Father, God the Son, and God the Holy Spirit.
So here's the challenge! As we approach January and think about how sacred life really is, what can you do? Ride a motorcycle into Washington, DC? Participate in the March for Life by walking with thousands of others? Join with your church in recognizing Sanctity of Human Life on January 22, 2017? Will you join Reagan and scores of others who collect money in baby bottles for Baby Hope? The choice you make might seem insignificant at first, but never doubt the Power of One!
About the Author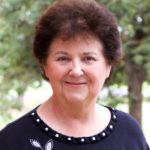 Irvina Parker- iparker@iphc.org
Director, Girls Ministries
Irvina is serving her fourth term as the director of Girls' Ministries. She and her husband David reside in Oklahoma City where he serves as president of the IPHC Extension Loan Fund. Irvina has been employed at the GMC since 1974 when she began working part time in Women's Ministries while attending college. She graduated from Emmanuel College with her Associates Degree and Southern Nazarene University where she received her Bachelor's Degree in Elementary Education with a concentration in English. Irvina worked in World Missions for about 25 years, some of that part-time while raising their children. During that time, she also served in conference-level leadership of both Women's and Girls' Ministries.
David and Irvina are active members at River of Life PHC where they have attended for more than 40 years and have served in numerous roles and ministries. Their adult children, Ryan and Jennifer, are both married and have provided them with the thrill of being grandparents. Ryan and his wife, Jessica, are parents to Aubrey and Tristan. Jennifer and her husband Shane are parents to Jasper. Irvina enjoys traveling, photography, scrapbooking, stamping, snow skiing, and spending time with all of her family.