The Esther Anointing: Becoming a Woman of Prayer, Courage and Influence
By Michelle McClain-Walters
When looking for the 2017 Women's Ministries Book Study, my desire was to find a book that would inspire women to be exactly what God had in mind when He created us. God made a way to find just what I was looking for when a board member recommended the book, The Esther Anointing: Becoming a Woman of Prayer, Courage and Influence. I am so thankful to work with people who help to accomplish what God has in mind!
This book teaches about the Esther anointing, and captures the reason we are here for "such a time as this." From the introduction "You Were Made for More" to the final chapter "Designed for Influence, Michelle McClain-Walters powerfully communicates a message purpose. When we look at our lives through the lens of another person, we realize the potential to be more than we could have imagined.
Michelle says, "The Esther anointing is a grace that is being bestowed upon women to influence the current culture for the purposes of the kingdom of God." Enough said.  As this year is about Christ's Kingdom, this book shows us how we are anointed to run with the vision – kingdom vision.   As we are focusing on our 2017 Women's Ministries theme, "Ignited for Purpose – Kingdom Purpose", what better way than to declare this as a new day and new year to walk in that purpose for our individual lives.  Michelle states , there was a "pivotal time in Esther's story when her past and present converged and her anointing was pressed out and revealed.  At that point of convergence was where God … took all of the bitter and sweet experiences of Esther's life and crushed them together under the oil of the Holy Spirit to produce what I'm calling in this book "the Esther anointing."  What a beautiful place… where we realize the pain of our lives and the beauty combined make up the anointing that God uses to advance His Kingdom.
There were many useful points that stood out to me while reading this book! For example, Michelle states, "The Lord is releasing His favor and grace upon us to fulfill His purposes in the earth. The question is:  Will we submit to the process of being trained and commissioned to fulfill these purposes?" As you read further, she explains, "prayer and action will be two major keys to women influencing their spheres of authority."  We will be women motivated by the love of God, leaning on His strength and abilities.  We will not be intimidated by natural laws or deterred by the opinions of man.  The fear of the Lord and hatred for the enemy will be the driving forces as we walk in our "Esther anointing."
At the end of each chapter, there is a section titled, Declarations and Prayers to Activate the Esther Anointing.  Any of you who know me, know I love activation steps.  They catapult us into the next place we need to be.
I encourage you to read this book. It may help you determine the difference between where you are and where you know you want to go. As the book states, let's all declare: "This is my time and season to accomplish and live in God's ordained purpose and destiny."
Now, let us agree in prayer, "Lord, Your Word says, 'Loose thyself…O captive daughter of Zion' (Isaiah 52:2, KJV), and in the name of Jesus, I loose myself from every limitation, barrier, obstruction, and demonic mind-set that has kept me from meeting my full potential. No longer will I be deceived and trapped by traditions and the opinions of men.  I was created for greatness!  I was created to be God's glory carrier throughout the earth."
What better way to end a book review than with all of us free from our limitations, and carriers of His glory throughout the world!
About the Writer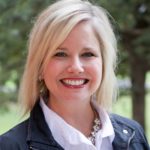 Samantha Snipes- ssnipes@iphc.org
Director, Women's Ministries
In December 2014, Samantha Snipes began serving the IPHC as the director of Women's Ministries. She served her church as the women's ministries and missions director prior to moving to OK. She and her husband have owned businesses and worked in ministry together since 1994. She was director of operations for a design firm and worked with ministries all over the world on their marketing. She has a passion for activating and mobilizing people in their faith, to see them realize their mission in life, experience the great commission to win souls, and connect the passion and love of Jesus to the world. She loves having fun and traveling with her husband, Todd, and their two sons Cole and Skyler.