Paul encouraged Timothy to "make full proof" of his ministry in 2 Timothy 4:5 KJV. With these words, this young minister was challenged to demonstrate the true characteristics of a person and pastor who is called by God, and is obedient and faithful to Him.  A Pastors role is about being and doing.  Pastors who fulfill the Biblical role, as demonstrated by our Lord and instructed by the Apostle Paul, should be acknowledged and honored by the church.  Scripture admonishes us to know those who labor among us and to honor them. 1 Thessalonians 5:12 NIV says, "Now we ask you, brothers and sisters, to acknowledge those who work hard among you, who care for you in the Lord and who admonish you. Hold them in the highest regard in love because of their work." II Timothy 5:17 NIV says, "The elders who direct the affairs of the church well are worthy of double honor, especially those whose work is preaching and teaching."  As we approach "Pastor Appreciation Day", I want you to consider the following acrostic for the word PASTOR.
P – Preacher – The preacher is to "Exalt the Savior." Jesus said when we lift Him up, He will draw all men unto Him. Preaching is not about us, but about Him. He has been exalted and given a name that is above every name.
A – Administrator – An administrator has the responsibility to "Establish the Structure." Paul told Titus "The reason I left you in Crete was that you might put in order what was left unfinished."  A faithful pastor seeks to create a biblical structure so the church can stay on mission and be obedient to our Lord.
S – Shepherd – The Shepherd should "Encourage the Sheep." A loving shepherd will be faithful to feed and lead, to guard and guide the sheep under his care.
T – Teacher – As a Teacher, the pastor must "Equip the Saints." Ephesians 4 challenges the pastors and teachers to "equip his people for works of service, so that the body of Christ may be built up."
O – Overseer – The Overseer must diligently and continually "Examine the Spirits." Paul warned Timothy that in later times there would be "deceiving spirits" I Timothy 4:1 NIV.  John the beloved also reminded the church to "not believe every spirit, but test the spirits to see whether they are from God, because many false prophets have gone out into the world" 1 John 4:1 NIV.
R – Restorer – The Restorer should "Extend the Staff." Pastors are always looking for lost sheep. In Luke 15, Jesus shares how the shepherd is not satisfied to have most of the sheep at the end of the day.  A faithful shepherd is like his master who came to seek and to save the lost. Our Shepherd loves His sheep and wants us to find them.  The Shepherd/Pastor goes out into the night to rescue and restore those who have wandered away from the fold.
The work and burdens of these servants of God have never been greater. One of the greatest needs of pastors is for people who will join with him or her in the work of the ministry.
Hopefully you are asking "what can I do to help my pastor?" Below are just a few ideas that would mean so much to your spiritual leader:
Pray for your pastor and family. There is no doubt that ministers are the target of satanic attack.
Examine your expectations. Far too often, people expect pastors to be everywhere and do everything for everyone. Let's make sure we are realistic in what we expect.
Find your place in ministry. Many churches are suffering from the lack of willing persons to help lead in ministry. A church full of needy, immature Christians is a "field to work in", but a church with leaders who are equipped for ministry is a "force to work with."
Be the Christian you should be. Keep growing in the Lord and maintain a consistent life and witness. It is always encouraging for a pastor to hear of the Godly character of the people under his care.
Pastor Appreciation Day is simply a day set apart to give special honor to whom honor is due.  Godly men and women who serve the Lord and His people in this special and sacred role are due to be honored. However, remember that every day is a good day to encourage and appreciate your pastor!
About the Writer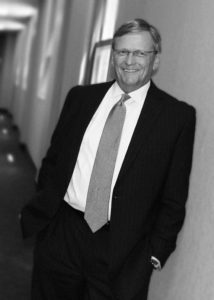 Bishop Tommy McGhee
Executive Director, Discipleship Ministries