*posted with permission from Emmanuel College
Northwood Temple's popular Dinner Theater Production is in its 30th year of the ongoing saga of Smith Corners USA, and this year, the production comes to the campus of Emmanuel College. Led by Buck Hodge, Emmanuel class of 1969, the entire troupe will present Please Don't Shoot! I'm Just the Messenger in the Swails Center on Saturday evening of Homecoming Weekend.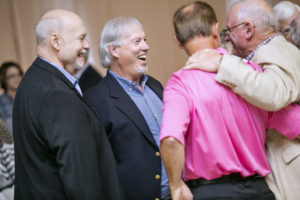 Alumni from all across the United States will make their way to Franklin Springs to celebrate Emmanuel College, and the work the Lord continues to do on this campus, at the 98th Annual Homecoming Weekend held October 27-29.
Homecoming festivities will begin Friday morning and will include an Alumni and Friends Meet and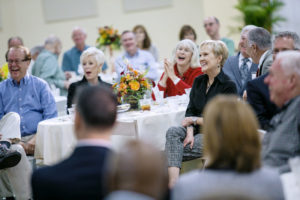 Greet Cookout at the Shaw Athletic Center and several athletic events.
Saturday will begin with a reunion for this year's Golden Grads, the annual Alumni & Friends Awards Luncheon, the Robert Roberson Aquatic Center Dedication, Alumni Intramural Turkey Bowl, and Dress Your Decade Alumni Mixer.
On Saturday evening, the Swails Center will transition into a dinner theater. For 30 years, audiences have thrilled to the antics, comedy, drama and music of Northwood Temple's annual dinner theater.  Many of our alumni have attended consistently, and many others have wanted to take part. Now, Emmanuel College has the pleasure of hosting the final performance for the 2017 season at Homecoming.
Smith Corners, N.C., is one of those little towns that seems to have more than a fair share of crazies. Of course, there are plenty of intelligent, normal people living here–but it's the nuts who stand out in a crowd. This year's story illustrates the point perfectly. It seems that the Mayor hasn't been himself lately, and appears to be losing his grip on reality. Some speculate that it's time for him to retire and let daughter Tilley take over the job—but he's balking at the idea. Meanwhile, the Preacher has his own set of woes dealing with his aged father, Ukulele Whittlemire. The old gentleman has recently pulled some shenanigans that might well drive his son into bankruptcy. Complicating the situation, the church remodeling project went way over budget, and there's not enough money in the till to fix everything. Everyone else has a crisis of one kind or another going on. Nobody seems to be getting anything done, except to get on one another's nerves. However, all is not lost. Leave it to the mail man to bring hope through one of his deliveries. When all is said and done, more has been said that done—but they all leave happy.
The weekend will conclude with a service at Franklin Springs IPHC at 10:30a.m. where Emmanuel College President, Dr. Ron White will share the message.
For more information on Homecoming Weekend at Emmanuel College, click here.