In my more than fifty years of local ministry to girls, Power Chicks is THE event that really puts POWER in action in the girls. I saw this at the very first Power Chicks in 2007 when I took a group of girls from Holly Hill Church to Ridgecrest near Asheville, NC.
Even though we had no idea what to expect from such a gathering, there was great anticipation even in the planning stages as we collected donations and raised funds to support our trip. When we left Holly Hill Church in Vanceboro, NC, that July morning, the excitement really began to grow as the girls enjoyed time together traveling on the church van. Upon arrival at Ridgecrest, we were all impressed with the site. The beautiful campus, the various buildings, and most of all the huge cross on top of the mountain.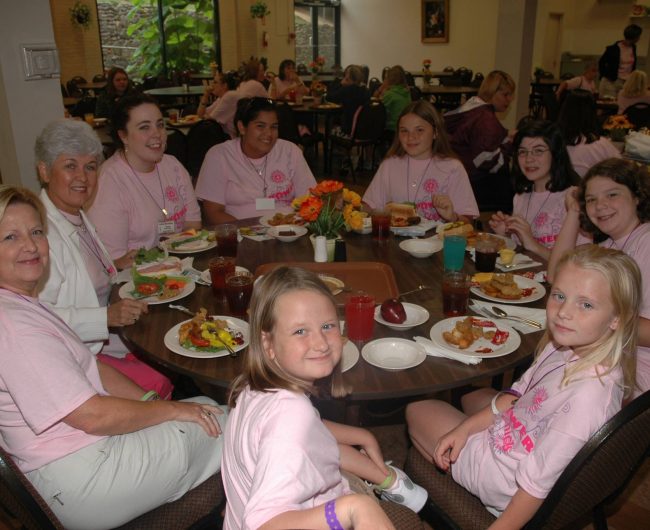 Every minute of every day was packed with excitement– group sessions, outside activities, games, and room devotions before bedtime. The personal time we, as sponsors, were privileged to spend with our girls was invaluable as they began to bear their souls with us in a much deeper way. We had girls sharing their hearts about broken families and other relationships, girls who were asking questions about sexual topics, and girls from unchurched families who were concerned about unsaved loved ones. The family environment in which we found ourselves brought us all closer together, and a bond of trust was developed that continued with that group until they went away for college. Most of them still remain friends.
The girls were thrilled to meet other IPHC girls from all over the United States and have the opportunity to get to know them as they participated together in classes and sports activities. The morning devotions and large group activities were fun and learning experiences for the girls. The class sessions were age-appropriate and spiritually-oriented. Meal times together led to constant chatter and more bonding. Afternoons were filled with everything from crafts to target shooting.
However, the highlight of each day's schedule was the night service. An ALL GIRL BAND played the music while an ALL GIRL TEAM led the singing. The auditorium echoed the voices of the hundreds of girls who sang praises. A powerful GIRL/WOMAN preacher gave the message each night. The presence of the Holy Spirit was powerful in every service. Our girls left each night with red eyes and full hearts from spending time in the altars praying.
As we started back home, the first topic of discussion was, "Why do we have to wait four years to do this again?" Needless to say, for the next four years POWER CHICKS came up quite often.
In 2011, we took some of the same girls and some new ones back to Ridgecrest. Now some were familiar with the campus and schedules and served as the "big sisters" of the group. We found the same atmosphere of camaraderie and enjoyed meeting even more new friends. Classes and activities were fun, but it was at this event that I really observed how life-changing the experience of Power Chicks could be.
One girl in our group was experiencing an especially hard time in her life. Her parents were in the midst of a separation, and she was hurting so deeply. I witnessed her in the altar praying– pouring her heart out to God. Most of our girls and sponsors gathered around her to help her intercede. She was a young teen, but her cries and prayers were those of mature agony. She lingered for quite some time as her prayer warriors continued to fight this battle with her. I saw breakthrough as her countenance changed from despair to shining peace. She arose from that place of prayer victorious over the circumstances of life.
She came back to Holly Hill as one of the strongest young Christian girls I have ever known. She was a brilliant student and a participant in all the youth activities. Her hunger for God was evident in everything she did. Her parents did divorce, and her mother later married a fine Christian man. However, not too long after their marriage, he was accidentally killed in a gun accident. This young high-school girl again experienced another heart rendering blow, but her faith was strong. She relied on the Lord to get her through that awful time and was a true source of strength to her mother.
She is currently pursuing a nursing degree and very active in a church in her college town. She is a living testimony to the POWER in Power Chicks. I was unable to attend the 2015 event, so I was eager to hear from our girls when they returned. I asked my granddaughter what she liked best about Power Chicks. She said it was the testimony of Mrs. Beulah Sturkie.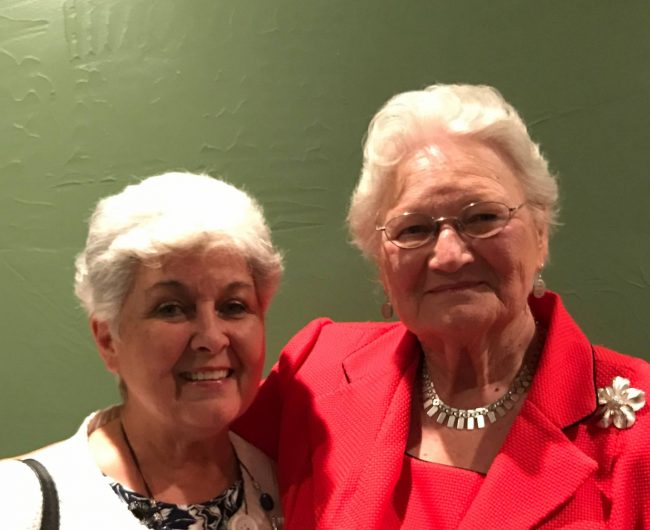 My dear friend, Beulah, shared how God had delivered her from the streets as a motherless child into the home of a minister and wife who later adopted her. Her powerful story touched the hearts of our girls in a meaningful way. I don't know what the 2019 Power Chicks has in store, but I know that your girls need to be there. God will be present in a special way to touch and change lives. There is POWER in POWER CHICKS!
Linda Thomas is a lifetime member of the Holly Hill PH Church where she has held many varied positions over the years. Among other current jobs, she serves as the coordinator of Girls' Ministries. Linda has served in many distinguished positions in the IPHC including the Discipleship Ministries Council, the first woman to serve on the North Carolina Conference Board (now serving her fourth term), and as the Chairman of the Board of Trustees for Emmanuel College for eight years. She also served for 16 years on the North Carolina Conference Women's Ministries board, including two terms as the director. Her service to community and state organizations is equally impressive. Linda is the wife of former State Senator Joe Thomas. They are parents of four children and have ten grandchildren. She enjoys time with her family and friends, church involvement, community activities, playing piano, reading/journaling, and relaxing with her crossword puzzles.