4th Power Chicks Emphasizes the Power of the Holy Spirit
The fourth quadrennial IPHC Girls' Ministries Power Chicks gathered in Ridgecrest, North Carolina, July 26-29, 2019, for a weekend packed with fun, friends, and growth in Christ. This year, nearly 500 people attended from 17 conferences, with Pacific Western Network Ministries attending for the first time.
The first Power Chicks began in 2007 out of a desire to minister to girls from third grade through high school and provide the opportunity for them to connect with other young ladies from the IPHC. Irvina Parker, director of IPHC Girls' Ministries, shares that the name Power Chicks was selected when the idea of a national girls' event was birthed. "We do not get our 'girl power' from the clothes we wear, the house we live in, or by being part of the 'in crowd' at school. As daughters of the King, our power comes from the Holy Spirit."
In Friday evening's service, Irvina Parker announced that she would be retiring from Girls' Ministries in October and this would be her last Power Chicks. Mrs. Parker has served as director of IPHC Girls' Ministries since 2001. Throughout her tenure, she has led with a tremendous passion and love for the girls of the church. Bishop Tommy McGhee, executive director of Discipleship Ministries, thanked Irvina for her faithful service and honored her with a gift from Discipleship Ministries. Bishop McGhee had this to say, "It was an honor to be present and recognize Irvina for her years of service and dedication to Girls' Ministries. She will be greatly missed." Each night, Irvina received gifts and words of encouragement from churches, conferences, and Girls' Ministries leaders.
In conjunction with this year's theme, "Wild About God – A Spiritual Safari," Power Chicks adopted IPHC Girls' Ministries in Africa as its ministry project. During Friday night's auction, Kazuri beads, stuffed animals, jewelry, and other items brought over $2300 to sponsor girls' conferences in 2020. Coupled with the offering received Monday, Power Chicks raised over $5,600 throughout the weekend.
On Saturday, attendees participated in breakout sessions led by Katlyn Moncrief Bryan, reigning Mrs. Georgia, who challenged the girls to be "Girls of Joy"; and Christal Potter, who encouraged everyone to remember that we are all treasures, made in God's image. The morning concluded with "Girl Talk" sessions led by Mary Alice Trevino. Girls' Ministries Director Irvina Parker shared, "The Girl Talk session with Mary Alice Trevino, Christal Potter, and Katlyn Bryan was on-point with three beautiful testimonies and uplifting messages of overcoming obstacles and difficulties."
Another highlight of the day was visiting Asheville's Fun Depot with go-carts, virtual reality, putt-putt, bowling, rock climbing, arcades, and much more! Laughter and joy filled the air as young ladies made new friends and enjoyed time together.
The Saturday evening service began with powerful worship led by an all-girl band from Emmanuel College. Speaking from Romans 10:15, Emmanuel College graduate Katlyn Moncrief-Bryan shared that we must boldly walk in the grace God gives us as princesses of the King. "Until you fully understand that you are a daughter of the King, you will not act like it. You are a princess!" The altars were filled as girls responded to the call to embrace their identity in Christ and fulfill His calling on their lives. In conclusion, Bishop Tommy McGhee invited everyone to come to the Lord's table and receive communion, which was served in small groups as the crowd gathered outside.
Sunday featured additional breakout sessions including "It's a Jungle Out There" with Meredith Light, "No Bozos" with Kimberly Wilkerson, and "Overcoming Anxiety, Panic, and Depression" with Janice Marshburn. On the recreational field, girls participated in archery, paintball, Wiffle ball, face painting, and other activities. This exciting time would not have been possible without the dedicated volunteer team led by David Parker and Boys' Ministries Director David Moore.
On Sunday evening, Irvina Parker presented the Beulah Sturkie Passion Award to Lydia Mills from the North Carolina Conference for her outstanding service to Girls' Ministries. This award was established in honor of Beulah Sturkie, the first director of Girls' Ministries.
In the closing service, Rev. Janice Marshburn reminded the audience that in John 14:16, the Father gave us the Holy Spirit--our comforter, teacher, and truth. In her illustrated sermon, Marshburn explained the importance of the Holy Spirit—who He is, what He does, and why we need Him. "We need His presence, and we need His power! We are Power Chicks!" At the close of the service, many responded to the invitation to receive salvation, sanctification, healing, and the baptism of the Holy Spirit.
On Monday morning, Irvina Parker shared her closing remarks about the power of "small and beautiful" which translates to "strong and powerful" when we choose to live in the power of the Holy Spirit. With this power, we can be superheroes like Deborah, who fought injustice and led Israel as a judge and warrior. Irvina encouraged each participant to go into their world, schools, and communities as Power Chicks, fully empowered by the Holy Spirit!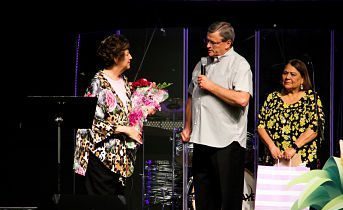 Bishop Tommy McGhee honors Director Irvina Parker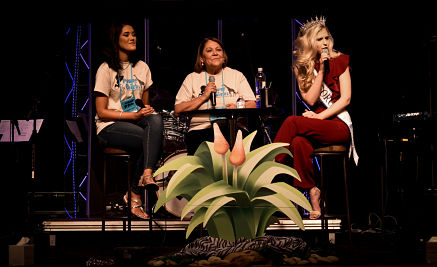 Girl Talk w/ Christal Potter, Mary Alice Trevino, and Katlyn Bryan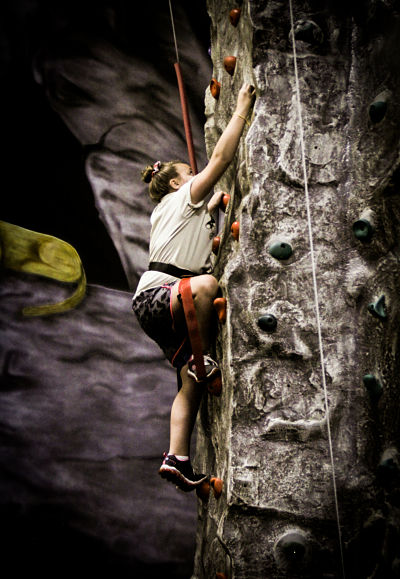 Rock Climbing Wall at Fun Depot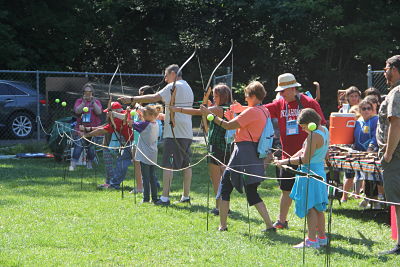 Rec Field Archery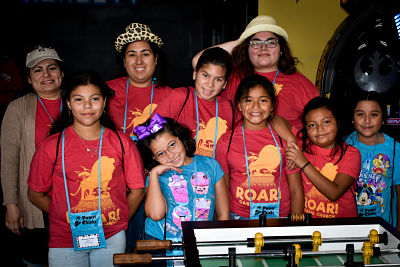 Girls' Group