As I sit here, writing a blog that I pray will encourage each of us in the middle of such an unprecedented time, my very own church, The Well (Pamplico Pentecostal Holiness Church) has been closed for a couple of weeks due to this invasive and invisible enemy, Covid-19. After many months of practicing social distancing, constantly moving, and changing directions, as recommended by state health agencies and our government, today it seems like it was not enough. Student Pastors, fellow leaders, and giants in the faith – so many of us have been here. So many of us have felt the sting of Covid-19 in most of our ministry efforts. We have experienced time that seems wasted and are constantly turning back to the "drawing board". Many heavy thoughts have crossed my mind as I am sure they have crossed yours, but as I sit here with an open heart, the Holy Spirit whispers gently that "hope is not lost". We can still have a presence even in a pandemic.
So, in terms of student ministry, how do we channel that "hope"? Moreover, how do we produce a culture of hope and continued growth within our ministries? "Growth" seems to be the core of our concern at this point in our pandemic journey, especially within student ministry and the challenges of keeping Gen Z "plugged in". There are three things that I believe we can do to produce a culture of hope, even in our current circumstances.
1. Let it begin with YOU
Leaders, everything flows from us. I know—at this point in our exhausted states that is the last thing that we want to consider. I am in your shoes as well. However, this is a foundational truth for our ministries. Whatever we have going on inside of us will reflect outwardly and determine the feel of our students/supportive leaders. I am reminded of Romans 12:2 when Paul tells us to allow the Holy Spirit to renew our minds. When we allow Him to steer our thoughts, they will likely defy nagging, anxious thoughts and/or tendencies we are prone to. If we allow God to produce a culture of hope within us, it will be reflected to our students as well.
2. Seize this opportunity for Discipleship
Discipleship, discipleship, discipleship! In early March (literally the weekend before everything shut down), I got to attend The Huddle in Charlotte, NC. Pastor Terry Parkman of River Valley Church in Minnesota heavily pushed a model of student ministry focused around discipleship. It was such timely advice. If there has ever been a time that we have been presented with a unique opportunity to pour into our students, it is today...SEIZE IT. Many of us have seen much lower numbers in our ministries, and we all know what a struggle number fluctuation can be for leaders. But in some ways, I believe God is doing a new and better work. Pastor Terry posed a question that has stuck with me since March: "If I have 100 students, but only 10 are going to heaven, then what have I really done?" Chew on that for a minute. We have an enormous opportunity to shift the way we have always done things to focus on teaching our students to be real, unrelenting, and rooted believers. Smaller, in-person numbers open a door to create disciples, and when the chance is given, they will reproduce, and reproduce again...see where this is going? This is the answer to the growth we are truly looking for. Make disciples because disciples make other disciples. Seize the day!
3. Let yourself be Creative
Here is the thing about Gen Z: They appreciate creativity because they are masterminds of it themselves. Innovation is far from scary to them; they embrace it whole-heartedly. When we got the news that Accelerant 2021 was canceled, honestly, I refused to sulk over it as we have done with everything else that has been canceled or postponed. It was time to think differently. My leaders and I got together and decided to plan a "Winter Retreat". Yes, we planned a student trip to Gatlinburg. We had to get very creative with this one. Not only was activity scheduling a challenge but planning safety measures was added too. Scheduling this trip was not some attempt to restore a sense of normalcy; it was actually the opposite. Trips like these create an opportunity to remove students from their normal and busy lives. For a few days, we do not have to compete with friends, sports schedules, or any other voice fighting for their attention. There is no better time to reach the core of a student than when they are extracted from everyday life. With that being said, the name of the game in battling COVID-19 in these situations is prevention. I recently had an interest meeting with parents and students concerning our trip. I had already laid the groundwork for a sickness/travel policy but gave our parents time for questioning and suggestions (This was a blessing for their peace of mind and my own). We worked together. This is what we came up with:
If any student/leader shows or develops symptoms of COVID-19, the flu, etc. within 14 days prior to departure, they will not be permitted to travel.
If any student/leader has fever for more than 48 hours any time within that 14-day period prior to departure, they will not be allowed to travel.
If a student/leader has had direct exposure to COVID-19 during that 14 days, travel will not be allowed (regardless of a negative test result.)
Students/Leaders will be required to wear a mask during all times of transportation inside of vehicles.
These are ways to prevent the possibility of an infection. You may think this is overly protective or maybe not enough. Everyone has differing opinions, and that is why I urge you to get your parents involved in these conversations. Creativity is not limited to activities and entertainment. We can let ourselves do the things we love in a safe way.
We have all had moments of feeling defeated and crushed on every side, yet we are still able to have an impactful presence in the lives of our students during this pandemic. Be present with God in yourself, be present in intentional discipleship, and be present in creativity and innovation. Where we have felt limited, let us become limitless. Where we have been daunted, let us be overcomers. I pray for new and fresh ideas, a renewed mind, and a mindset of excitement and joy over all of you. I want to leave you with the words that the Lord encouraged me with: "Hope is not lost!"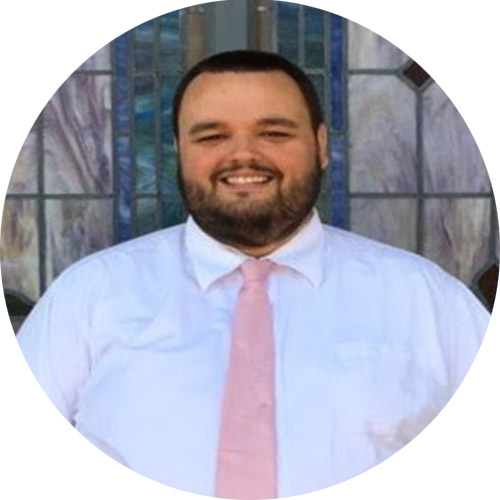 Pastor Zach is 29 years old and is originally from Lake City, South Carolina. He is currently serving as the Student Pastor over Chosen 129 Student Ministries, and also serves as the Connections Pastor at The Well PPHC in Pamplico, SC. He has been there since April 2018. Pastor Zach loves people and loves doing life with others. His greatest desire is to equip this generation and watch them grow into solid, powerful believers.