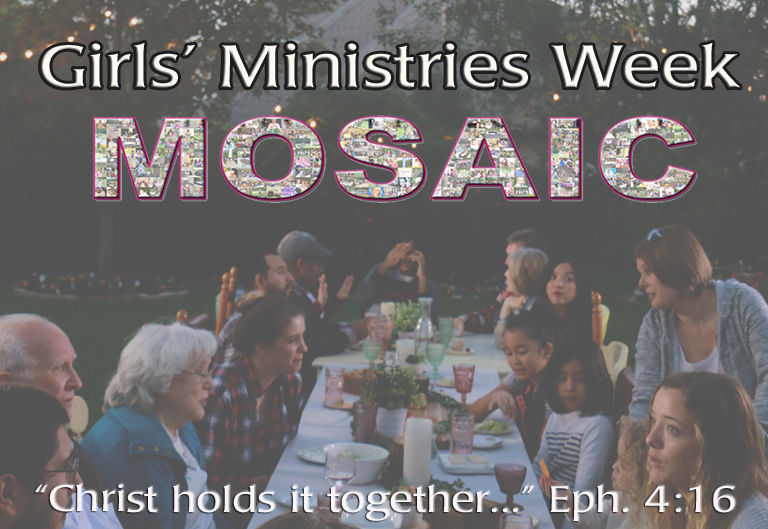 Several additional bonus ideas are developed each year to enhance that year's theme for Girls' Ministries Week. Some of these bonus ideas can be used all year long while others are related especially to the current year's theme. The active links below are for the 2018-2019 theme is "Mosaic".
BONUS IDEA #1: Leading Girls to Jesus Christ 
BONUS IDEA #2: Resources
BONUS IDEA #3: PowerPoint Slide Show
PLEASE READ THIS ENTIRE PARAGRAPH BEFORE DOWNLOADING. You need to have a narrator read the script that goes with the show. There are three different files you can download and use on GM Day. First, you'll want to choose between the PowerPoint Show (.pps) and the PowerPoint Presentation (.ppt). The show file does not allow you to edit any of the slides. You just click on it and it begins running immediately with the pre-programmed timing of slides and the information on each slide. Start reading the script as soon as you see the first sign of movement on the screen. If you want to have editing capabilities, then you'll want to download the ".ppt" file which is the presentation file. It will allow you to delete slides, change the timing, etc. However, be careful before you make changes. I would recommend that if you need to delete a slide (or text from a slide) to make it shorter, do it from a copy of the file. Next, you'll want to download the "PowerPoint Slides Notes" which will give you a picture of each slide and what should be read with that slide. (You'll want to use this instead of the script that was presented in the GM Week packet to make it easier to follow.) Practice several times reading aloud. Have fun and enjoy. The total time for the show is under seven (7) minutes. There's also a PDF version of the completed slides if you want to see a quick overview of the slides.
BONUS IDEA #4: "Links to Other Ideas"
Click on any of the links below to gather more ideas for crafts, projects, or gifts to enhance this year's theme. These could be used during Girls' Ministries Week or at any time throughout the year.
BONUS IDEA #5: All Generations Table Tent for decorating tables
This one-page document has the theme logo and the Scripture reference on it in a way to make it a double-sided tent for table decor when printed on card stock.
BONUS IDEA #6: All Generations Memory Games for club meeting activity (choose your download below)
Use this game during activity time or as a review. Each page has nine boxes. Page 1 has pictures that match the elements in the lessons; page 2 has printed information to match the pictures, page 3 combines the picture and reference. For the youngest children, simply print page 1 and cut the boxes to be used as flash cards or visuals. For the slightly older girls, print page 1 twice and let them try to match the pictures from memory (as they turn them over). For the older girls, print pages 1 & 3 and let them match the info to the pictures.  For the oldest girls, let them match the pictures to the Scriptures.
We are also including two bonus memory games that tie into bearing fruit and putting on the whole armor of God.
BONUS IDEA #7: Mosaic Worksheets
This 5-page document has a crossword puzzle, a word search, and an encoded secret message worksheet to use with different ages. It includes an instruction page and answer keys.
BONUS IDEA #8: Pinterest Board
Check out the two different Pinterest Boards this year connected to Girls' Ministries Week.  One is connected specifically to the theme "Mosaic" while the second is more closely related to the IPHC Core Value – We Prayerfully Value All Generations.  Both are filled with ideas for this week so be sure to check them out at the links below: