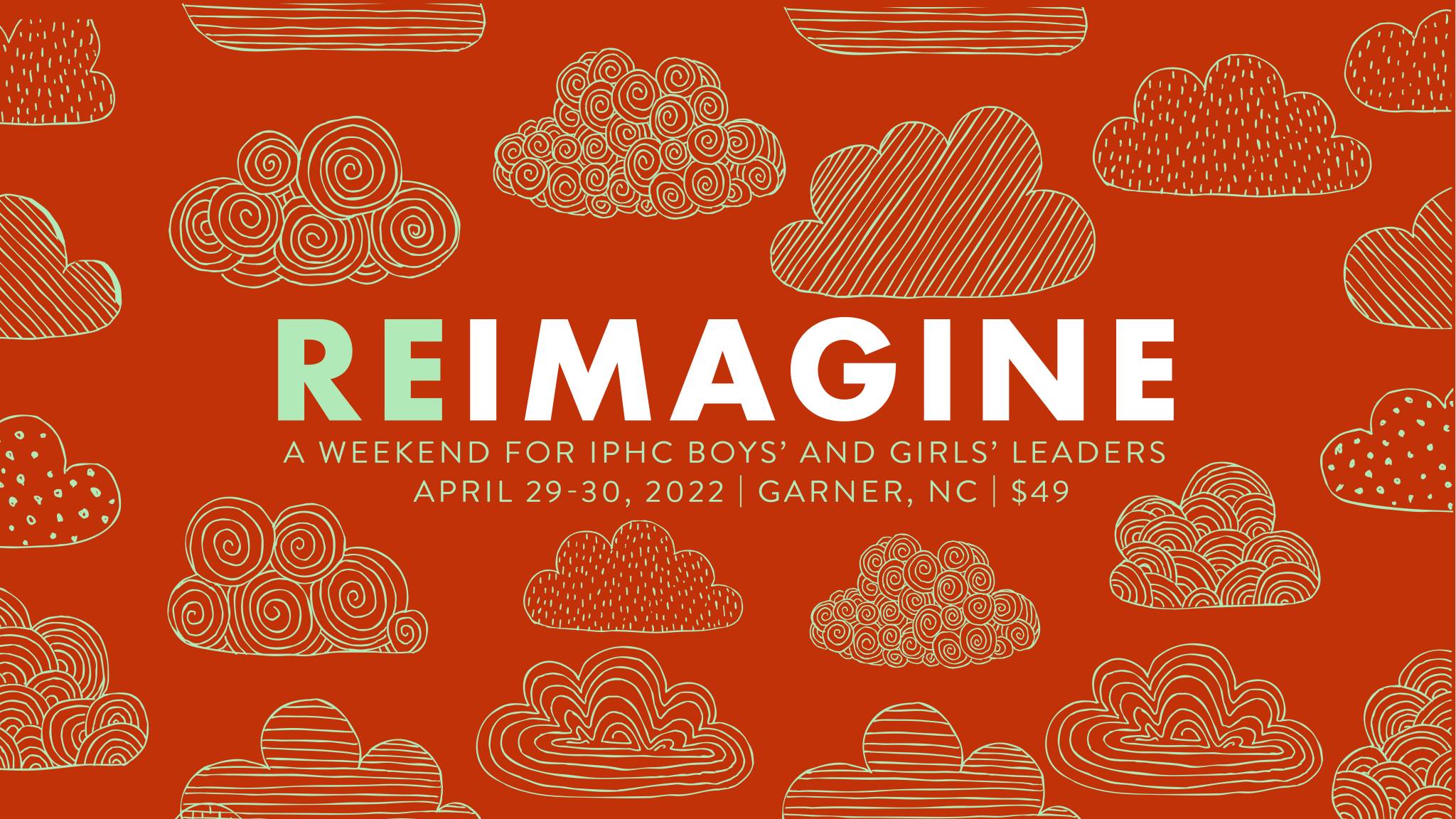 IPHC Boys' Ministries and IPHC Girls' Ministries would like to invite you to our brand new event, REIMAGINE.
We know that the last few years have brought changes to traditional Boys' and Girls' Ministries, but that doesn't mean we have to stop! We need these ministries NOW more than EVER.
Our teams have been working together to REIMAGINE ministry to boys and girls, and we want to invite YOU to come dream with us! If you are a conference director, a local leader, a volunteer, or even someone interested in learning more about these ministries, please join us.
This will be a weekend packed with training, encouragement, relationship building, reimagining, and of course, FUN! We hope to see you there!
SCHEDULE
Friday
3:00-5:00 Registration
5:30-6:30 Dinner
7:00- 8:30 Opening Service
8:30/9:00 Fellowship
Saturday
8:00-9:00 - Breakfast
9:00-9:45 - Session 1
9:45-10:00 - Break
10:00-11:00 - Session 2
11:00-11:45 - Session 3
11:45-12:45 - Lunch
12:45-2:00- Session 4
2:00-2:45- Session 5
2:45-3:00 - Break
3:00-3:30 - Final Session 6
***SCHEDULE MAY BE SUBJECT TO CHANGE
Nearby Hotels
Hampton Inn Raleigh/Garner
110 Dremere St, Garner, NC 27529  |  (919) 772-6500
.3 miles from The Capital Church (2 minute drive)
Residence Inn by Marriott Raleigh Downtown
616 S Salisbury St, Raleigh, NC 27601  |  (919) 856-0017
4.2 miles from The Capital Church (9 minute drive)
Hyatt House Raleigh North Hills
160 Park at N Hills St, Raleigh, NC 27609  |  (919) 363-0771
13.4 miles from The Capital Church (16 minute drive)
 Renaissance Raleigh North Hills Hotel
4100 Main at North Hills St, Raleigh, NC 27609  |  (919) 571-8773
13.6 miles from The Capital Church (18 minute drive)