TEAM '17
Pastor Rick Haug, Senior Pastor of Living Water Pentecostal Holiness Church (LWPHC) caught fire to reach his community of Maiden, NC and designed an outreach called To Evangelize All Maiden in 2017 (TEAM '17). He brought in the Matt Bartlett Band to fire everyone up, had free hamburgers and hot dogs, inflatables and games for the kids, padded cushions for the participants to sit on and invited Carolyn and I to attend for me to speak.
Honesty has always been something of a high premium to me, therefore, confession is good, 'I really didn't think it was a great idea'. The days of Billy Graham are behind us and my conviction was, 'spend the money to serve or help someone' and 'earn' the right
to speak to them. With ministerial respect on the downturn, it appears 'singing and preaching' have gone by the wayside.
There are no words for me to express my respect and appreciation for Pastor Rick and the fantastic staff and people of LWPHC. They walked and prayed over every street in the city. Yes, this makes waves in heaven but as they witnessed, it made them more aware of the needs of the city and opened a new sensitivity for the pains of their community.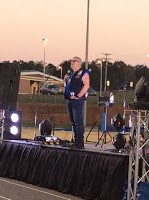 The money spent on sound, promotion and providing all the 'free' items was huge. We were reminded on RFTW 2016, 'there is nothing free, someone had to pay for it'. The church spared no perceivable expense. If ever there was a local event done 'right', this was it.
In the book, 'Reaching Generation Z', Jerry writes of the 'squish' middle 50% of our population in the USA. They have no deep convictions or moorings. They can be influenced either way by the loudest voice. It dawned on me, this is what happened in Maiden, NC, there was a voice raised by a local church that said 'we care about you and we are not about to let things evil go on without a fight'. Can you hear their voice, 'we are not going to let four percent of our population be the only voice'. Did you see any condemnation in the statement? No, everything that projected from this body of believers was positive. We don't need to stand up and stand out yelling condemnation at the hurting, we need to just give a positive message and take it OUTSIDE THE FOUR WALLS.
While we had a great turnout, it was not like the previous days of great crusades. There was no mass of people 'coming forward' for the altar call of acceptance of Jesus Christ. Again, in 'Reaching Generation Z', we learn the sensitivity of community to the Gospel has changed over the past forty years or so. Where they once were 'ready' due to the 'seed' of the Gospel being planted and the overall Christian society we lived in, many were ready to make a life-changing decision. In our 'Post-Christian Society', seedless society, there will need to be new approaches, and none of them plastic without the broken heart, to change our world.
While we must adjust our expectations, we must play to one of the strengths the church has, preaching of the Word of God and filling the airwaves with something besides the liberal message being broadcast by our media outlets. We must reclaim the territory and stop retreating to the building. This was never God's plan and it is not His plan today. His commission is still, "Go Ye", not 'Draw Ye". We must put a premium on outreaches such as this and the methods M25 uses of service. We cannot afford to give up any more territory.
Finally, M25 at the time of this writing, is preparing to go on its thirteenth trip across America with hundreds of veterans and patriots to bring our National Leaders into account for the POW/MIA (Prisoners of War and Missing In Action) on a ride called Run For The Wall. It is a ride where local communities come out by the thousands and welcome the soldiers home that never received a welcome during the Vietnam War. One thing that is very obvious, it is the small town, the 'grassroots' that comes out and makes the noise. It is the grassroots that has Patriotism in its grasp.
May we learn from what we have seen on RFTW, the grassroots is what will change America. God has the International Pentecostal Holiness Church in rural areas for a reason. Oh, we may have a few, but it is a 'few' big churches in good-sized cities but our strength is in the rural towns. Do you think we should be ashamed? ABSOLUTELY NOT! God has positioned us to revive the rural, grassroots of our nation! It appears to me that Pastor Haug and LWPHC has opened an idea for the IPHC to reach out and grab. Could you consider using your football stadium?
By: Gary Burd