What would bring men and women of the church together? A commitment to serve, to help each other, to help people hurting who have little hope.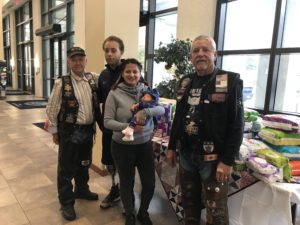 Marysol Martinez, director of Royal Home Ministries, along with her husband, SFC Chuck Martinez, invited Gary Burd, National Director and founder of the 50CC Diaper Run, along with fellow minister, Rodney McCray, to Walter Reed Medical Center to offer diapers and baby wipes to those wounded warriors who have babies. Setup in front the Warrior Cafe, they waited for young men and women, wounded in a variety of ways to come by. After a greeting, listening to some of the stories from the warrior, and a short description of who we were, those with the Royal Home were able to speak all about and how the diapers were raised. The look in the men's and women's eyes as they heard of the motorcycle ride from coast to coast in less than 50 hours, stopping every 150 miles or so to collect donated diapers, baby wipes and money was worth every effort it took to position ourselves for this opportunity.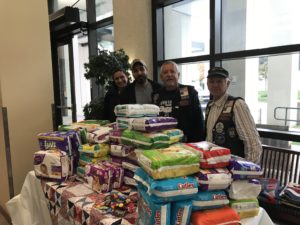 Position in Christ, it's interesting how this truth is taught, what you can get due to your "position" in Christ. Mission M25 is dedicated to "position in Christ" as a way to sit with broken people, outside the four walls of the church. To be "Emmanuel" (God with Us) to a broken world. As our example, Jesus did this over 2,000 years ago. Therefore, using diapers and baby wipes as the doorway, the two ministries setup tables in the hallway and shared an inviting smile and greeting to "position" Jesus, the ministry of Hope.
Real heroes, walking with a cane, on an artificial leg, riding in a wheel chair or looking through their emotionally distant eyes, wounded warriors were blessed by the effort. To keep this wound before us, the M25 Freedom bike has written on the windshield a truth few seem to comprehend, "All Scars Are Not Visible." Seeing a smile, sharing a Run For The Wall pin and a bag of diapers and wipes, bringing a few minutes of love, was one of the most rewarding things we could have done on this week leading up to Veteran's Day.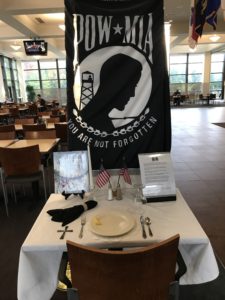 As you walk in the "Warrior Cafe" the "Missing Man Table" was positioned in front of the entry. A visible reminder of those who would never come home and re-unite with their families, never hold their baby or maybe never have a baby of their own. It reminded all to "Never Forget" those who are no longer with us.
As we concluded our stay and sat round the lunch table, the hearts of the two ministries and the hearts of warriors began to bond ever so much greater. The testimonies and the desires to help hurting people, broken people, people who will more than likely never make it to church, increased our desire to "position" Jesus in the world.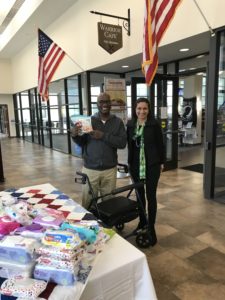 SFC Martinez stated it well, "sometimes we are simply to clean up the mess the devil makes in people's lives."