The New Testament Reality of Relationship Evangelism
Most people come to Christ because of relationships—not events. We need to reexamine our strategies.
Approximately eighty percent of churches in the United States have now either plateaued or are in decline. Though this fact is disheartening, there is a New Testament phenomenon that can educate and engage us in a strategy of effective evangelism, that is human relationships.
Every one of us—regardless of age, culture, ethnicity and economic status—live in a world where we participate in relationships. More than 75 percent of individuals who come to know Christ have experienced salvation as a result of a direct relationship.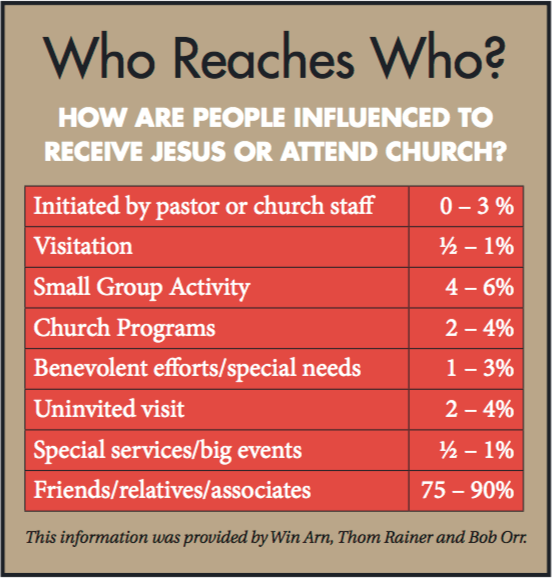 There is a Greek word that is found many times in the New Testament that can provide tremendous insight and revelation to our evangelism productivity. Oikos defines an individual's primary base of relationships and relational sphere of influence. For example: family, neighbors, friends, and co-laborers.
Let's consider some of the biblical passages that contain or reference this New Testament phenomenon.
In the ministry of Jesus: "The man from whom the demons had gone out begged to go with him, but Jesus sent him away, saying,'Return home and tell how much God has done for you.' So, the man went away and told all over town how much Jesus had done for him," (Luke 8:38–39 NIV).
This man experienced a mighty deliverance and his desire was to immediately go with Jesus. Jesus would not allow him, but instructed him to return to his community and share all that had been done for him. Let's look at examples of this principle in the New Testament:
"When Jesus reached the spot, he looked up and said to him, "Zacchaeus, come down immediately. I must stay at your house today." So, he came down at once and welcomed him gladly. All the people saw this and began to mutter, "He has gone to be the guest of a sinner." But Zacchaeus stood up and said to the Lord, "Look, Lord! Here and now I give half of my possessions to the poor, and if I have cheated anybody out of anything, I will pay back four times the amount." Jesus said
to him, "Today salvation has come to this house, because this man, too, is a son of Abraham,"
(Luke 19:5–10).
Zacchaeus accepted Christ and demonstrated the change in his life, and Jesus declared the impact on his business relationships.
2. THE CENTURIAN'S SON.
"The royal official said, 'Sir, come down before my child dies.'
'Go,' Jesus replied, 'your son will live.' The man took Jesus at his word and departed…Then the father realized that this was the exact time at which Jesus had said to him, 'Your son will live.' So, he and his whole household believed," (John 4:49–50, 53).
The centurion's son was miraculously healed. This official's entire household was impacted and they all believed.
3. HOUSE CHURCHES AFTER PENTECOST.
"Every day they continued to meet together in the temple courts. They broke bread in their homes and ate together with glad and sincere hearts, praising God and enjoying the favor of all the people. And the Lord added to their number daily those who were being saved." (Acts 2: 46–47).
This provides the most descriptive insight into the life and activity of the early church, after the day of Pentecost. It is obvious that life in believer's homes played a most significant part.
4. THE RELATIVES OF CORNELIUS.
"At Caesarea there was a man named Cornelius, a centurion in what was known as the Italian Regiment. He and all his family were devout and God-fearing; he gave generously to those in need and prayed to God regularly…The following day he arrived in Caesarea. Cornelius was expecting them and had called together his relatives and close friends…'Surely no one can stand in the way of their being baptized with water. They have received the Holy Spirit just as we have.' So, he ordered that they be baptized in the name of Jesus Christ. Then they asked Peter to stay with them for a few days."(Acts 10: 1–2, 24, 47–48)
In this passage, Cornelius the Gentile and his household received the gospel, were baptized in the Holy Spirit and with water.
5. LYDIA IN PHILIPPI.
"On the Sabbath we went outside the city gate to the river, where we expected to find a place of prayer. We sat down and began to speak to the women who had gathered there. One of those listening was a woman from the city of Thyatira named Lydia, a dealer in purple cloth. She was a worshiper of God. The Lord opened her heart to respond to Paul's message. When she and the members of her household were baptized, she invited us to her home. 'If you consider me a believer in the Lord,' she said, 'come and stay at my house.' And she persuaded us" (Acts 16:13–15).
Lydia experienced her conversion during Paul's ministry in Philippi. She and the members of her household believed and were baptized. Take note, she was also a seller of cloth and had a sphere of influence in the business world.
6. THE FAMILY OF CRISPUS.
"Then Paul left the synagogue and went next door to the house of Titius Justus, a worshiper of God. Crispus, the synagogue leader, and his entire household believed in the Lord; and many of the Corinthians who heard Paul believed and were baptized," (Acts 18: 7–8).
Crispus was the synagogue leader, not only did he influence his family, but the synagogue as well was a part of his sphere of influence.
All of these give clear and undeniable evidence that our multi-relational levels of influence are a primary and obvious target for sharing and expanding the gospel. It is a strategy and responsibility that we must not ignore, but take full advantage of.
We must instruct new believers and communicate to them the great privilege and responsibility to understand their sphere of influence. We must help them share the testimony of their salvation.
Could we not become more intentional in targeting these already developed and active relationship opportunities? Let's remind ourselves according to the instructions of Jesus, the issue is not with the harvest. He said it is ripe! The issue lies with the laborers.
Let's rise to a new place of revelation and activation, seeing our own oikos as a ripe field ready for harvesting.
Written by: Bishop Garry Bryant
Article originally showcased in Encourage Magazine