April 13-14, 2018 was an important weekend in which a group of Latino and African churches gathered together to celebrate the official launching of the ACROSS Conference, the newest IPHC conference. This remarkable accomplishment is the result of 18 years of pioneer missionary work that initially started with the planting of a Latino church in Worthington, MN in 1992. In 2000 Bishop Ronald Carpenter entrusted Rev. Hector Andrade with the vision of organizing a new IPHC conference. At the time there were only 2 Latino churches included in what was then known as Northern Plains District. However, since the early beginnings, Rev. Andrade envisioned a network of churches that would be inclusive of brothers and sisters from different cultures.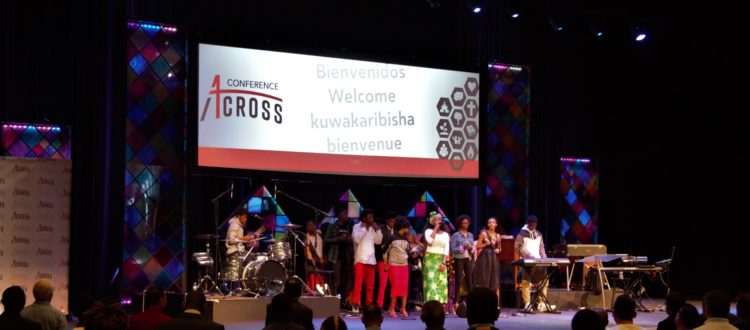 This vision became a reality when more than 400 IPHC members and ministers representing 31 congregations in the states of Minnesota, Iowa, North Dakota, South Dakota, Nebraska, Kansas and Florida, attended the first ACROSS General Conference in spite of a severe snow storm that made it very difficult to travel. Many of the attendees are immigrants, representing more than 20 nationalities who speak several languages, English, Spanish, French and Swahili being the most common.
On Friday night, Bishop Garry Bryant shared a powerful message reminding us that the greatest celebration in heaven happens when a sinner repents. Thus, challenging us to continue the work of the apostles by making it our priority to seek the lost and continue making disciples of Christ! Among special guests present were National Hispanic Director, Rev. Luis Avila and Extension Loan Fund President Rev. David Parker. Saturday was filled with vibrant multilingual worship, prayer, credentialing, and award ceremonies. The event closed with an encouraging and visionary message delivered by ACROSS Conference superintendent Hector Andrade who challenged the group to continue spreading the Good News of the Gospel across cultures, languages, and borders.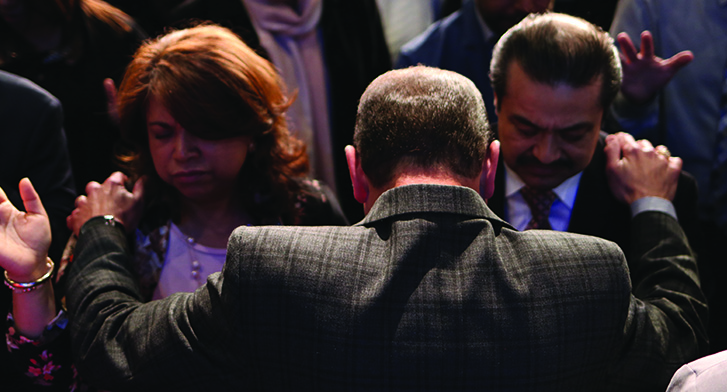 Accomplishing the goal of becoming a new conference is undoubtedly the result of the hard work and support of many key and dedicated IPHC leaders and church planters, but above all, the glory be, "to him who is able to do immeasurably more than all we ask or imagine, according to his power that is at work within us."
written by: Superintendent Hector Andrade
---
The inaugural event establishing and giving birth to the ACROSS Conference, the newest IPHC Conference, took place April 13–14, 2018 in Eagan, Minnesota.
Rev. Hector Andrade, the new superintendent, along with his wife Raquel, previously served as the Northern Plains District Directors with ACTS2DAY Ministries. The Council of Bishops approved the establishment of the Northern Plains District as a provisional conference in October 2017. The ACROSS Conference will remain in direct relationship with EVUSA for two years and based on sustained growth and health, the provisional status will be removed.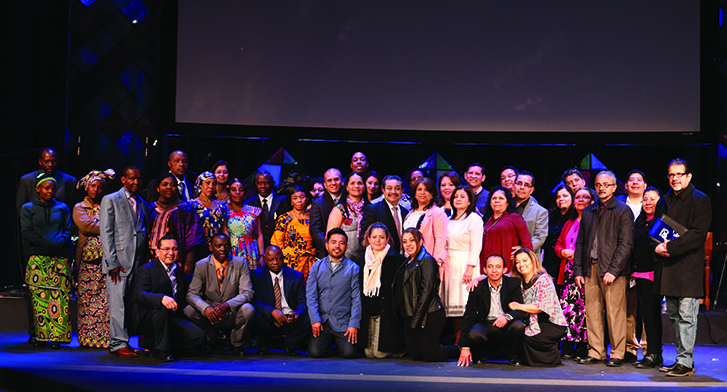 The two-day gathering took place during the largest snowfall recorded in the region for the month of April!  However, the inclement weather did not infringe on the excitement and success of the event, over 400 participants weathered the storm and enjoyed the inaugural conference!
There were a variety of expressions of worship enjoyed and the event was translated into three languages:  Spanish, English and Swahili.
The family of ACROSS Conference joined together in fellowship, ministry, and training.  The Conference Leadership Council was identified, installed, and charged.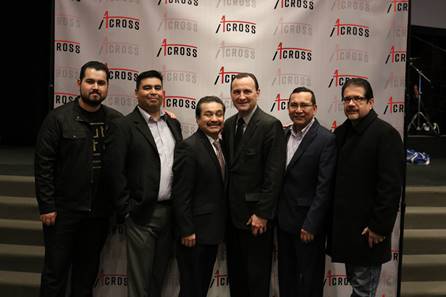 Hector Andrade, Conference Superintendent; Miguel Sifuentes, Assistant Superintendent; Samuel Ruiz, Missions Coordinator; Hector Betance, Education Coordinator; Martin Zuniga, District Coordinator (not pictured); Geronimo Orozco, Secretary/Treasurer.
The credentialed ministers were recognized and challenged:
Hitayezu Cleophas     Ordained
Roberto Penaloza       Ordained
Haydee Padilla           Ordained
Gildardo Ramos         Ordained
Pongo Pombo             Ordained
Mohamed Abadiga     Ordained
M'muma Assa             Ordained
Jean Pierre Gatera      Ordained
Eliel Bracho Jimenez  Licensed
Jennifer Mayorga        Licensed
Undji Mtendji              Licensed
Sila Ngulo                   Licensed
Tite Ebenezer              Licensed
Daniel B Bilole           Licensed
Juan Carlos Salas       Local Church Minister
Sandra Jaime Ortiz     Local Church Minister
Maribel Rivera           Local Church Minister
Conference church planters were acknowledged:
Hitayezu & Uwimana Cleophas
Pongo & Muhanzu Pongo
Tesfaye & Kulani Jira
Mohamed & Adanech Abadiga
M'muma & Talaawe Assa
Darius & Siwao Razi
Martin & Araceli Zúñiga
Eliel & Mercedes Bracho
Cristóbal & Catalina Ruiz
Jesús & Asenet Sánchez
Samuel & Maribel Solís
Avimael & Zonia Palacios
Cesar & Maritza Regalado
Apolonio & Vidalina López
Epifanio & Francisca Salas
Ricardo & Alicia García
Jesús & María Reyes
Jorge & Sara Tinoco
Yolanda Pérez Lozano
Neville & Jenny Smith
Jacinto & Beatriz Pascual
Valero & Marisela Pascual
Daniel & María Flores
Roberto & Anabel Vásquez
Miguel & Carolina Sifuentes
Roberto & Haydee Peñaloza
Stil & Gloria Guerrero
One the of the greatest points of celebration and strength was the obvious diversity and unity that ACROSS Conference exhibits. The ACROSS Conference enjoyed a tremendous initiation and those present recognized it as a "first fruits" of greater things to come.
The ACROSS Conference is committed to crossing language, ethnic, geographical and other boundaries to advance the Kingdom, reach the lost, and fulfill the Great Commission in their region of responsibility.
To God be the Glory!
The greater IPHC family has much reason to celebrate at the birth of our newest USA Conference.
Congratulations to Hector and Raquel Andrade, and the entire ACROSS Conference family.  Well done!
Written by: Bishop Garry Bryant
All photos courtesy of: the Across Conference