We were blessed to partner with Montana Indian Ministries from Hays, MT for our 2018 effort. We are very blessed by this partnership due to the similarities in our convictions and passions. The Assiniboine Tribe received us almost immediately.
Pastor Cory Jones, Emmanuel Missions, Lake City, SC, has taken the responsibility of oversight of this endeavor and did an excellent job of leadership. We were blessed to have thirty men and women with M25 this year at our outreach, which included, five pastors, conference discipleship ministries Director and a host of real servants of the Lord.
Once again, Living Word Church in Maiden NC purchased a horse for us. We had two donated horses to be left on the reservation from Liberty Christian Center in MIdwest City, OK. An Equine Therapist and a veterinarian to do a dog and cat clinic was committed to traveling with us. We were moving full-steam ahead and then the wheels began to come off:
The Equine Therapist could not make it. She was bucked off her horse and suffered broken ribs.
The veterinarian could not get the necessary paper work done.
One of the Equine Therapy horses died.
Days before we left, the other two horses got sick and could not travel!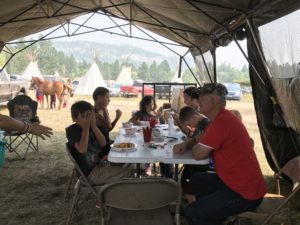 The Lord was in front of us. We found a partner in Helena, MT that attends Mountain Family Fellowship and a beautiful horse was purchased (which will continue to be our path). It is thrilling to see the Holy Spirit's hand in this frontline war effort of ministry.
We arrived, set up teepees and prepared for the outreach. It was exciting to learn the methods of setting up a teepee and along with it some of their cultural beliefs. We were blessed to work with Pastor Plummer, a Native American minister, as he would practice their beliefs unless it crossed his Christianity. This was a huge shift from former relationships where everything was evil and demonic. I personally have had this style of outreach with all the efforts of M25 for decades.
The team picked up trash as a ministry tool. The Lord had given us this opportunity in years past, not only at the Reservations but at Bike Rallies. This is a huge thing for those putting on these events, due to the large volume of trash. When the Native Americans see 'white people' and when the bikers seen Christian Bikers picking up the trash, it impacts them of our desire to serve. One may think this is too much but I am reminded of our Savior coming to earth and serving the poor, the hurting, the outcast. M25 is in good company.
The S. Carolina team setup a tent and did crafts with the children as a way to communicate with them the love of Jesus. The crafts were chosen that could be used to communicate with the children the Good News.
We, along with a team from Houston, TX, manned a "Prayer Tent" where people came for free water and coffee. If they desired prayer, we would offer it. If only we had the time and space in this report to share the experiences we had serving.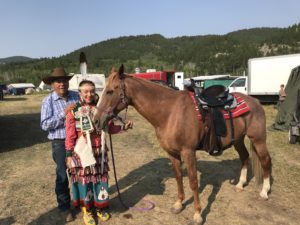 We were blessed to give away the War Horse this year as an award for winning a dance. Our sponsoring a dance was a way of connecting to those dancing for money and prizes. Once again, the Holy Spirit's hand was evident in who won the horse. M25 also left $700 in prize money for the winners of the two dances.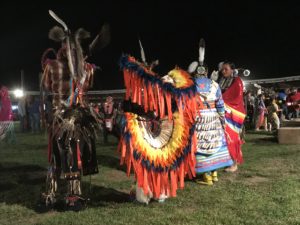 After a week or more of sleeping in a teepee, enduring weather from low 40 degree range at night to day highs above 110 degrees, eating good food but different from the normal diet, and finally the exhausting hours of engagement, a spirit of victory prevailed. Commitments of 'let's do this next year' were expressed around the circle.
Written By: Gary Burd