Diaper Run 2018 will be September 5-17
2018 will be M25's fourth time to make this ride.
*First year we rode to save baby's lives and the evil of 'harvesting' human baby parts for experimentation. To raise awareness of our support, not condemnation for young ladies in a desperate place.
Second year, we rode to save mom and dad's the horrible memories that drive many to alcohol and drug addictions, destructive behavior and even suicide.
Third year, we rode to save stop the defamation of our Lord's name. I borrow the following from the speaker in Dallas last year concerning what we were doing to the name of our Lord:
An abortion defies the sovereignty of God, Ps. 138, He knew us before…
An abortion dismantles the creation of God, Jeremiah 1:5, I created you…..
An abortion destroys the image of God, Gen. 9:6
Coast to Coast, San Diego to Myrtle Beach in less than 50 hours on motorcycles, with a truck and trailer following collecting diapers; baby wipes and cash contributions along the way. We celebrate "Life" at rallies going west at churches and conference centers. We are expecting to 'knock it out of the park' this year with extreme donations. Churches, Conference leaders including Women's Ministry and M25 leaders are pushing to promote life to make all of this happen.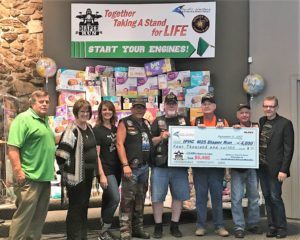 Why would we do this 'stupid' thing? To be honest, there are bikers who do this for a patch and bragging rights but our call is much higher. Winkey Pratney once stated, 'the mild and moderate will never change a nation, henceforth, God is recruiting the radicals'. As we watch our nation turn from our moral values, led by 'radicals' for their cause, we also believe we can be a part of reversing the devastation of abortion.
May the Lord bless M25's effort to support Royal Home Ministries in Falcon, NC and bring awareness of their great work to help the young ladies and their babies.
Written By: Gary Burd