Hurricane AGAIN!
In 2017, the 50CC Diaper Run was re-routed to Myrtle Beach, SC due to the hurricane hitting Florida.  This year, it was re-routed to Florida because the hurricane hitting the Carolinas!
M25 has a team that lives by the protocol of 'adapt and overcome.'  Quitting is not in our vocabulary!  This is a team that knows how to fight the odds to take a positive stand against a sin that must be dealt with in this nation, abortion. The most miles ridden was by Pastor Jason Cook, 6822 miles, and the longest time from home and family was Herman Strickland, thirteen days! The riders were "all in" despite personal concerns: ARod aka Rodney McCray suffered with a terrible limp from the time we started; Herman Strickland, the loss of a sister-in-law; Jon Potter, his sick wife; Jason Cook, concerned over families due to the impending hurricane, and Jerry Plent who is a small group leader, stayed on course even after knowing his pastor committed suicide,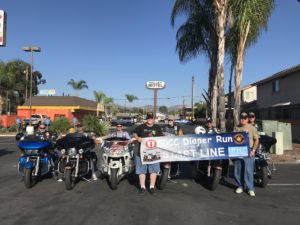 The 50CC Diaper Run is a coast to coast motorcycle ride in less than 50 hours with the task of collecting diapers and baby wipes and cash to support pro-life efforts. It is an extreme ride done to support girls who chose not to destroy the life inside of them.  The Diaper Run is blessed and supported by Royal Home Ministries (a pro-life home in Falcon NC); Falcon Children's Home (a home for troubled children), Falcon Christian Academy (where the girls can finish their education), and the Iron Butt Association (an organization that credits our riders with an achievement patch and certificate). The ride is organized by Mission M25 under the blessings of the International Pentecostal Holiness Church.
This year we rode from San Diego, California to Jacksonville, Florida for a total of 2,456 miles in 46 hours & 34 minutes!  We collected 224,379 diapers & baby wipes and $9,149.00 in contributions. We are not finished yet! The following conferences are yet to have their donations counted: Cornerstone, North Carolina, and the South Carolina Conferences, plus the Sonshine Network Ministries. It is my assumption at this time, we will exceed 300,000 diapers and baby wipes.
What will Royal Home Ministries (RHM) do with that donations?
Their mission is to raise awareness of the church's stand for life in a positive way
RHM has already donated 20,000 to a pro-life home in Oklahoma City area
RHM has given diapers and baby wipes to the hurricane relief efforts being done at Gospel Tabernacle in Dunn, NC.
You can be assured the donations will be used to support and encourage those who live in adverse situations.
Highlights of the journey:
At the Life Rally in Memphis TN, the Holy Spirit used the service to confirm a work He is doing within the congregation.
At the Life Rally in OKC, over 168,000 diapers and baby wipes were collected and $550.00 was raised. One church had two men assisting.  One of them was homeless and wanted to help out. He stayed 10 days and nights on top of a trailer helping to collect diapers. One of the churches in a congregation of 45-50 people with an average age well into the 70's raised over 80,000 diapers and baby wipes.
The rally in Amarillo had some communication problems but still pulled off a great rally.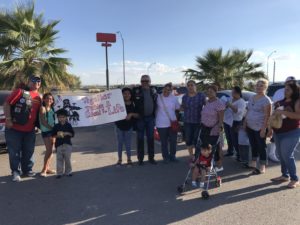 The rally in Fresno, CA was full of life and approximately $2100 was raised plus thousands of diapers and baby wipes were collected.
In Bakersfield, CA there wasn't a rally but the conference and our pointman, Pastor Billy Woods, collected approximately 14,000 diapers and well over $3,000.00 worth of donated goods.
A group from the Tucson International Church, Tucson, AZ met us with thousands of diapers and baby wipes during our quick stop on the outside of Tucson.
We were met with welcome signs, people shouting, HUGE burritos, thousands of diapers and baby wipes by Reaching the Lost Church in Anthony TX (The church is actually in El Paso but our stop is in Anthony).
In Baton Rouge, LA we were greeted by Pam Dier, representing our Run For The Wall family. She came bearing smiles, hugs and thousands of baby diapers and wipes plus several thousand dollars' worth of baby formula.
Pastor Steve and Yvonne Dow met us in Tallahassee, FL blessed us with coffee, donuts and egg sandwiches.
We were greeted at the conclusion in Jacksonville, FL by Pastor Dave Ragan and his youth pastor, Cuyler Craig with egg biscuits, coffee and orange juice.
Our team have all arrived home safely and were blessed to be included in such a wonderful stand for an awesome cause.
We would like to thank all who gave, who will be giving (our rallies in NC are re-scheduled for November and SonShine Conference will bring their donations to Falcon in November), and all who supported this great effort with your presence.
By: Gary Burd