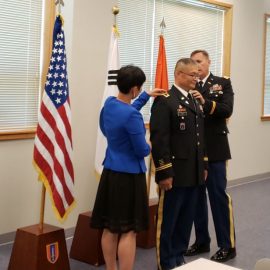 Chaplain Ministries, IPHC, is proud to share that Chaplain Suk Kim, United States Army, was promoted to the rank of Colonel on June 8th, 2020 at Camp Humphreys, South Korea.  Chaplain Kim was born in 1965 in Chung-Cheong-Nam-Do, South Korea and lived on the outskirts of Seoul. He grew up in his family's religion of Buddhism and Shamanism. He graduated from elementary, middle school and high school in Korea.
In 1986, after he finished his sophomore year at Dan-Kook University, South Korea, he joined the Republic of Korean (RoK) Army and served as a Drill Sergeant until he completed his obligation period in September of 1988. He immigrated to the United States in June of 1989 and joined the US Army in April 1990 as an enlisted Calvary Scout, and was honorably discharged in 1994. During his first assignment in Germany, he met his wife Eun and they married on April 11th, 1991.
Through her prayers and God's grace, the Lord Jesus Christ saved him on September 27th, 1991. In 1992 after three days of fasting and prayer during the Easter Weekend, God called him to be a minister and he humbly accepted the call.
Upon his discharge from the Army in 1994, he enrolled in college and pursued his ministry degree. During that same period of time, he joined the Korean-American church to begin his ministry.
He served the Korean-American Church in Dallas, Texas, as a Children's pastor, Youth pastor, Director of Education, and Associate pastor for 7 years and was ordained and endorsed by the International Pentecostal Holiness Church for the military chaplaincy before he rejoined the US Army as a chaplain in February of 2001.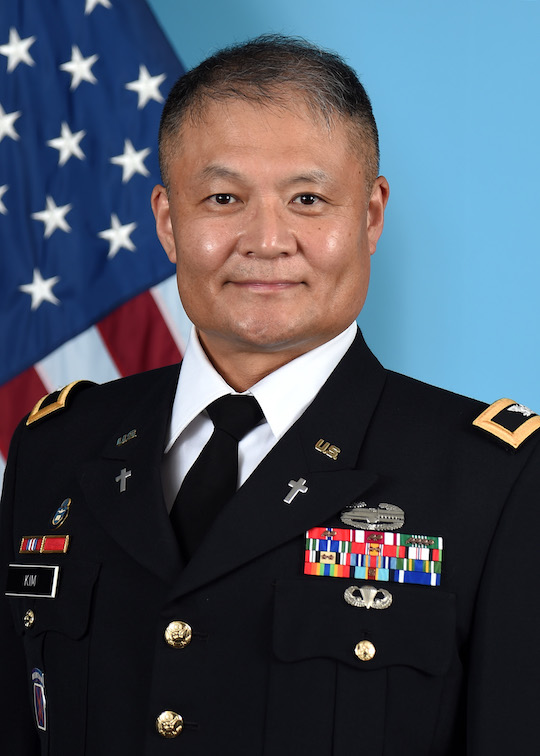 Chaplain Kim graduated from Southwestern Assemblies of God University in Waxahachie, Texas, and holds a BS in Pastoral Ministries.  He also received his Master of Divinity with Biblical Language from Southwestern Baptist Theological Seminary, Fort Worth, Texas.  In July 2012, he graduated from Webster University, St. Louis, Missouri, receiving a Master of Art in Community Counseling.
Chaplain Kim has served in a variety of assignments during his career:  Battalion (BN) Chaplain with 244th Quarter Master BN, Fort Lee, SC; Installation Chaplain for Camp Eagle, Area III Support, South Korea; BN Chaplain with 3-7 Infantry BN, 4th BDE, 3d Infantry Division, Fort Stewart, GA. While assigned to Fort Stewart, Chaplain Kim deployed to Iraq for Operation Iraqi Freedom III, 2005-2006; BN Chaplain with 304th Signal BN, Camp Stanley, South Korea; BN Chaplain with 704th Military Police BN, Fort Leavenworth, KS. While assigned to Fort Leavenworth, he deployed to Iraq, 2009-2010 and served as Brigade (BDE) TAC CP Chaplain; Division Family Life Chaplain with 10th Mountain (MTN) Division (DIV). While assigned to Fort Drum, he served as DIV Chaplain and deployed to Afghanistan as CJTF-10 Deputy Command Chaplain; BDE Chaplain with 10th MTN DIV Sustainment Brigade, Fort Drum, NY; BDE Chaplain with 66th Military BDE, Wiesbaden, Germany; Garrison Chaplain, Ansbach, Germany; BDE Chaplain with 1st Theater Tactical Signal Brigade, Camp Humphreys, South Korea.  As of August 2020, he now serves as the Senior Garrison Chaplain at Fort Meade, MD.
Chaplain Kim's
military education includes Armor Reconnaissance Specialist Advanced Individualized Training, the Chaplain Officer Basic Course, Airborne School, the Chaplain Captain Career Course, the Combat Medical Ministry Course, the Chaplain Major Course, the Chaplain Lieutenant Course, the Family Life Program, and the Intermediate Leaders Education.
His awards and decorations include the Bronze Star (2nd Oak Leaf), the Meritorious Service Medal (2nd Oak Leaf), the Army Commendation Medal (4th Oak Leaf), the Army Achievement Medal, the Valorous Unit Award, the Meritorious Unit Citation, the National Defense Service Medal (2), the Afghanistan Campaign Medal, the Iraq Campaign Medal (3), the Global War on Terrorism Service Medal, the Korean Defense Service Medal, the Army Service Ribbon, the Oversee Service Ribbon (5), the NATO Medal, the Combat Action Badge and the Parachutist Badge.
Chaplain Kim and his wife Eun have been married for 29 years, and they are blessed with three children; YeChan (27), YeYoung (23) and YeKyoung (22).
**  Chaplain Ministries, IPHC serves the IPHC by educating, guiding, and endorsing qualified men and women for the ministry of the chaplaincy whether it is in the military or civilian institutions.  We also provide guidance and information directly to potential candidates and follow up with the administration actions as required, specifically endorsements.  At a minimum, the military chaplaincy requires ministerial credentialling and a Master of Divinity degree.  Civilian institutions have varied requirements.  If you have interest in either the military or institutional chaplaincy, please email Chaplain (COL) Jerry L. Jones, US Army Retired, at JJones@iphc.org or call at (580) 695-6945.