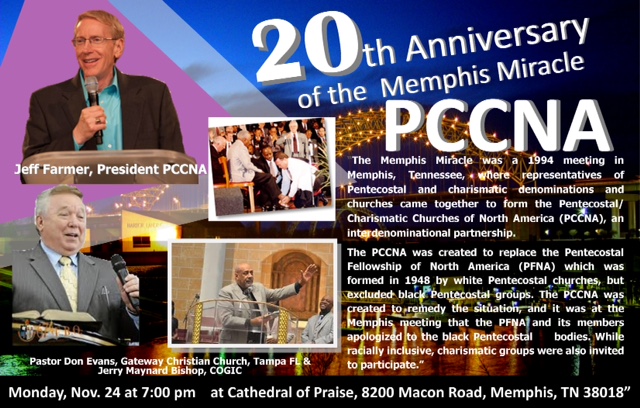 This is an invitation for all to join the 20th Anniversary of the founding of PCCNA (Pentecostal Charismatic Churches of North America). Not infrequently referred to as the "Memphis Miracle", this historical milestone should have a special appeal to the IPHC.
The IPHC played a deciding role on events up to and including Memphis '94 in the person of IPHC Presiding Bishop B.E. Underwood. Bishop Underwood led PFNA (Pentecostal Fellowship of North America) at the time and his leadership was crucial in the transition to the more inclusive PCCNA. High on the agenda at Memphis '94 were issues of racism and gender inequality evident in North American Pentecostalism.
Another IPHC connection to the birthing of PCCNA is Dr. Vinson Synan. Dr. Synan was at that time chair of NARSC (North American Renewal Service Committee). It was at the NARSC steering committee meetings that Bishop Underwood and Church of God in Christ Bishop Ithiel Clemmons forged a friendship that gave life to the vision of an inclusive organization like PCCNA
Yet another contact point for the IPHC is the IPHC Solemn Assembly hosted by the Northwood Temple IPHC in Fayetteville in 1996. Leading the seven resolutions affirmed by all in attendance were urgent calls to repentance for racism and sexism in the IPHC.
IPHC Presiding Bishop A.D. Beacham, Jr., is sending Dr. Harold D. Hunter to Memphis for the 20th Anniversary PCCNA celebration. Dr. Hunter, Director of the IPHC Archives & Research Center, was co-editor of Reconciliation and released a special edition of the IPHC Archives & Research Center Legacy dedicated to Memphis '94. When serving the PCCNA as their webmaster, Dr. Hunter posted the original academic papers and a summary video from Memphis '94.
Dr. Hunter was also one of four authors of the Racial Reconciliation Manifesto affirmed at the 1994 birthing of PCCNA in Memphis. This document that sought to echo the legendary 1906 Azusa St. Revival has been reproduced in various publications and adorned the wall of leaders like the late IPHC Presiding Bishop Ron Carpenter, Sr.
The 20th Anniversary celebration will convene November 24, 2014 at the Cathedral of Praise in Memphis, TN. Pastor Aaron Campbell leads the local chapter of PCCNA and Rev. Jeff Farmer who heads the PCCNA will also be part of this event. The Cathedral of Praise is located at 8200 Macon Road in Memphis, TN. The service begins at 7 pm.