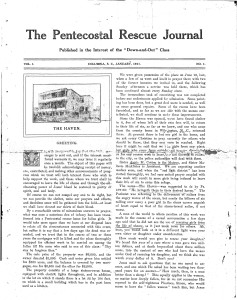 The IPHC Archives & Research Center is proud to announce the successful preservation and digitization of several new early Pentecostal Holiness periodicals, including several issues of The Way of Faith and the first issue of a January 1911 periodical entitled The Pentecostal Rescue Journal. This first issue of The Pentecostal Rescue Journal details the successful fundraising for, and opening of, a rescue home for women, known as The Haven, in Colombia, S.C., which was administered by two women. Strong financial support for this institution was led by many prominent figures in the Fire Baptized Holiness Church (early IPHC).
The mention of this home is significant because its founding took place shortly after the Pentecostal Holiness Church (early IPHC) opened rescue homes in Oklahoma City, Oklahoma and Wilmington, North Carolina in 1908. It is of interest to note that this took place the same month as the merger between the FBHC and the PHC of North Carolina.
Another related event was the establishment of a rescue home and orphanage by Miss Mattie Mallory in Oklahoma. Mallory published a paper entitled The Guide in late 1897 to raise awareness and funds for a work in Oklahoma City. These institutions were later relocated to Bethany, Oklahoma and garnered support from early (IPHC) leaders such as B.H. Irwin, the founder of the FBHC, and Harry P. Lott, the Oklahoma Ruling Elder (Conference Superintendent). Mallory's work in Bethany still exists today in the form of The Children's Center Rehabilitation Hospital and Southern Nazarene University.
These combined efforts are great examples within our heritage that testify to the importance of the church's continued labors in social activism. These recently digitized periodicals are being added to our Early IPHC Periodicals disc, which is available for purchase at our website http://www.iphc.org/archives.