By Lee Grady
On the last day of the IPHC's Global Assembly in Hong Kong, pastors, missionaries and lay leaders enjoyed a family reunion atmosphere marked by deep fellowship, shared meals and special prayer times.
In the morning sessions, delegates heard reports from Africa as well as Europe and the Middle East. National leaders and missionaries working in South Africa, Zimbabwe, Uganda, England and Ukraine shared reports on church growth in their regions. Fred Apenteng, who leads a PH church in Great Britain, explained that while most native British citizens don't attend church, many immigrants to England from Kenya, Uganda and Nigeria are Bible-believing Christians who are keeping their faith alive today. While the audience heard the encouraging reports of spiritual breakthrough in his church, Apenteng noted that only 1% of the European continent has been evangelized, and one-third of England's population is foreign-born. He also noted that a popular newspaper in London declared that the city had become a modern-day "Babel," with 300 languages represented there.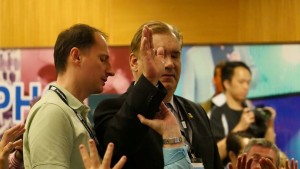 The services today featured several prayer times, including intercession for Ukraine and its recent political crisis with Russia. These prayers were prompted after Dr. Valerii Reshentinkskyi shared how the current political situation is affecting the Church. Dr. Lou Shirey, director of Clergy Development for the IPHC, also led the crowd in prayer for a spiritual awakening.
After lunch, Bishop Doug Beacham convened a special roundtable discussion with IPHC leaders from around the world. It was called "2035: Envisioning the Future of the IPHC." Beacham told these delegates: "This is a global church. This is no longer an American church with a missions department." During a half-hour discussion, leaders shared what things they feel must change in the IPHC in the next twenty years. Their list included greater cooperation between global leaders, a new commitment to evangelism, intentional empowerment of women, and improved methods of discipleship to train the next generation of IPHC leaders.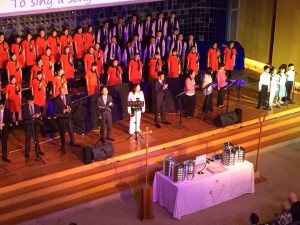 In the evening service, held at the Wing Kwong Pentecostal Holiness Church, children and youth from the congregation led worship—reminding delegates again of the urgency of reaching the next generation for Christ. Rev. Eduardo Duran of Santiago, Chile, announced that in four years, he is inviting all IPHC leaders and lay delegates to the Methodist Pentecostal Church in his city for the 6th annual Global Assembly.
Finally, Presiding Bishop A.D. Beacham delivered his impassioned closing remarks to a crowd of 2,000—which included many members of the Wing Kwong church. Beacham called on members of the IPHC to not only seek God for a fresh infilling of the Holy Spirit but also to rely on the Spirit's power to fight injustice. Beacham also presented a video that celebrates the history of the IPHC but also defines what it means to be a Spirit-filled Christian in the 21st century. After celebrating holy communion together, the international delegates thanked Rev. Donavan Ng and the entire Wing Kwong congregation for their warm Hong Kong hospitality.
Photos: IPHC Communication Services