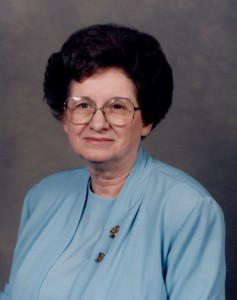 Bonnie Eugenia Ashburn Williams (Jean Williams), 88, of Greenville, NC and Oklahoma City, OK, went home to be with the Lord on May 18, 2015 at Mercy Hospital in Oklahoma City.
A visitation will be held at Vondel Smith Funeral Home on Wednesday, May 20, 2015 from 4:00 p.m. to 8:00 p.m. in Oklahoma City, OK with family greeting friends from 6:00 p.m. to 7:00 p.m.
Funeral services will follow at Greenville First PHC in Greenville, NC on Sunday, May 24, at 3:00 p.m. Visitation will be held Saturday, May 23, from 6:00 p.m. to 8:00 p.m. at  Wilkerson Funeral Home located at 2100 East Fifth Street, Greenville, NC 27858.
Presiding Bishop Doug Beacham recalls, "Mrs. Jean Williams served with great dignity and grace as the first lady of IPHC World Missions and as the wife of the General Superintendent. She faithfully stood by her husband, the late Bishop J. Floyd Williams, during his years of leadership in the IPHC. I personally remember her genuine kindness and hospitality. In the middle 1960s in Franklin Springs, my mother was hospitalized with a back injury. During those days, Mrs. Williams prepared a wonderful steak lunch for my sister and brother and me. I have never forgotten how good that steak tasted! Her love for Christ and this church never wavered. The prayers of this entire denomination are extended to her dear family."
Mrs. Williams was born May 29, 1926, in Oklahoma City, Oklahoma. She was the only child of Florence Eugenia and Lawrence Amos Ashburn.
Jean had an unconventional childhood. After her mother was saved and called into the ministry, she traveled with another lady minister, Grace Hope, and they held services wherever they were invited. They ministered as a teacher/preacher team, staying in the homes of different people. Jean seldom saw her father, who lived in Texas. He died during her pre-teen years. Following his death, Jean's mother married Rucker McCartney. Together, they pastored churches in Oklahoma and Eastern North Carolina.
Jean's earliest recollections of church was at the Sunshine Mission in Oklahoma City. At the mission Sunday school, Jean learned Bible verses and was introduced to Jesus Christ. As a child of five or six years old, she knelt at an altar in the mission and asked Jesus into her heart. From an early age she realized she lacked any recognizable talents to use in serving Christ, so she determined simply to be a Christian. "That's what I could be for Jesus," she wrote in a book of memories, "and that is all I ever wanted to be."
When Jean was 14 years old, her mother enrolled her at Emmanual Institute in Franklin Springs, Georgia. She completed the 10th and 11th grades there. At the institute, she met Julius Floyd (Flip) Williams. They were married on August 19, 1943, in her mother's backyard in Edmond, Oklahoma.
Since Floyd was from North Carolina, the young couple moved to Raleigh, where they pastored the Pentecostal Holiness Church there for a year. They served several churches from 1943 to 1962, including Raleigh (1943-44), Bethel and Merritts Chapel (1945-44), Williamston (1946-47), Wilson (1947-1951), and others.
Jean served as a member of the North Carolina Lifeliners (youth board) and actively participated in the organization of the first youth camps in the North Carolina Conference. She was also involved with the Woman's Auxiliary (WA) and was chosen as the first WA vice-president of the North Carolina Conference. Later, she was elected president of the organization.
During those years, she wrote and/or edited several pieces of curriculum. As a staff writer for Advocate Press Sunday School Literature, She wrote the denomination's first Nursery Teacher. She also developed a denominational teaching course for the junior (pre-teen) division of LifeLiners and served as contributing editor for the North Carolina Evangel, The Helping Hand, and PHYS (Pentecostal Holiness Youth Society) magazines.
When her husband was elected to the Executive Board of the Pentecostal Holiness Church in 1962, the family moved from North Carolina to Franklin Springs, Georgia. In 1969, he was ordained and titled Bishop of the denomination. When the denominational headquarters relocated from Northeast Georgia to Oklahoma City in 1974, the Bishop's family also relocated. He served in that role from 1969 until 1981. As the church's First Lady, Jean was the denominational director of Ministers' Wives Fellowship from 1977 until 1981.
The Williams family returned to North Carolina in 1984, but wherever they lived, Jean was busy serving and making a difference in the lives of people around her. At the time of death, Jean was living in North Oklahoma City.
Bishop Julius Floyd Williams died on March 27, 1994.
Jean has three sons: J. Floyd Williams, Jr. (Sarah Cooper) of Fayetteville, North Carolina; James Ashley Williams (Connie Mash), of Oklahoma City, and Jonathan Benjamin Williams, who lives in Newborn, North Carolina. She also has six grandchildren and two great-grandchildren.
In a written report to the North Carolina Conference, Jean essentially recorded her own epitaph with these words: "I would like it said of me that I desired early in life to be conformed to the image of Christ and that I prayed for His image to be branded in me… I desired to know and be known by others [as one who] belonged to the Lord Jesus Christ."
Bonnie Eugenia Asburn Williams was faithful to that goal and finished well.
The family of Mrs. Williams is requesting contributions to the Falcon Children's Home in lieu of flowers. Please send your memorial gift designated Williams Memorial.
Falcon Children's Home
P.O. Box 39 Falcon, NC 28342
Office: 910-980-1065
http://www.falconchildrenshome.com/donate/
Research by: Shirley G. Spencer
Photo: Williams family