By Bishop Talmadge Gardner
I had the privilege of presiding over the 4th General Conference for the Pentecostal Holiness Church of South Africa [PHC SA], October 5-9, 2015.  I left South Africa almost thirty-nine years ago to attend Emmanuel College.  It was an honor to return to my homeland, the place where I was born, and serve the country that my parents were first sent to serve as IPHC Career Missionaries in 1957.  I even celebrated a birthday while there.
After an opening celebration which included a parade of PHC SA General Executive Board and General Board of Administration officials, the Women's and Men's Ministries hosted their quinquennial Conferences on October 6th.  Rev. Sharon List Wooten, WMMD Women's Ministries Director for Africa, served as the Presiding Officer for the Women's Ministries Conference.  National Overseer, Presiding Bishop Thomas requested that I serve as the Presiding Officer for the Men's Ministries Conference.  Women's and Men's Ministries are strong and well established ministries in the PHC of South Africa. The newly elected Boards of these respective Ministries are as follows:
Women's Ministries Board, PHC SA:
Rev. Tandi Ngema, Director
Rev. K. Dibetsoe, Assistant Director
Pastor S. Motlhamme, General Secretary
Rev. R. Khwinana, Treasurer
Rev. L. Mmutloane, Girl's Ministries
Men's Ministries Board, PHC SA:
Rev. G. Ingwane, Director
Rev. R. Rampe, Assistant Director
Mr. G. Nkwana, General Secretary
Mr. P. Brown, Royal Rangers Commander
Mr. E. Jocoby, Board Member
Mr. S. Motlhabane, Board Member
Mr. M. Mosimanewatshipi, Board Member
The 4th General Conference of the PHC SA met October 6-9th.  The General Conference began with an opening banquet on the evening of the Tuesday, October 6th at which I spoke. The first Business Session began on Wednesday morning at 9:00AM. We concluded the General Conference on Friday.
This General Conference was significant for two reasons:  (1) the General Conference elected a new leader, Bishop Joel Dibetsoe, to serve as their National Overseer and Presiding Bishop; and (2) the PHC SA adopted a Constitution and Bylaws Polity in addition to numerous structural changes.  They followed the model of our US church and now have a governing Council of Bishops and Executive Committee (EC).  The members of the EC of the PHC SA are as follows:
National Overseer, Presiding Bishop S. Joel Dibetsoe
Assistant National Overseer, Bishop M.V. Sibiya
Executive Director of Discipleship Ministries, Rev. S.C. Mokgothadi
Executive Director of Evangelism, Rev. R. M. Rachidi
Executive Director of World Missions, Rev. A. A. Chaplog
Executive Director of Stewardship Ministries, Rev. R. T. Ngema
The IPHC is indebted to former National Overseer Bishop Reggie Thomas for his twenty-five years of service as the Presiding Bishop of the PHC in South Africa.  Bishop Thomas has also served the US General and International Church as a member of its General Board of Administration and a member of the World Pentecostal Holiness Fellowship Global Council since 1990.
We congratulate Presiding Bishop Dibetsoe and pray that the Holy Spirit will anoint his service and leadership as he provides the all-important bridge from the present to the future for the PHC SA.
Two missionary couples were present and played an active role in the three General Conferences: Rev. Joe and Maggie Delport and Rev. Ron and Sharon Wooten.  Rev. Delport serves as the WMMD Regional Director for Southern Africa.  He and his wife Maggie are to be commended for the support and care that they are giving to this part of our church family on a daily basis.  They are deeply loved and respected by the PHC of South Africa.  Their gift mix is just what the PHC SA needs at this juncture in its history.  Rev. Ron and Sharon Wooten were invited to be the two General Conference evening speakers.  They came with a word from the Lord and both preached under a powerful anointing.  To those of you who support these two missionary couples, I thank you. The Lord is using them in an influential way to serve this part of His/our church.  I cannot adequately describe how proud I am of their ministry and service.  The charge to those in South Africa and Africa is best stated by the last words that Rev. Mr. K. E. M. Spooner spoke on his death bed to his wife Geraldine, "DO NOT LET GOD'S WORK DIE!"
As we sang so powerfully in every Centennial Celebration service in March 2013 – "If you believe and I believe and we together pray the Holy Spirit will come down and Africa will be saved".
May South Africa be saved for the Kingdom's sake!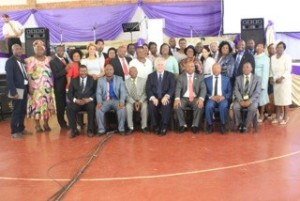 The General Board of Administration Pentecostal Holiness Church of South Africa (PHC SA)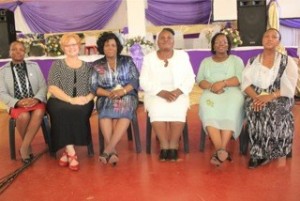 Sharon Wooten with the General Women's Ministries Board PHC SA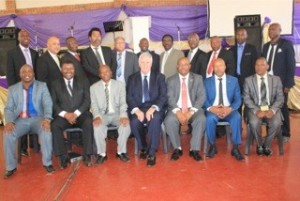 The Council of Bishops PHC SA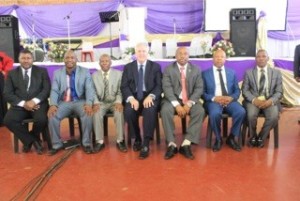 Executive Committee of the PHC SA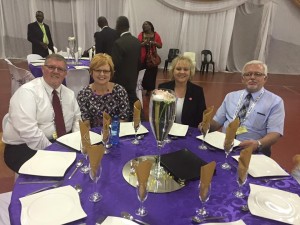 Career Missionaries pictured left to right:  Ron Wooten, WMMD Regional Director (RD) for East Africa & Sharon Wooten, WMMD Women's Ministries Director for Africa, Maggie Delport, Joe Delport, WMMD RD for Southern Africa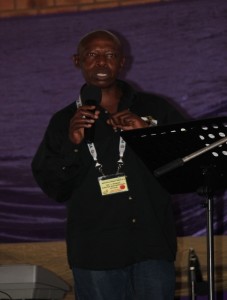 Rev. G. Ingwane, Director of Men's Ministries PHC SA