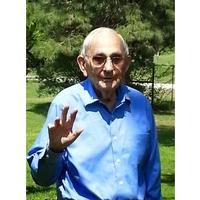 Rev. James Zenger, former conference superintendent of the Kansas Conference, passed away Friday, July 8, 2016. Zenger was licensed in the Oklahoma Conference in 1942 at the age of 17 and was ordained two years later in the West Oklahoma Conference
Rev. Zenger's service to the International Pentecostal Holiness Church (IPHC) spanned 45 years and included pastoring seven churches; serving the Kansas Conference as board member for eight years and superintendent for 20 years; pioneering four new field churches; and building five new church facilities. In addition, Rev. Zenger served the general church on the World Missions Board, Loan Fund Board, Southwestern Board of Education, Evangelism Board and as Chairman of the Carmen Home Board.
In April 1990, Rev. Zenger retired from the Westgate-Ardmore PH Church, however his ministry continued as he preached revival and weekend services wherever the Lord opened the door. The IPHC is very thankful for Rev. Zenger's lifetime of service and commitment to spreading the gospel of Jesus Christ.
For more information on the life of Rev. James Zenger, visit Eisenhour Funeral Home.