Music, parades, candy, and laughter fill the town of Falcon, North Carolina, for the annual Harvest Train celebration held each year on the Tuesday before Thanksgiving. As children line the streets, a parade of floats representing churches, friends, and supporters of Falcon Children's Home ride through the campus sharing joy and candy. Since 1947, Harvest Train has served as an opportunity for the community to bless this ministry with commodities and financial gifts during the holiday season.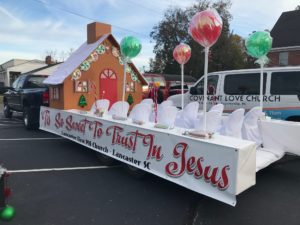 For over a century, Falcon Children's Home has provided a home for children who are unable to live with their parents in a regular home setting. According to Superintendent Joseph Leggett, it is estimated that approximately ten thousand lives have been touched by the ministries of Falcon Children's Home, which operates under the auspices of the International Pentecostal Holiness Church. In recent years, the Children's Home has expanded to include Royal Home Ministries, a residential home for teen mothers and babies; Falcon Christian Academy, a private school focused on educating students in foster care; a transitional living program; foster care program; and New Life Christian Adoptions. In 2016, Falcon Children's Home opened a new campus, Turbeville Children's Home, in Turbeville, South Carolina.
The annual Harvest Train celebration also provides an opportunity for the children of Falcon Children's Home to thank individuals and ministries that have supported them in prayer and finances throughout the year. On Monday night, November 20, the mothers and babies from Royal Home Ministries  presented a moving drama, Fit for a King, where young ladies shared that even though the world may say they are "unfit," they know they are "Fit for a King!"
Earlier in the day, Royal Home Ministries dedicated the Celebration Playground, a toddler play area provided by Celebration Center in Belpre, Ohio. Pastors Rob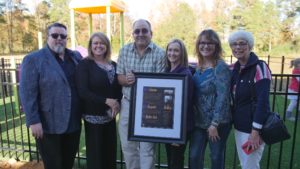 and Cara Clegg are grateful for a church that encourages young ladies to choose life, "It is one thing to preach about abortion, but another to be a part of a denomination that is actually doing something about it."
Through the 50CC Diaper Run, Mission M:25 is raising awareness for Royal Home Ministries and the right to life. This year, Director Gary Burd presented over 96,000 diapers, 115,000 baby wipes and $17,000 cash collected during the coast-to-coast motorcycle ride.
Harvest Train festivities culminated on Tuesday morning as the Culbreth Memorial Auditorium overflowed as people came from around the nation to be a part of the special thanksgiving service. Superintendent Joseph Leggett opened the service by welcoming special guests and expressing his appreciation for the overwhelming support of the community, church and alumni. The congregation then joined in celebration as they sang Christmas carols led by the children of Falcon Children's Home.
Using the story of David and Mephibosheth, the "At the King's Table" program, written by Falcon alumni Buck Hodge, reminded us that regardless of someone's past or disabilities, everyone can find healing, love, and acceptance "At the King's Table." For many, Falcon Children's Home has become that place of healing and acceptance.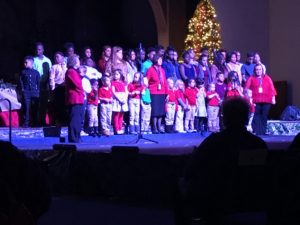 At the conclusion of the service, IPHC Women's Ministries Director Samantha Snipes thanked the children for a wonderful performance and presented gifts of over $411,068 in cash and commodities from IPHC Women's Ministries. "Harvest Train is an amazing event that we look forward to each year.  There is nothing greater in the world than investing in people!  Women's Ministries is thankful for the opportunity to be a part of what God is doing at Falcon."
Through Falcon Children's Home, the IPHC is sharing Christ's love with a hurting world. Children can find a safe place to live when life brings challenging circumstances. Young ladies are given the opportunity to choose life over abortion in a supportive, caring environment. And every effort is made to provide an environment where each child can succeed.
To support this ministry or receive more information, please visit Falcon Children's Home.