By Bishop Garry Bryant

It was a distinct privilege to serve as the presiding officer for the Pacific Western Network Ministries (Pac West) Quadrennial Conference, May 19, 2018, in Fremont, California.
Bishop Reynolds and his leadership team provided a quality setting and schedule for the conference family to experience.
On Friday, May 18, Hans Finzel, noted author, teacher, and leadership development instructor, provided excellent instruction on the Top Ten Ways to Be a Great Leader.  Many pastors, ministers, and local church leaders received practical and applicable information.  There were approximately 100 in attendance.
On Friday evening, over 300 engaged in a tremendous time of worship, fellowship, and hearing the Word.  Rev. Ron Carpenter Jr. was the guest speaker, and he shared a powerful message on making proper preparation for God's purpose and plan to be fulfilled in our lives.
The Quadrennial Conference convened on Saturday morning with a time of worship and engaging the presence of the Lord.  There was a wonderful spirit of unity and kindredness of heart that prevailed throughout the day.
Conference business was well planned and prepared by Bishop Reynolds and his administrative assistant. Linda Hartness did a marvelous job serving and keeping everything in order.
There were 104 delegates and 48 guests in attendance. The Pac West Conference selected the following to serve as their Executive Council:
Superintendent                            Bishop Stan Reynolds                By acclamation
Assistant Superintendent             Pastor Anthony Holmes              By acclamation
Secretary\Treasurer                     Pastor Benjamin Waldrum          By acclamation
Council Members                         Pastor Edgar Banaga                 First ballot
Pastor Mark Hammond                First ballot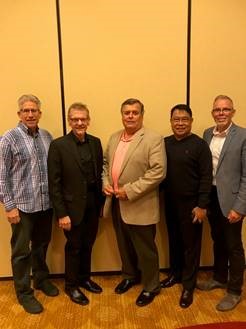 The State of the Conference report presented by Bishop Reynolds was a strong testimony of God's faithfulness and the progress that Pac West is experiencing.  Brother Reynolds joyfully honored his two predecessors, Rev. Bill Terry and Rev. Roger Halverson, expressing deep appreciation for their years of service and the progress that they brought to the conference.
Bishop Reynolds identified significant areas of advancement as well as need.  Declaring that Pac West is in a good place for increased health, growth, and multiplication.
The Credentials Committee Report:
Ordained Ministers:
Rev. Mark Hammond
Rev. Levon Davis
Licensed Ministers:
Rev. Nathaniel White Sr.
Rev. Walter Huezo
Rev. Salvador Peral
Rev. Jacqueline Guerra
Rev. Jason Conway
Rev. Nicole Hammond
Rev. Leopoldo Zendejas Maya
Local Church Ministers:
Rev. Christina Brown
Rev. Jizrel Rubio
The Pac West Conference was privileged to credential a tremendous group of kingdom laborers that will most definitely enhance their capacity and potential.
The conference was honored to have several special guests and participants:
Missionaries Larry & Debbie Miniger (Pac West is their home conference)
Special Presentations:
Bishop Reynolds recognized several ministers with years of service pins
Certificates were presented for those who successfully completed C.E.U. requirements
The Pac West Conference family provided a time of special honor for Rev. Susan Bagley for her many years of leadership and service to the conference. Sister Bagley has recently resigned from her local, conference, and general church responsibilities due to health conditions.
Allow me to take this opportunity to extend special appreciation to Mrs. Susan Bagley as well.  She has served with excellence in a variety of responsibilities for the good of her local
church, the Pac West Conference, and the greater IPHC.  The Bagleys are tremendous representatives of our family of faith and special gifts of God to us all. We continue to believe for Sister Susan's health to experience improvement and heaven's touch.
The day concluded with the conference expressing words and gifts of special appreciation to Bishop Stan Reynolds and his wife, Kathy. The Reynolds are deeply loved and respected. God bless Bishop and Mrs. Kathy as they continue to provide leadership and direction for Pac West.
It was my joy to be a part of the Pac West Conference and with great confidence I am excited about their future ministry and fruitfulness.