By Bishop Garry Bryant
The Rocky Mountain Conference held their Quadrennial Conference June 7–9, in Brighton, Colorado, at The Healing Place Church.  Pastor Joe Sanchez, his leadership, and church family served as great hosts for the gathering.
On Thursday evening, June 7, the conference gathered for an evening of worship and word.  Bishop Herrera shared a message and challenged us with the theme of this year's conference, "Let the Church Arise, Let the People Rejoice."  The message was encouraging, challenging, and well received.
Friday was a day of training and concluded with our evening service that centered around the emphasis that we must return back to the priority of prayer.
Saturday, June 9, the Quadrennial Conference convened.  There was a wonderful atmosphere of fellowship and harmony.
Bishop Herrera provided the State of the Conference report that included past progress and present challenges as well as a commitment to growth and advancement.
We are believing with the Rocky Mountain Conference for increase, taking of new territory, and strengthening of their present ministry presence.
Special guests:
Paul Clark – former conference superintendent (Please be encouraged to continue in prayer for Verna Clark, Brother Paul's wife.  We need a miracle.)
Pastor Joe Sanchez – member of the National Men's Ministries Board (host church pastor)
Stephen Hanscom – vice president, Extension Loan Fund (Rocky Mountain is Stephen's home conference.)
Pastor Guillermo Rivera – district director for ACTS2Day (Pastor G. ministered to the Hispanic constituency Friday afternoon.)
The conference selected their Council for this Quadrennium:
Superintendent:                      Bishop Larry Herrera – by acclamation
Assistant Superintendent:       Tyler Clark
Treasurer:                                Carole Burgess
Council Members:                   Robert Lopez
Jerimie Olvera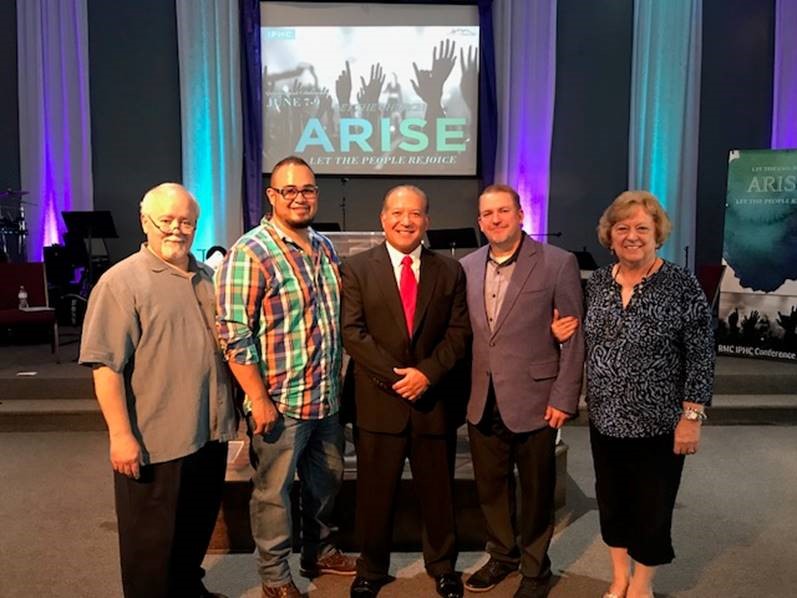 We congratulate Bishop Larry and his wife, June, for their years of ministry and service to the conference.  Our prayer remains that they will experience their most fruitful season.  Bishop Herrera has a quality council to serve with him.
The following ministers were credentialed:
Ordained ministers:
Licensed ministers:
Michelle Arguello
Amy Innis
Cheryl Milhorn
Lauro Roma
Christian Vandenham
Chris Wales
John Payne
One of the highlights of the day was a record-breaking GO Offering.  The conference body rallied to the call and challenge.
ARISE 2033 was introduced to the delegates and guests.  There was a stirring of excitement and a strong commitment to engage and participate in this IPHC mandate.
We celebrate this valuable part of our church family and believe with them for greater impact and harvest in their region of our nation.