By Dr. A.D. Beacham, Jr., Presiding Officer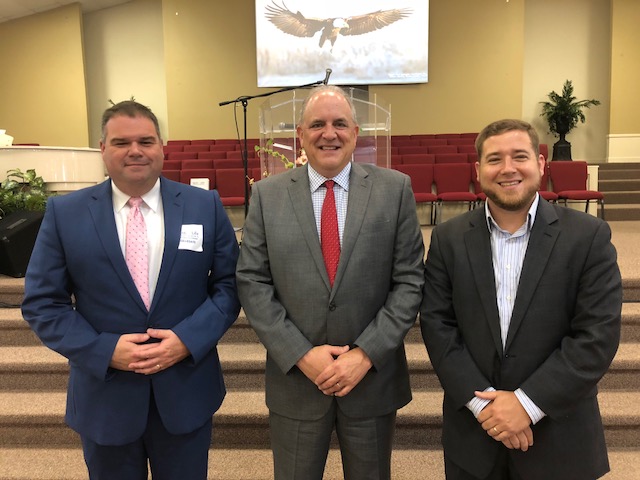 It was an honor to preside over Spirit Life Ministries (Upper South Carolina Conference) as they gathered in their 103rd year of service to our Lord Jesus Christ through the IPHC on Saturday, May 19, 2018, in Beech Springs, South Carolina. The Chair recognized the following people as either visitors to, or former leaders of the conference: Ray Buchanan (former superintendent and member of the GBA), Ron Moore (former superintendent, member of GBA, and former president of Southwestern Christian University), Mrs. Doris Moore (former IPHC Women's Ministries president), President Chris Thompson and his wife Betty (Holmes Bible College), Mrs. Esther Nix representing IPHC Extension Loan Fund, Rev. and Mrs. Mike Dillard representing Turbeville Children's Home, Mr. Mackenzie Dye representing Emmanuel College, missionaries Willard and Yvonne Wagner, and retired missionary Lawrence Pfaff.
The IPHC Core Value presentation of "All Generations" was well received by the delegates. Following that presentation, Rev. Scott Lollis gave the Decorum Committee Report.
Bishop Ray Boggs presented the State of the Conference Report. At the close of 2017, the conference had 91 congregations with a total congregational membership of 38,343. Conference clergy included 218 ordained ministers, 81 licensed ministers, and 34 local church ministers. Bishop Boggs announced that Rev. Chris Thompson, president of Holmes Bible College, had officially transferred as a seconded minister from the North Carolina Conference since he was pastor of the Holmes Memorial Church, an affiliate member of Spirit Life Ministries.
Bishop Boggs described how the conference was actively supporting the Turbeville Children's Home. The Amick Grove PHC built a new picnic shelter and bought new bedding for the children.
The conference is working with Rev. Josh Hannah and EVUSA with 22 senior pastors involved in church revitalization. The Hispanic ministry of the conference continues to grow under the leadership of Pastor Eder Herrera. Last year at the Saturday morning Hispanic service at camp meeting, over 250 were in attendance.
Bishop Boggs spoke of the conference's commitment to Arise 2033 and the goals for planting new churches. Over the next four years, the conference has a goal of starting a minimum of 20 new congregations.
The Spirit Life 2018 Camp Meeting at Beech Springs will feature Josh Lafferty, Dr. Terry Tramel, and Pastor John Kilpatrick.
Following the State of the Conference, Rev. Brent Lollis presented the Bylaws Committee Report. When the section addressing elections was completed, the conference by unanimous vote affirmed the nominations of Bishop Ray Boggs for another term, Rev. Brent Lollis as assistant superintendent, and Rev. Joshua Bridges as secretary-treasurer. The other members of the council will be appointed by these three.
The following ministers were remembered in the Memoirs Report that covered the previous quadrennium: Herbert L. Bailey, J. Roscoe Bryan, Sr., Arthur P Campbell, Wesley E. Dixon, Marie B. Haydock, George F. Hopkins, Sr., Michael Jarrad, Bishop James D. Leggett (former pastor of Holmes Memorial Church), Virgil L. Manning, Thomas E. Mason, Jr., W. Anaweise McClain, James E. Shuster, Sr., James A Smith, Jr., Jaymon H. Smith, Zeb D. Smith, Jr., J.C. Sorrow, Delbert S. Timms.
The following minister's spouses were remembered in the Memoirs Report: Byrdie Lee Boggs, Karen F. Boggs, Martha H. Butler, Dorothy "Jo" Dixon, Dottie E. Dixon, Mildred Fleming, Edith A. Jones, Frances B. Murray, Jeanette Posey, Carmen M. Riddle, Kathy W. Romich, Rowena S. Smith, Trannie W. Sorrow, Edna H. Stansell, Joclair E. Taylor, Reba Bryant.
The Credentials Report included the following:
Local Church Minister's License: Hugo R. Chavez, Barry Hicks, Adilia Sontay, Scott Tumblin, and Leah Turner.
Minister's License: Jennifer Branham, Jeff Davis, Wilma Graham, Terri Howard (transfer), and Sierra Turner.
Minister's Ordination: April Babb, Paul Babb, Janet Bailey, Raymond T. Chubb, Marcus Ginn, and James Howard (transfer).
The conference closed with Presiding Bishop Beacham giving a charge to the newly-elected conference superintendent, assistant superintendent, and secretary-treasurer.
There was a good spirit in the conference. There is an excitement about growth and reaching the lost for Christ.