By Bishop Garry Bryant
It was a distinct privilege to serve as the presiding officer for the Texas Latin Quadrennial Conference, June 28 – 29 in San Marcos, Texas. What a tremendous two-day event we experienced. The Texas Latin Conference provides a quality time of fellowship, training, and ministry for their conference family and guests.
Thursday, June 28 involved their Men's Ministries and Women's Ministries conferences followed by an afternoon of excellent training opportunities. The evening provided specific ministry tracks for children, youth, and adults.  There were approximately 600 in total attendance. There was a strong emphasis on prayer as the conference body was called back to the altar and to intercession.
The Quadrennial Conference took place on Friday, June 29.  The theme for this year's conference was Impacting All Generations which strongly complemented this year's IPHC emphasis – We Prayerfully Value All Generations. It is my observation that the Texas Latin Conference is making aggressive efforts to engage and incorporate this value.
Bishop Avila provided a very positive and insightful State of the Conference Report.  He used Philippians 3:13 as a point of reference requiring us to look at where we have been, and as a priority to look at where we are going.
The Texas Latin Conference is positioned to move forward into this next quadrennium with a determination to advance the kingdom and multiply their efforts.  The ARISE 2033 directive was well received by the conference leadership and body. There is a strong commitment to doing their part in fulfilling this visionary mandate.
The conference body elected the following Executive Council:
Superintendent                             Rev. David Avila
Assistant Superintendent              Rev. Jaime Treviño
Secretary\Treasurer                      Rev. David Treviño
Council Members                          Rev. Ronnie Saldana & Rev. Placido Garza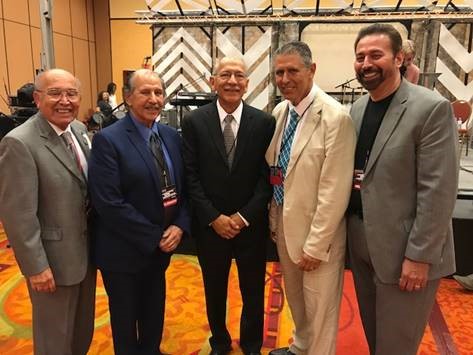 Congratulations to David Avila and his dear wife, Olivia. The Conference Executive Council has a tremendous opportunity to serve and propel the conference into its most productive season.  So be it, Lord!
The Credential Committee Report:
Ordained Ministers:
Elias Flores
Juan Gonzalez
Julia Hernandez
Alfonso Velasquez
Licensed Ministers:
Lionel Diaz
Roberto Hernandez
Rebekah D. Maldonado
Israel Rodriguez
Local Church Minister's License:
Dora Hernandez
Paul A. Mealey, Jr.
David A. Sosa
Maria A. Vargas
Gilberto D Martinez
Abraham Medina
Nancy Medina
Lacreasha D. Mealey
Candido Rodriguez
There were several special guests and participants present:
David Parker               President, Extension Loan Fund
Irvina Parker               Director, Girls' Ministries
Esther Nix                   Office Administrator, Extension Loan Fund
Luis Avila                    Director, National Hispanic Ministries
Mario Ayala                 Board Member, Hispanic Ministries
(Bro. Mario served as my translator for the two-day event and did an exceptional job; he is one of the best!)
Josh Lafferty                SMAT Team Member, Discipleship Ministries
(Josh was the guest minister for the youth track)
Jaime Treviño              Former Superintendent, Texas Latin Conference
Ronnie Saldana            Former Superintendent, Texas Latin Conference
The Quadrennial Conference concluded Friday evening with a tremendous ministry time for everyone.  There were 750+ in total attendance.
I want to extend a special thank you to Jason and Krystal Treviño who served as the conference and event coordinators.  They were phenomenal.  This was one of the most organized, effectively administered, and productive ministry settings I have been privileged to participate in.
Well done, Texas Latin Conference.
I was grateful for the privilege to serve and participate in the Texas Latin 2018 Quadrennial Conference.