We are edging ever more closer to the celebration of the day of Pentecost. The word "Pentecost" is a centerpiece to the name International Pentecostal Holiness Church, although each word carries theological significance.
Put on the lens of "international" while looking at Acts 2 and you will see that all peoples of all tongues are invited to Pentecost. Some are surprised when they read about Arabs being part of the Day of Pentecost (Acts 2:11), but no people group should be excluded. No barriers erected by society should a church use to exclude anyone over age, race, ethnicity, class, or gender.
I could post some of my academic articles supporting this thesis, but for now I offer an oral presentation given to the Church of God of Prophecy General Assembly that registered more than 10,000 persons in the summer of 2018.
I want to highlight the leading role of the IPHC in what has come to be known as the "Memphis Miracle". This was the transformation of the PFNA (Pentecostal Fellowship of North America) to the racially inclusive PCCNA (Pentecostal Charismatic Churches of North America).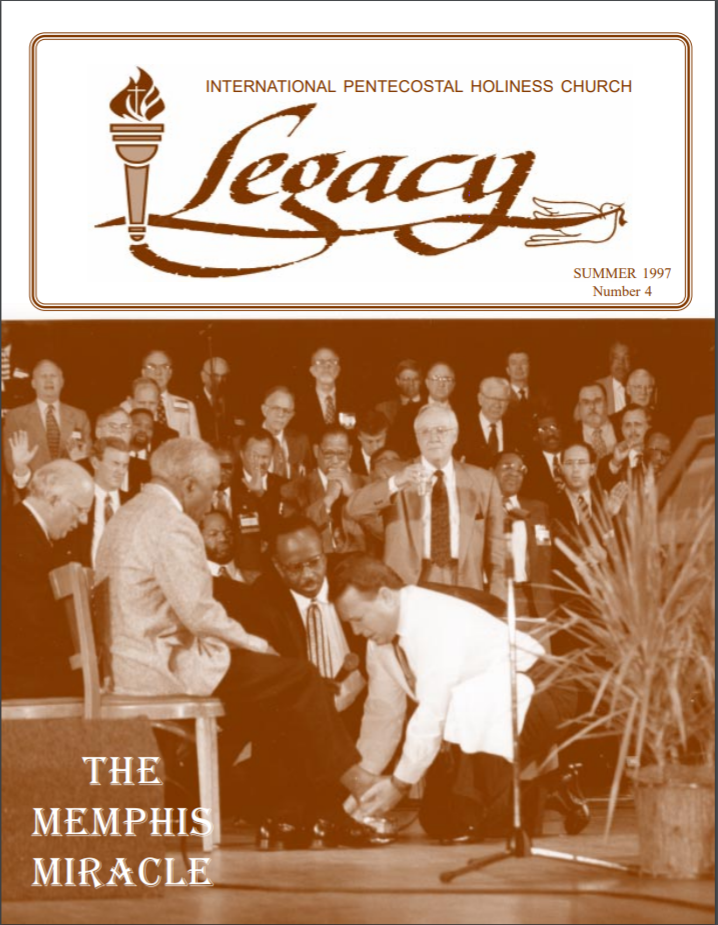 The two principal organizers were IPHC General Superintendent B.E. Underwood and Church of God in Christ Bishop Dr. Ithiel Clemmons. I have a link to the IPHC Archives & Research Center newsletter Legacy 4 (July 1997) to provide reflections by Bishop Underwood. I expect to print a memorial edition of Legacy in 2021 when the IPHC Archives & Research Center celebrates her centennial. The first official IPHC archivist was the legendary GF Taylor.
A link is provided also to the PCCNA magazine Reconciliation primarily because of the article by Dr. Vinson Synan and the "Memphis Manifesto". I know the inside part of this story because I was part of the NARSC (North American Renewal Service Committee) steering committee led by Dr. Synan that included Bishops Underwood and Clemmons. Also, I was one of four who signed the "Memphis Manifesto" and co-editor of Reconciliation.
Some may not know that NARSC sponsored major conferences around the USA that attracted up to 50K leaders and members who were Roman Catholic Charismatics, Protestant Charismatics, Independent Charismatics, Classical Pentecostals, and so on. The "Memphis Manifesto" was celebrated last year when PCCNA met in Bishop Charles Mason's Temple in Memphis, TN.
Here is a link to the April 2020 PCCNA newsletter that highlight some efforts of reconciliation during the global pandemic.
Dr. Harold D. Hunter
Director
IPHC Archives & Research Center