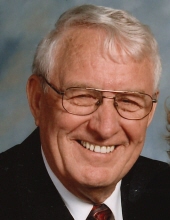 Donald Dean Burchett, 87, passed away Saturday, May 16, 2020, at Neodesha Care and Rehabilitation in Neodesha, Kansas. Don was born on February 27, 1933, to Jody and Viola Burchett in Copan, Oklahoma.
On May 29, 1954, Don married Bonnie Ray Charter. Bonnie passed away on December 21, 2000. He married Donna Horst in February 2003. She also preceded him in death in 2005. Then, on August 8, 2006, he was united in marriage to Joy Stewart Kerley.
During his 44 years of pastoral ministry, Donald led only one congregation: Chapel of Praise/Cathedral of Praise in the Kansas (now Harvest) Conference of the International Pentecostal Holiness Church (IPHC). He served as Bishop of the Harvest Conference (now the Harvest District of Acts2Day) for 16 years. By virtue of that position, he served as a member of the IPHC General Board of Administration and on the Southwestern College Board of Regents.
Donald's heart's desire was to see the churches in the Independence, Kansas, area worship together. That is why he held Winter Word Camp Meetings in Independence for eight years.
As a pastime, Donald enjoyed fishing, which he jokingly called "visitation." (Visitation was the name of a fishing boat owned by his close friend, Jack Weaver.) He delighted in playing jokes on people, and he loved to play fastpitch softball. He played his last game when he was 64 years old. He also loved golfing and just being with people.
Donald's love for young people is reflected in the fact that he and Bonnie fostered 10 children.
Donald was predeceased by his parents, his wives Bonnie and Donna, and his brother, J. Dwight Burchett. He is survived by his three children: Terry (Kenni), Belinda Cotton, and Randy (Cindy); eight grandchildren: David Chism, Shawna Adams (Jesse), Steven Burchett (Tina), Benji Chism (Whitney), Jennifer Tucker (Gary), Cassie Graham, Joshua Burchett (Kelley), Yalanda Moore (Craig); four foster children: Harlis Harriman, Tony Tuner, Tracy Chamblee, and Donnie Baker. He is also survived by 27 great-grandchildren and six great-great-grandchildren, his brother Bobby (Jeanie) Burchett, and sister-in-law, Mary Burchett.
A "family-only" funeral was held on Friday, May 22nd, in Independence, Kansas. Because of restrictions imposed during the Coronavirus pandemic, a public memorial service for Donald Dean Burchett has been postponed until August 22. The location is yet to be determined.