The IPHC is partnering with the Global Church Network (GCN) to promote October 25 as a day of prayer for finishing the Great Commission.
Presiding Bishop Doug Beacham encouraged IPHC congregations and members to join in this special time of prayer. "I am grateful for Dr. James Davis and the Global Church Network," Beacham said, "and encourage IPHC congregations to join in this global effort to pray for the lost."
IPHC Prayer Consultant Rev. Doug Small serves as Intercession Cochair of Finish 2030 Prayer Force, which calls for Christians to join together for one billion hours of prayer. James Davis, founder and president of GCN, writes:
We are encouraging you to promote and participate in the Finish Great Commission Prayer Sunday. Every major denomination and fellowship are also helping to get the word out. If you are a pastor, please take a few moments to inform your church of this important day and encourage them to pray during the Sunday worship service. Every:

100 people praying for 5 minutes is 500 minutes, or 8 plus hours of collective prayer
500 people praying for 5 minutes is 2,500 minutes, or 40 plus hours of collective prayer
1000 people praying for 5 minutes is 5,000 minutes, or 80 plus hours of collective prayer

We are praying for one million young ministers to enter the mission field; for the Church to synergize and mobilize like never before and for local churches to be planted among the remaining unreached people groups worldwide. Will you join us?
You can download resources for social media here. More information is available at FINISH2030.COM/PRAY.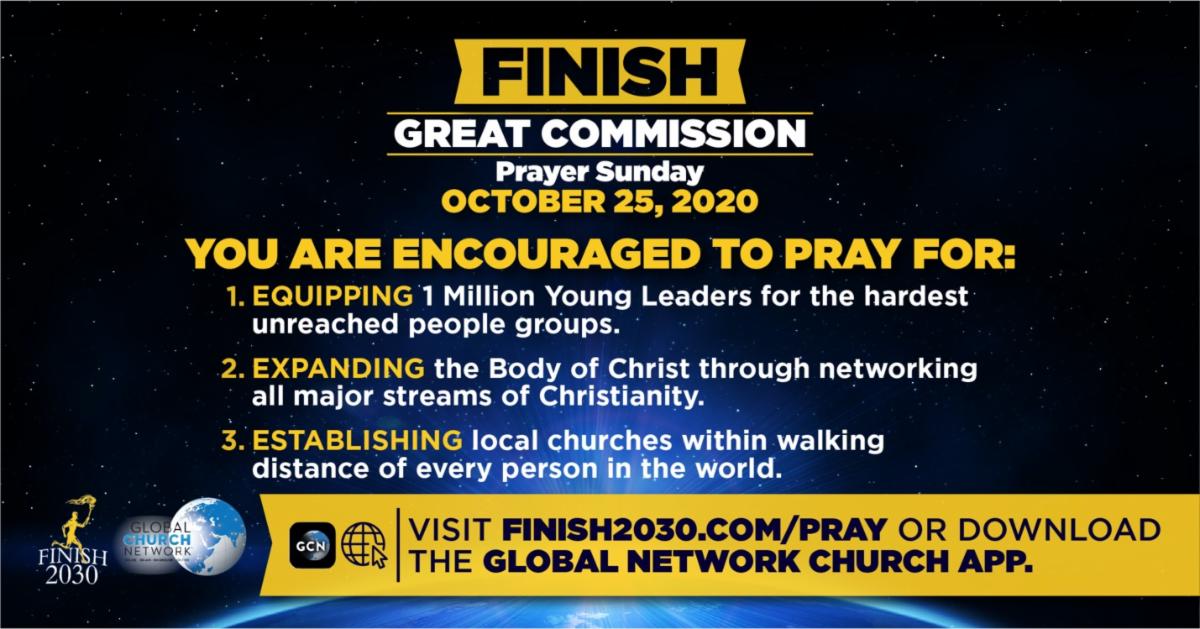 This joint prayer coincides with the IPHC's Arise in Prayer emphasis. The goal of this multi-year strategy is to help IPHC churches become "houses of prayer for all nations." Several prayer events will occur in the next several weeks. First, the Council of Bishops has declared a day of prayer and fasting Sunday, November 1. This prayer day focuses on the United States, which has national elections on Tuesday, November 3. Second, the second Arise in Prayer webinar with national prayer consultant Rev. Doug Small will be Thursday, November 5. (See the first webinar here.) Additional prayer events, including a pair of prayer summits in North Carolina and Oklahoma will follow. More information about Arise in Prayer is available at iphc.org/ariseinprayer.