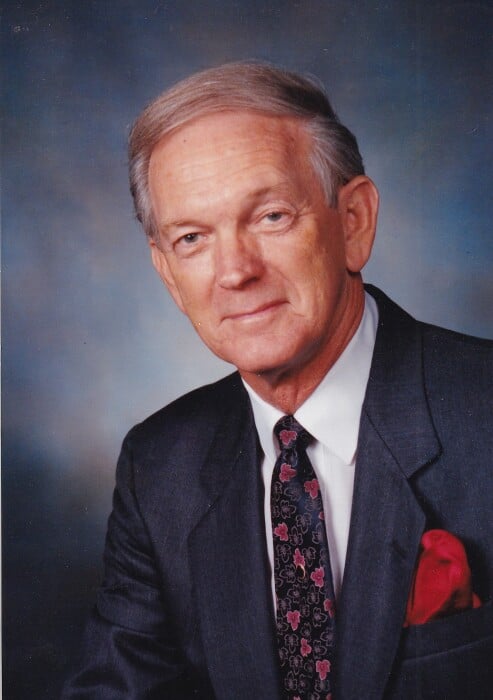 Reverend Jack D. Goodson entered into the presence of the Lord on January 25, 2021. He was 90 years old.
Presiding Bishop Doug Beacham remembers Goodson's years of faithful service well. "I first met Rev. Jack Goodson at the 1985 General Conference," Beacham said, "where he was elected to serve the IPHC as General Secretary-Treasurer. Over the following years, I discovered that this man had a deep and strong commitment to Christ and people. In particular, he was a man of great vision. Through his vision and efforts, the IPHC developed the graduate school and the IPH Foundation. He and his beloved wife Frankie represented Christ and the church with dignity and grace. The IPHC family is thankful for Brother Goodson's life and service."
Goodson's visitation and funeral service will be held on Saturday, Jan 30th. The visitation will be at 12:00 pm and the funeral service will be 1:00 pm at North Pointe Pentecostal Holiness Church. The service will be livestreamed on North Pointe's Facebook page and on their website at www.northpointeph.com.
Biography
by Shirley Spencer
Jack David Goodson was born on August 31, 1930, in Gastonia, North Carolina, to Ferrie Bess Goodson. His only sibling, James, passed away in 1985.
Unlike most of his ministerial peers, who were saved in a local church, Jack accepted Christ at the age of 14 as he walked between two mill houses in Gastonia. He had not been reared in church, nor had he been taught about God, but occasionally, he attended a small church in town. When he was 18, a neighbor invited him to visit the Pentecostal Holiness Church in Gastonia, where he heard for the first time a message on being sanctified and baptized in the Holy Spirit.
That night, when he couldn't sleep, Jack slipped out of bed and asked the Lord to sanctify him. He describes that occasion as the only time in his life when he heard the audible voice of God. "He spoke over my left shoulder: 'You are sanctified.'" From that day to this, Jack has been devoted to the Lord and to advancement of the kingdom through the International Pentecostal Holiness Church.
Jack married Frankie Wilson on December 25, 1950. To that union was born three children: David Bruce Goodson (deceased on July 5, 2003), Rhonda Karen Tate, and Chris Goodson.
Jack Goodson served in leadership at every level of ministry, from the local church to the denomination's Global Ministries Center. And, regardless the position he was chosen to fill, he served with excellence. "Wherever I minister," he says, "I try to do my best for the glory of God." Jack bases his life on 1 Corinthians 10:31: "So whether you eat or drink, or whatever you do, do it all for the glory of God."
Always with that passage of Scripture as his guide, Jack pastored churches in the Western North Carolina (Cornerstone) Conference for 22 years (1959-1982). From 1972 to 1985, he served as a member of the Cornerstone Conference Board: six and a half years as assistant superintendent of the conference and three and a half years as superintendent.
Delegates to the 1985 IPHC General Conference elected Jack D. Goodson as General Secretary and Treasurer. He served a total of 12 years in that role and as a member of General Executive Board. He was a member of the World Missions Board for eight years (1977-1985) and served as chairman of the Falcon Children's Home Board for two years (1984-1985).
While still in his teens, Jack dropped out of school in order to support his ailing mother. Though he only completed the eighth grade, he overcame his limited formal education and became an avid student of the Scriptures. He persevered to achieve an impressive resume of service in both the church he loves and the community. Simultaneous with his role as General Secretary and Treasurer, he was also a member of the First Fidelity Bank Board of Directors for 12 years (1985-1993; 1997-2001); a member of the Met-Life Advisory Board (1989-1993). Jack was awarded honorary doctorate degrees from Southwestern Christian University and Pacific Coast Bible College. Southwestern Christian University acknowledge his leadership ability by bestowing on him its Lifetime Achievement Award.
Following his retirement in 2001 as executive director of Stewardship Ministries, Jack served for four years as U.S. Field director for World Missions. Then, in 2001, he and Frankie relocated from Oklahoma City back to North Carolina, where he administered the Cornerstone Conference's archives and continued to minister whenever and wherever an opportunity arose.