January 27, 28, and 29 have been special days for me.
January 27 was Holocaust Memorial Day. I could not help but remember a chilly November afternoon in 1990. Our family visited the Dachau concentration camp near Munich. Above the entrance gate was the infamous signage, "Arbeit Macht Frei," or "Work makes you free." Started in 1933 at the beginning of totalitarian National Socialism, the camp held over 200,000 prisoners until their liberation in April 1945. The official account records 31,951 deaths. The memorial wall has this profound statement: "Nie Wieder, Never Again."
The infamous sign that prisoners walked under as they entered the camp characterized the deception and lies that corrupt political and economic systems used, and continue to use, to manipulate language, and thus manipulate thoughts and opinions, for their selfish ends.
---
On January 28 the IPHC focused on the Sanctity of Human Life. It actually began on the night of the 27th with a special service at the Bizzell Grove IPHC near Princeton, North Carolina. But I think most of us consider a visit to an old building in Fayetteville to have been the most significant. Led by Gary and Carolyn Burd and a team of IPHC Mission 25 bikers, we drove the short 20 something miles to the building in the photo below.
Today, this building is the Agape Pregnancy Support Services. Thirty years ago this building, located a street behind an IPHC church, was an abortion clinic. Marvin and Joyce Whitfield, in their sixties at that time and pastoring that church, often rode by that building and grieved as they watched thousands of women enter. They prayed for the women and cried out to God. Finally, they realized they had to do more than pray. They had to do something to give women an alternative.
Instead of quietly retiring from the ministry, the Whitfields obeyed the Spirit's promptings and began an IPHC outreach to women that is known as the Royal Home. The Whitfields are with the Lord now, but their compassion and vision continues.
But back to the building in the photo. For nineteen years this building has provided women with the alternative of life. Miss Helen, who leads this ministry with a host of volunteers, gave us a tour of the rooms.
We walked by a room filled with diapers and she said, "That room was where they disposed of the babies that were aborted."
Just down the hall we came to the room in the photos below. You first see the cross when you walk through the doorway. I thought this was a chapel.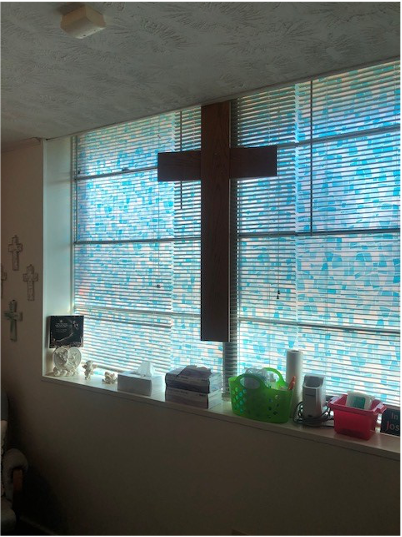 But when you turn to the opposite wall, you see these "memorial stones" with the names of children. Miss Helen told us that now, women who had abortions in that room have come back to remember the lives of their unborn children. They name them, they write love notes to them, they apologize to them, they weep, they start the lifelong journey of finding freedom from condemnation and finding peace. Yes, the cross!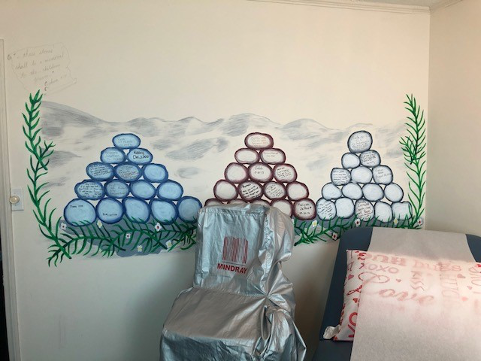 I want you to look at this picture for a moment. You can barely see the door to the left. It's a small room. In this small room, over 150,000 babies were killed. This is in one abortion shop in one city. Since 1973, over 61 million babies have been killed in the USA.
But look at this room and weep. In this one room, 150,000 babies were deprived of their divinely appointed destiny. We stood there and wept. We wept for the babies. We wept for the women who didn't have, or think, or know another way for them and their babies. We wept for the men who didn't have the courage to speak up for their seed. We wept for ourselves for being so slow to respond to this barbaric national calamity and abomination. Is it too much to call it an American Holocaust?
I'm deeply troubled as I write this. Standing in that room shook me. Thirty years ago I served on the board of an alternative to abortion ministry in Toccoa, Georgia. Members of the church I pastored, John and Barbara Mattison, were pouring out their lives to save children in Northeast Georgia. I admired them for the sacrifices they made. I went to board meetings and did my part. But I am ashamed that I did not allow myself to venture into the real pain and suffering that they daily witnessed. I never saw "the room." I never heard the weeping.
This brings me to my third day, January 29. It was supposed to be the March for Life in Washington, DC. Last year over 200 IPHC members joined hundreds of thousands of others on the National Mall, and plans were being made to attend. But the usual date around January 22 was postponed due to the inauguration of a new US President. And, due to spreading coronavirus, the event was changed from an in-person to an online event.
January 22, 1973 is the tragic day that the US Supreme Court announced a national policy of abortion on demand in Roe v. Wade. The first March for Life was held a year later on January 22, 1974.
By the 1980s, if not before, IPHC members began to attend the annual protest. Though the IPHC clearly expressed its sanctity of life position in the 1980s, it was not until 2013 that efforts began to involve the IPHC as a movement in this annual demonstration. I am grateful for support from Royal Home Ministries, the Falcon Children's Home, Mission 25, IPHC colleges, and denominational leaders, pastors, and especially the dedicated laity who come each year to stand in the cold and protest a policy of death, pray for God's mercy for our nation, and plead for our representatives to have the courage to speak and act for life.
On this day, January 29, I am praying for our nation, for women in crisis, for human lives conceived and known to God. I am praying for courage, for more of the kind of lifesaving and redeeming places of hope like the Royal Home and more people like Miss Helen and the Mattisons.
But I am also ashamed. I am ashamed that the Biden administration has quickly moved to advance the policy of death. I am ashamed that we are sending our tax money to provide for more abortions in other nations. Think of that—a US foreign policy of killing the future of other nations.
There are many ills in our nation that require our repentance, but on this day, abortion stands out as the policy intentionally killing our future. Imagine the impact of 61 million lost Americans! Imagine the lost creativity, the lost scientists, the lost artists, the lost teachers and students, the lost preachers of the gospel, the lost people to lead us into the balance of the 21st century.
US Senator James Lankford (R-OK) tweeted the other day that only four nations in the world allow late-term abortions: China, North Korea, and Vietnam are three. The fourth is the United States of America. Shame.
Government has its role to play in rectifying injustice and establishing righteousness, and we pray a future Supreme Court decision will be part of that. And we have a role to play in writing and calling our elected state and national leaders.
But there is a greater role that we should take up as the body of Christ. Let followers of Jesus lead the way in departing from the shame of living by the laws of sin and death that govern us, and lead in living in the way of hope by the law of the Spirit of life in Christ Jesus. Let us do all we can to speak up for life, to financially support those who are making a life-difference, to imitate what Marvin and Joyce Whitfield did. Let us be merciful to women facing difficult circumstances. Let us not condemn them, but give them hope, mercy, comfort, and welcome.
And let us pray earnestly for the day when we will be able to say "Never again" about American abortions.