See You At The Pole is a nation wide day of prayer that has been taking place since 1990. Students gather around their school flag poles to pray for their peers, their school, and their world. Make sure and find out what time and where your school's See You At The Pole is taking place. The official day for SYATP is September 24th.
Most school FCA or other Christian clubs will plan their SYATP meeting. If you're school does not have an official club, now is a great time to start one. Remember, according to your Constitutional Rights, you are allowed to gather together outside of your school and pray. Although there is no rule stating you must have your school administration's permission, it  would be a good idea to at least inform your school of your plans.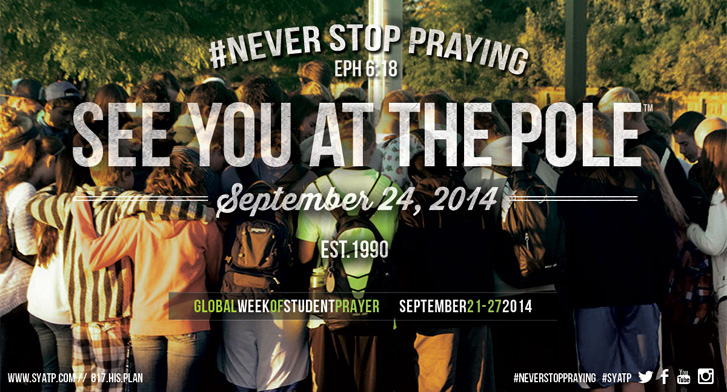 There are many ways you can organize your See You At The Pole event. If you would like help organizing the event, ask your local church pastors to help lead prayer that morning. Your youth pastor can lead a short devotion and then lead you into prayer. You can also have a short praise and worship set before moving into devotion and prayer. Remember that the goal for SYATP is prayer so make sure and use the bulk of your time for praying. You can gather your entire group together and have one person lead the prayer or you can break into smaller group and pray individually.
Remember that SYATP is a nation wide event. Even if you are the ONLY person who shows up to pray for you school, know that you have thousands of other teens across the world praying with you. You are not alone!
For more information about SYATP or for free resources, check out the website www.syatp.com