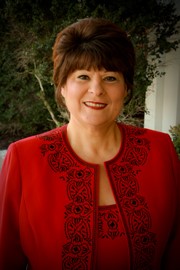 The Discipleship Ministries Division would like to congratulate Rev. Tamé Lambert as the Lamberts are returning to South Carolina to be involved in pastoral ministry.   Tamé has resigned her position as Director of Women's Ministries effective October 1.
At the 2009 General Conference, Reverend Tamé Lambert was elected as the National Director for Women's Ministries, and was instrumental in the smooth transition of Women's Ministries joining with Discipleship Ministries at that time.
"I want to thank Tamé for her diligent work with the women of our denomination", stated Bishop Tommy Mcghee, Director of Discipleship Ministries, "We are grateful for her five years of leadership at the national level as well as the many years of service as the Gem's director and later Women's Ministries director of the South Carolina Conference. We rejoice with Jimmy and Tamé for God's provision. I know they are looking forward to being closer to their children, grandchildren and parents."
Before being elected to the National board, Tamé worked on the conference level for South Carolina for over ten years, both in Women's Ministries as well as Girls' Ministries. Tamé has also worked in ministry alongside her husband, Reverend Jimmy Lambert, for the past thirty two years.
"Tame Lambert and her husband Jimmy showed great courage and hearts of obedience when she accepted the call to serve as the IPHC Women's Ministries Director. It meant leaving well established ministries for both of them and embarking on a new journey of faith. As they enter into a new season of ministry, we are rejoicing at the fruit of her labor among the women of the IPHC. From the USA to around the globe, women have been equipped and encouraged through Tame's efforts."
– Bishop Doug Beacham, General Superintendent of the IPHC
Please keep the Lamberts in your prayers as they make the move from Oklahoma City to Lancaster, South Carolina to begin this next adventure that God has called them to.  We look forward to the future ministry of Tamé and Jimmy Lambert!
If you have any questions regarding women's ministries please email wmsinfo@iphc.org