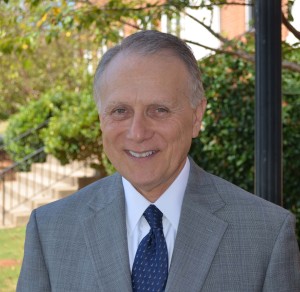 The Emmanuel College Board of Trustees is pleased to announce Dr. Ronald G. White as Interim President.
"Ron White is certainly not a stranger to Emmanuel College," said Bishop Tommy McGhee, who has served as EC's Acting CEO since May, as he introduced Dr. White to faculty and staff on Wednesday, Sept. 3. "He is connected well to our denomination, and he served here for 22 years in addition to his time here as a student."
A 1969 graduate of Emmanuel, Dr. White worked in enrollment management at Emmanuel from 1980 to 2002. He also served as the Director of Singers for many of those years.
Currently, Dr. White is a full-time faculty member in the graduate school at Columbia College in South Carolina in the higher education and divergent learning programs. He is also an associate consultant with Noel-Levitz in strategic enrollment planning and recruiting. From 2002 to 2013, he served as Vice President for Enrollment Management at Columbia College.
"I am delighted that Dr. Ron White has been elected by the Emmanuel College Board of Trustees to serve in the role of Interim President," said Mrs. Linda Thomas, EC Board of Trustees Chair. "His credentials certainly qualify him; but, more importantly, his heart for the ministry of this college strengthens his commitment to work diligently for its success.
In his opening comments, Dr. White said Emmanuel's future direction would come not from one man or one woman, but by working together, as a community, on behalf of this college and the Kingdom of God.
"I'm honored to be selected as your Interim President," Dr. White said. "I hope each of you believes in your heart, as I do, that God is still with us. That's in our name, and I believe it is reality.
"This is going to be the biggest challenge I've ever faced. I am not up to the challenge, but God in me is," he added. "That's where I'm standing, and I hope that's where you're standing – God in you is able to help you stand up to whatever challenges you face."
article excerpted from the EC website. To read the full article, or for more information on Emmanuel College, please visit www.ec.edu