Click the links below to find these great resources for youth pastors!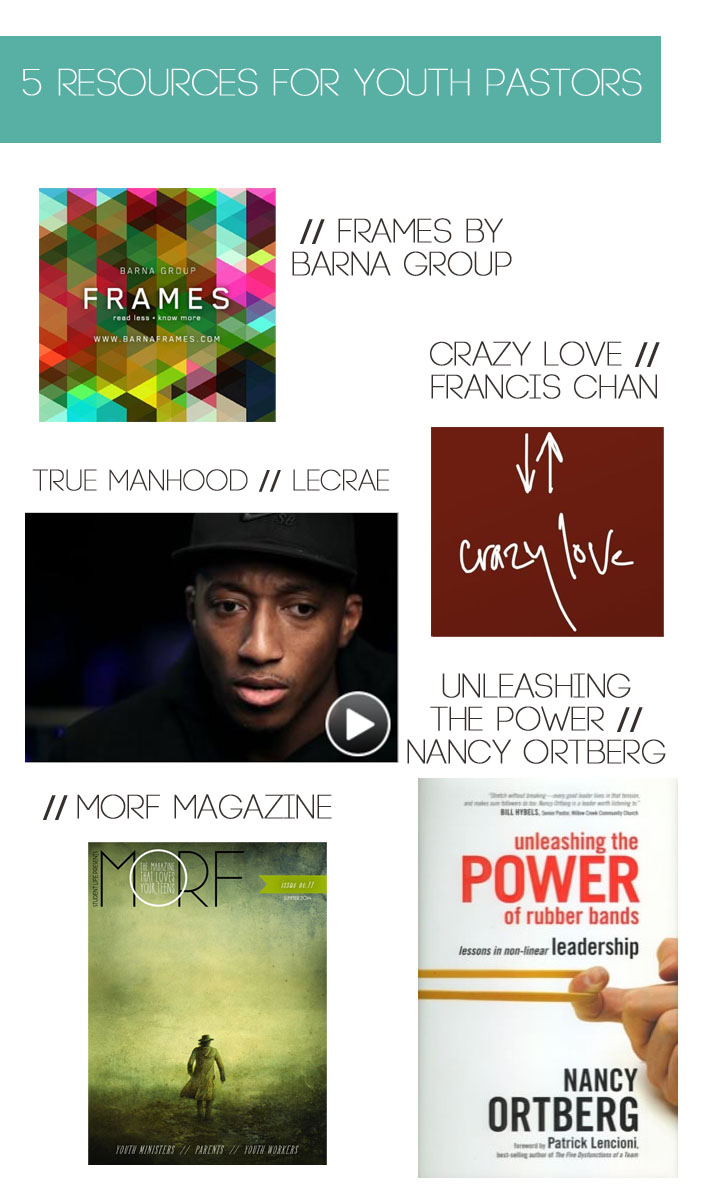 Barna Group "is a visionary research and resource company located in Ventura, California. Started in 1984, the firm is widely considered to be a leading research organization focused on the intersection of faith and culture." (barna.org)
Frames is a new project of Barna Group, "short yet meaningful reads on the top issues facing us in today's complex culture". These booklets are perfect for small group sessions or even a month long series in your normal services. You can order the entire Frames set, nine mini books on various topics ranging from multi-careering to fighting for peace, or you can order the individual books that interest you. The "20 and Something" booklet is full of interesting statistics and insights geared towards Millennials and would work great for youth. The Barna website also offers tons of freebies and extras for Frames.
"Does something deep inside your heart long to break free from the status quo? Are you hungry for an authentic faith that addresses the problems of our world with tangible, even radical, solutions? God is calling you to a passionate love relationship with Himself. Because the answer to religious complacency isn't working harder at a list of do's and don'ts — it's falling in love with God. And once you encounter His love, you will never be the same."
"Crazy Love" is a great resource for youth pastors. The book works great as a small group resource, or as a stand alone sermon. Each chapter offers thought provoking questions that will enable deep discussions with your students.
In this three minute video, Christian artist Lecrae describes the definition of manhood through the life of Jesus. This is a great resource to use during a sermon series on purity, especially for the boys in your youth group.
Unleashing the Power // Nancy Ortberg
This is a great book for Youth Pastors and Leadership teams. If you are looking to restructure your ministry to include additional leadership, or if you're simply looking for inspiration as a leader, this is a must read. "Unleashing the Power of Rubber Bands is an engaging and insightful look into the qualities, attributes, and practices that turn ordinary leaders into extraordinary ones. Nancy Ortberg's unique twist on vision casting; managing tensions; nurturing healthy conflict; motivating those around you; fostering creativity, passion, and trust is unlike anything you've ever read before! At times challenging, at times candid, but always inspiring, Unleashing the Power of Rubber Bands will bring out the best in even the most seasoned leaders"
"The Magazine that loves your teens", Morf is an online resource specifically geared towards youth pastors and leaders. The print copies do cost (12 for $20), but you can sign up for the newsletters and receive tons of articles for free.